CANADIAN NATIONAL
---
Joe Ferguson caught CN painted SD60 5440 sitting at the Centralia, IL Diesel Facility on June 17th. As of June 17th she had not yet entered service.
---
With CN power short, in mid-May six unpainted GMTX SD60's were placed into service CN 5403, 5409, 5412, 5421, 5427, and 5436 Darren Doss caught CN 5403 in Service on May 29th at Fulton, KY. Seven more, entered service in June for a total 13 so far.
George snapped CN SD60 5425 at the CN engine facility at Centralia, IL June 13th.
George Redmond snapped freshly painted CN SD60 5433 at the CN shop at Centralia, IL on June 9th, it was activated and has entered service.
43 CN SD60's (5400-5442) with the former GMTX number
"CN painted" unit numbers are in red highlight and "in service patched" are in blue highlight
| | | | |
| --- | --- | --- | --- |
| CN UNIT NUMBER | GMTX UNIT NUMBER | CN UNIT NUMBER | GMTX UNIT NUMBER |
| CN 5400 | 9013 | CN 5422 | 9058 |
| CN 5401 | 9020 | CN 5423 | 9060 |
| CN 5402 | 9023 | CN 5424 | 9064 |
| CN 5403 | 9027 | CN 5425 | 9066 |
| CN 5404 | 9030 | CN 5426 | 9069 |
| CN 5405 | 9033 | CN 5427 | 9071 |
| CN 5406 | 9034 | CN 5428 | 9073 |
| CN 5407 | 9035 | CN 5429 | 9074 |
| CN 5408 | 9036 | CN 5430 | 9075 |
| CN 5409 | 9037 | CN 5431 | 9076 |
| CN 5410 | 9040 | CN 5432 | 9078 |
| CN 5411 | 9042 | CN 5433 | 9079 |
| CN 5412 | 9043 | CN 5434 | 9080 |
| CN 5413 | 9045 | CN 5435 | 9085 |
| CN 5414 | 9046 | CN 5436 | 9086 |
| CN 5415 | 9050 | CN 5437 | 9087 |
| CN 5416 | 9051 | CN 5438 | 9089 |
| CN 5417 | 9053 | CN 5439 | 9092 |
| CN 5418 | 9054 | CN 5440 | 9095 |
| CN 5419 | 9055 | CN 5441 | 9097 |
| CN 5420 | 9056 | CN 5442 | 9099 |
| CN 5421 | 9057 | | |
CN/GMTX SD60 STATUS as of June 22nd
STORED AT CENTRALIA, IL: GMTX 9013, 9020, 9023, 9030, 9034, 9035, 9036, 9046, 9050, 9051, 9054, 9055, 9056, 9058, 9060, 9065, 9069, 9073, 9075, 9080, 9085, 9087, 9089, 9092, 9097, 9099.
CN PAINTED AT CENTRALIA: CN 5431, 5432, 5433, and 5440. As of June 17th, the only painted SD60 in service was CN5431 and 5433.
CN PATCHED AND IN SERVICE: CN 5403, 5409, 5410, 5411, 5412, 5413, 5417, 5421, 5424, 5425, 5427, 5429, and 5436
On June 6th, George Redmond bagged GMTX 9051, 9066, and 9099 at the CN engine facility at Centralia, IL, with GMTX 9066 sporting a temporary front truck.
On June 14th at Centralia, IL George caught GMTX 9075,and CN 5431 in fresh paint.
Christopher Bodkin snapped CN train A432 with ES44DC 2271 leading patched CN ex-GMTX SD60 5421 and IC SD40-2 6100 through Carbondale, IL on June 2nd. The train had made a brief stop and upon moving south again the 5421 was pulling its guts out judging by the smoky exhaust.
Christopher also caught CN SD60 5403 as the second unit on train A432 through Cobden, IL on June 9th, 2012.
---
42 CREX C40-8's from Citicorp Railmark Inc. will arrive later this year and are ex-Union Pacific 9023-9064, nee-CNW 8501-8542. As with the SD60's several may will head to a repair shop before coming to CN. It is likely these may be numbered in the CN 2000-series.
11 C40-8W's numbered IC 2455-2463, 2465, and 2466, (nee- LMSX 728-736, 738, and 739) will have their leases purchased by CN.
---
On June 25th, 2012 Darren Doss photographed CN SD60 5433 at South Buda, IL.
---
On her second day of active service, George Redmond bagged southbound CN SD60 5431 on June 26th easily handling the short local train at Ashley, IL.
---
WC GP40R 3017 and WC GP40R 3024 were pulled from storage, and on June 15th were both inside the Woodcrest Shop. Previously stored, WC GP40R 3018 was returned to service and as of mid-June was being used at IC Markham Yard.
---
CN retired GP9 Slug 219 between mid-May and mid-June.
---
GCFX has sold KCS SD40-3 3131, ex-KCS 6602, nee-CN SD40 5095 to a grain elevator in Lakota, ND.
---
CN Shop Repairs & Repaints
On June 27th, Chris Bodkin snapped freshly painted IC SD70 1002 leading CN patched SD60 5413 on A432 thru Carbondale, IL.
---
At Du Quoin, IL on June 5th, Joe Ferguson photographed before and shots of CN 4715 following repair and repaint after arriving at the Centralia Shop February 15th, with severe rollover damage and is now back in service.
---
Ian Campbell caught completed CN GP38-2W 4798 outside the Transcona Shop June 2nd, sporting a special Transcona locomotive Shop 100 Year Anniversary decal, and photos to show how she looked earlier with wreck damage. This year, all freshly painted and rebuilt locomotives and freight cars leaving the CN Transcona main shop this year will receive this special decal in recognition of its Centennial. (Note: The "before" photos attached by shop crews for the event).
---
During the 100 year Anniversary Open House event, Mark Perry snapped the CN business train which visited the Transcona Shop June 2nd with CN E9Au 103. Mark noted mostly GE's in the shop getting engine change-outs and CN SD40u 6000 being converted into a hump unit and the repair work done on wrecked hump unit, CN GP38-2 7501.
---
Mark Perry took these shots as well at the Transcona Shop Open House on June 2nd.
---
Letter from the CN President and CEO Claude Mongeau:
---
CN GMD1u 1408 was receiving an engine change-out at Transcona. Note: the internet rumor that she is destined to Exporail as a donation from CN, is false.
---
George Redmond caught CN GP38-2 4715 at Du Quoin, IL in the CN yards June 13th.
---
The National Transportation Safety Board released its final report on a 2009 CN derailment that killed one person in Cherry Valley, IL. The CN train derailed after a washout where 19 cars carrying denatured fuel ethanol derailed, 13 of which were breached or lost product and ignited. One person died as she tried to escape her automobile, which was stopped south of the crossing where the train derailed. Seven other people were injured. Six hundred homes were evacuated within a half-mile of the site due to the ethanol leak and resulting fire.
The NTSB report said the probable cause of the accident was the washout, which was discovered one hour before the accident. CN failed to notify the train crew of the washout in time due to what the NTSB calls "inadequate emergency communication procedures." The board also blamed CN for its failure to work with Winnebago County to find a solution for washouts in that area since they occurred in both 2006 and 2007. Earlier this year the NTSB had said the accident could have been avoided had there not been "missteps and miscommunications, procedures not followed, and poor decisions," The cars' design was also found to be inadequate, causing "catastrophic loss" of ethanol during the accident. As a result of the accident the board made several safety recommendations to CN, including implementing a program to periodically test all aspects of their emergency communications systems. They also recommended that post-accident toxicology procedures be reviewed to ensure rail traffic controllers are tested unless they were not involved in the accident. CN was also ordered to modify its weather warning system as well.
---
On June 3rd, IC GP40R 3129 lead a northbound CN track geometry train through Carbondale, IL. IC 3129 retains her factory L-shaped engineer's windshield. The dynamic brake blister was retained but is non-working as the DB was removed many years ago.
---
George Redmond caught CN E9Au 102, C40-8's 2117, 2115, ES44DC 2265, EJ&E SD38-2 674, and IC SD40-2 6100 in the CN yards Du Quoin, IL on June 13th. While we could not confirm by press time it is still interesting … According to a CN source CN E9Au 102 is being considered for repaint into a new scheme.
---
Ron Visockis took this birds eye view of CN C40-8 2121 leading train 369 at Belleville, ON May 30th.
---
Christopher Bodkin caught CN GP38-2 4715 and EJE SD38-2 674 working L589 at Carbondale, IL on June 10th. The standard cab CN GP38-2's are rare in Southern Illinois, much less anywhere in the USA.
---
Kim Kafura bagged GTW GP38-2 4934, IC SW7R 1202 and CN GE's 2645/2322 shove a long cut of cars with into a siding near the old CNW roundhouse on the East side of the Shops yard at Fond du Lac, WI, on June 9th. After they finished this shove move, they were told to cut off their cars and move their power down to the south end of the yard and shut down their units. The crew was nearing the end of their hours and arrived on train L576 which came down from Stevens Point, WI.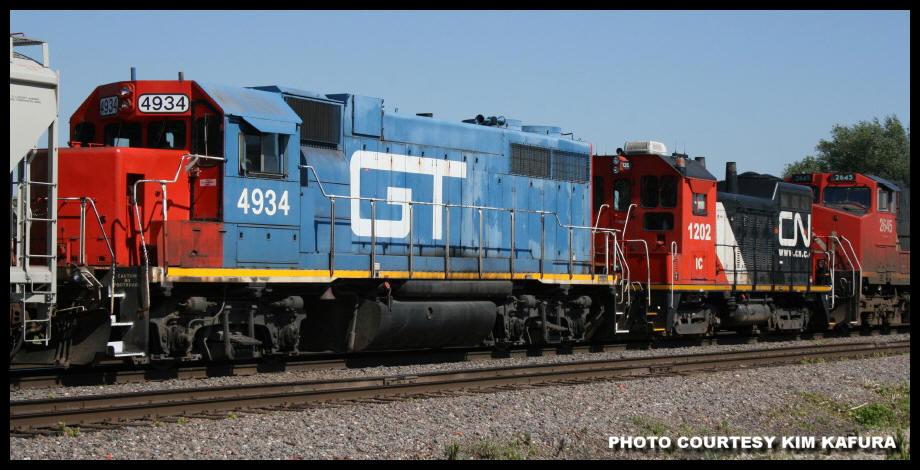 ---
Ken Lanovich snapped the following locomotives around the Woodcrest Shop in June: CN GP40-2LW 9452 with GTW GP40-2 6425, IC SW14 1511, and WC SW1500 1569.
---
Also photographed at Woodcrest in June: IC GP38-2's 9621, 9635, EJE GP38-2 703, WC GP40R 3018, IC E9Au 101, CN E9Au 102, CN and IC Business cars including handsome Wisconsin Central "Superior". Seeing the long hood of CN SD38-2 1652 is cause for concern as there are only three on the roster, all assigned to Edmonton. AB. As we reported CN SD38-2 1652 was moved to Chicago D-I-T last month.
---
Mark Perry snapped the CN Symington Yard Hump set returning along the ladder after trimming cars in the bowl on May 30th. Note how they arrange the cabs of the hump set consist.
---
On June 2nd at the Transcona Shop, Ian Campbell caught CN SD40u 6000 undergoing overhaul which will include a repaint and an RC hump unit refit.
---
On May 27th Tim Stevens snapped heavily damaged CN SD70M-2 8847 sitting quietly in the backtrack at Lempriere, BC awaiting an uncertain fate. It was the lead engine of train Q11251 24 on April 25, 2012 when it hit a washout between Lempriere and Pyramid. 25 cars behind the single unit derailed also, however, nobody was injured.
---
Wreck damaged CN SD70M-2 8835 is now at Quality Rail Services facility in Madison, IL, for major repair. The unit was involved in a collision with runaway coal cars on CN's Grande Cache Subdivision in Alberta three months ago.
---
CN C40-8W 2140 is seen at Centralia, IL for repairs, the front coupler pocket and front steps were damaged on June 4th. Both CN photos George Redmond.
---
Andy Cassidy snapped CN and CP units on the same empty grain train with CN SD60F 5515, SD40-2W's 5305 , 5328 leading CP AC4400CW's 9604, and 9574 through Gyproc at Mile 116.81 on the CN Yale Sub. The pigeons get startled from chowing down on grain spillage by the horn blast, and the low sun in the Winter sky provides great lighting on the carbodies, tanks and trucks as they cross 130th into CN Thornton Yard on January 12th.
---
Of the 210 transfer vans built in this number series, only three are left on the roster. One of these CN 76665 was photographed by Mark Perry in Brandon, MB June 22nd where the yard crew still uses it daily. (Our thanks to Earl Roberts)
---
Rob Baker caught handsome CN RS18 3711 in new paint and ONR GP9 1603 at North Bay, ON when he was stationed at Camp Petawawa in mid 1960's.
---
CN Spadina Shop was a beehive of activity in the late 1970's when Robert Baker snapped VIA FP9A's and RDC's, CN GP40 4017 and RS18 3121, at the base of the CN Tower in Toronto.
---
© CRO July 2012