SHORTLINES & REGIONALS
---
As a Skytrain passes over top, Greg Shevchenko snapped SRY Fraser Valley Job on Oct 3rd, with two extra units later swapped out with the power at Huntington, BC.
---
New arrival GMTX MP15DC 206 has been delivered to Canexus in Bruderheim, AB. The engine will be used to switch the facility which supplies a variety of materials for the oil industry.
---
DLCX SW1200 1202 (ex-Milwaukee Road) arrived at Yara Saskferco at Belle Plain, SK in October. This switcher is leased because their own unit ( Ex-CN SW1200RSu 7310) failed and requires major repair.
---
Jesse Acorn snapped (Cando Contracting) CCGX GP9RM 4014 at Mile 2.0 on the CN Camrose Sub outside Edmonton. The locomotive was switching the Esso Imperial Oil plant.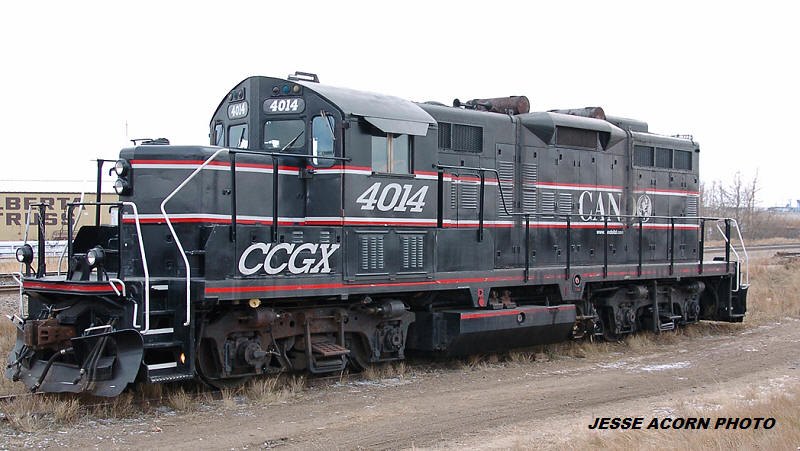 ---
On October 9th Ken McCutcheon photographed a 121 car Great Western Railway ( GWR) train west from Assiniboia, SK. Train chasing was looking very favourable that morning, and by 13:55 they had everything together and were pulling! The power was Ex-BNSF B40-8's, GWRS 575, 563 and GWR M420's 2000 and 2004 and they were to run to Meyronne, with set offs at Limerick and Lafleche, SK. At Meyronne the Assiniboia crew was met by the Shaunavon crew. The two B40-8's were set off and the Assiniboia crew took the 2000, 2004 and 16 empties northward up the Vanguard Sub to Neville, SK .
The Shaunavon crew then coupled the ex BNSF B40-8's to the balance of the train and continued west along the Shaunavon Sub to Shaunavon and eventually around the horn to Frontier. Ken submitted these shots from wonderful windy and sunny afternoon in paradise, courtesy of GWR and the great Province of Saskatchewan.
---
Cal Murray snapped B23-7's once owned by the Last Mountain Railway (LMR) now on the Stewart Southern Railway working in just their second winter in Filmore, Saskatchewan on March 6th 2011.
---
The government of Saskatchewan provided the Lost Creek Railroad (LCRR) with a CA$800,000 (US$810,800) interest-free loan to assist in purchasing the 66-kilometers (41 miles) of rail line from CP. The province supported the purchase of shortline railways by community groups, local stakeholders and local governments in the past, by offering loans and advice. "Canadian Pacific acknowledges the support of the province of Saskatchewan in assisting the Long Creek Railroad becoming the owner of this railway line," CP General Manager of Gateways and Government Affairs Jason Copping said. "CP values our relationship with shortline operations across our network in helping to drive the North American economy and we are looking forward to working with the LCRR as the grain and oil markets grow." The Ministry of Highways and Infrastructure provides assistance to shortline rail through a variety of cost-shared programs that include grants for feasibility studies and safety initiatives. The ministry has also provided loan assistance toward the purchase of existing track when supported by a viable business plan. With the opening of LCRR, Saskatchewan has 13 shortlines and more than 2,000 km (1,200 miles) of provincially- regulated track.
---
Mark Zulkoskey snapped all that remains of CTWR 3372 … the cab and some pieces of the long hood on October 11th. On October 14, the cab was reduced to mere fragments and loaded onto a gondola along with several hi-cube boxcars and two CTRW GP10's. During the scrapping process in Prince Albert, Saskatchewan, the engine is being removed so that the crew can begin cutting the frame into thirds so the crane can then lift the carcasses.
---
Before the torch, CTRW 3372 awaits its fate on Oct 4, 2012 outside the Prince Albert Roundhouse. Over the next few weeks this unit was reduced to scrap along with 1040 and 1020 which were already reduce to their frames. J&L Consulting from Surrey BC did the work - the same group cutting CPR GP9s.
---
CLICK ON PHOTO TO OPEN SPECIAL REPORT
Eric Gagnon's ONR NORTHLANDER "TRACKSIDE TREASURE" Special Report
http://tracksidetreasure.blogspot.ca/2012/10/onr-northlander.html
Adam Walker's Northlander Blog Post
---
The train consists of the last runs of trains 697 and 698 September 28th, 2012 were:
The last (tracked in #70) southbound #698 had 1809-1800-six coaches-APU 202.
The last Northbound #697 1801-APU 203-coaches 614-609-602-601-Snack car 700.
More Wayne Shaw 'Black Friday' images:
http://www.railpictures.ca/?attachment_id=5528
http://www.railpictures.ca/?attachment_id=5529
http://www.railpictures.ca/?attachment_id=5533
http://www.railpictures.ca/?attachment_id=5537
http://www.railpictures.ca/?attachment_id=5536

ONR 697 Video: Dead-Heading at Doncaster Diamond on September 29, 2012 at 09:42.
---
On Thanksgiving Day Weekend (October 7th) in Cochrane, ON Mike Robin snapped out of work Ontario Northland Railway "B" units that ONR converted to APU's, and all stored here for the time being.
---
She's getting there! The restoration of classic steamer 701 at Englehart has been coming along quite nicely since receiving her new paint over the summer. In this October 8th photo, the "Ontario" emblem has been added to the cab, number boards, the headlight, and the bell have been reapplied, and new glass has been added to the cab. Once the pin striping and lettering is applied, this thing's going to look great! Good job Englehart!
---
Since cancellation of Toronto to Cochrane "Northlander" service, all unilevel coaches and APU's are now in Cochrane. The initial plan, one would think, would be to utilize the more modern coaches and diners
for Polar Bear Express service between Cochrane and Moosonee. However, aside from using an extra 700 series diner and a couple of 600 series coaches, Ontario Northland's former Via rail 850 series coaches are still very much used for the northern trips. Therefore it is unclear what Ontario Northland's plans are for the rebuilt Hawker-Siddley former GO Transit coaches and diners. Here is a photo captured on October 18th along Cochrane Coach Yard's Steam 2 & 3 tracks where some of the unilevels are being kept.
---
The proposed sale of all Ontario Northland assets which was announced by the Ontario Government on March 23rd has lit a literal fire under the seats of the General Chairpersons Association (who represent 5
Ontario Northland Unions), northern municipalities, the First Nations, and Ring of Fire developers. The result is a new proposal which is to be presented to the Ontario Government, the Federal Government, and everyone else who will listen. The proposal includes factors such as the rebuilding of track between Ontario Northland's western terminus of Calstock, Ontario to Nakina, Ontario, and the further extension of rail from Nakina to Kooper Lake which is located within the Ring of Fire mining development.

This initially may sound a little far fetched at first, but meetings with key players which include the Federal Government, First Nations communities, and mining developers have resulted in a huge news
release issued on October 19th.

Here is the report from the October 21st issue of Baytoday.ca.

ONTC union offers province New Deal for the North

Sunday, October 21, 2012 by: Jamie Lyle
The highly publicized meeting and press conference that took place on Friday morning announcing new plans for the ONTC was well received.

The meeting was attended by many political levels of government in support of the initiative to maintain the public ownership of the railway servicing crown lands and developments in the North.

The plan to transfer the Ontario Northland Transportation Commission's rail lines and other assets into the jurisdiction of James Bay & Lowlands Ports Authority and at the federal level is the anchoring basis for the newly hatched idea.

All levels of the federal, provincial and municipal governments realize that the vast area of Northern Ontario has huge amounts of untapped natural resources that will need to be transported.

Highly sought after minerals, lumber and commercial goods to supply these operations need to be brought into the North in an economical way.

By moving the train system to the Canada Marine and Port Authority, the union hopes to save the region and jobs from the layoffs and destruction of the current infrastructure and employment in Northern
Ontario.

GCA spokesperson Brian Stevens, keen to remind Ministers Bartollucci and others of their commitment and obligation to create and maintain employment in the North are anxiously awaiting the proposed deal to save and maintain the infrastructure in this part of the province.
"Bartollucci has always said the business lines are good, the business model is wrong," Steven's says.

"We were upset by that but when you look at it in terms of what we're suggesting here, is a completely new business model," adds Stevens.

The union, wanting to leverage with the federal and provincial governments to create a new rail line to service the thousands of tons of Chromite and other minerals being mined in the yet unreachable areas of Northern Ontario.

The debate of whether or not roads or rail are best for the region is a complicated one, with neither being the only answer and the best case situation being one where each specializes in their own strengths and play off their weakness to the other.

Maintaining policing and snow removal of vast distances of road are already difficult for the province to maintain and it's hard to believe that the cost of massive shipments of minerals is not far more economical on a rail line.

The proposal, through the organization of Minister Bartollucci, Minister Chiarelli and Infrastructure Ontario, wants to soon see the wheels put in motion to implement a future in Northern Ontario with a train service, servicing the North and continuing to provide jobs for Northerners.

Stevens says that the union also wants to talk to Metrolinx and The Canadian National Railway to link up synergies and solidify the project for the future as a team effort. "It's about working together," says Stevens.

Mayor Al McDonald congratulated the group on the out-of-the-box thinking to bring the Port Authority into the picture with a well-organized and thought out presentation to help maintain the jobs lost with the shutdown of the ONTC.

'This is going to be a wonderful opportunity for Northern Ontario to build wealth and job creation, because the Ring of Fire is probably the biggest find in any lifetime of mining and we're going to take
advantage of it through the Port Authority and having the expertise of the people in the room here today to move forward,' says McDonald.

Federal representative Jay Aspin, hopeful things get done sooner rather than later, wants to see the plan implemented as the current provincial government is liquidating Northerner's assets of the rail system albeit now that Queen's Park has been prorogued.

"There's definitely a time table on this," says Aspin.
---
Over the last two month CP sold and delivered these units to the OSRX and GMTX:
CP SW12ooRS 1210, 1244, 1245, and 1249 to Ontario Southland Railway (OSRX)
CP SW1200RS 1271 to GMTX destined to Paducah, KY.
Ex- CP SW1200RS 1244 arrived on the OSR at Galt, ON October 13th joining 1210, 1245, and 1249 already on the property. Of the three at Salford, OSRX 1244 and 1249 are running fine and 1249 has been working up at CAMI automotive in Salford, ON. OSRX 1210 is currently assigned to Guelph Junction and has been the least photographed. Walter Pfefferle snapped these photos October 10th of OSRX 1244 and the cab of 1245 at the shop in Salford on the 17th. OSRX RS23 502 is seen hard at work in Ingersol the same day.
http://railfan.thegrebs.com/OSR/OSR_1244_Salford_Ont_10_17_2012
http://railfan.thegrebs.com/OSR/OSR_1245_2_Interior_10_17_2012_001
http://railfan.thegrebs.com/OSR/OSR_1245_1_Interior_10_17_2012_001
http://railfan.thegrebs.com/OSR/OSR_502_Ingersoll_10_17_2012
Walter snapped OSR 1244 sitting in Salford ON October 22nd.
Noted on the SOR in Hamilton on October 2nd were two of the latest group of brand new Trailer Train (DTTX 3-pac) container well car sets in the 786890-series and Potash Corp Los (covered hoppers) POTX 2230-series. (via Keith MacCauley – FROTH).
---
While on vacation Mark Garza got a shot of the Trillium Railway S13m #108 at Port Colburne Ontario on October 7th. On the 12th they were spotting a car with the former CN S13m in Thorold, Ont.
---
Tim Ball snapped GEXR 582 departing Guelph southbound on the Fergus Spur heading to Cambridge, ON.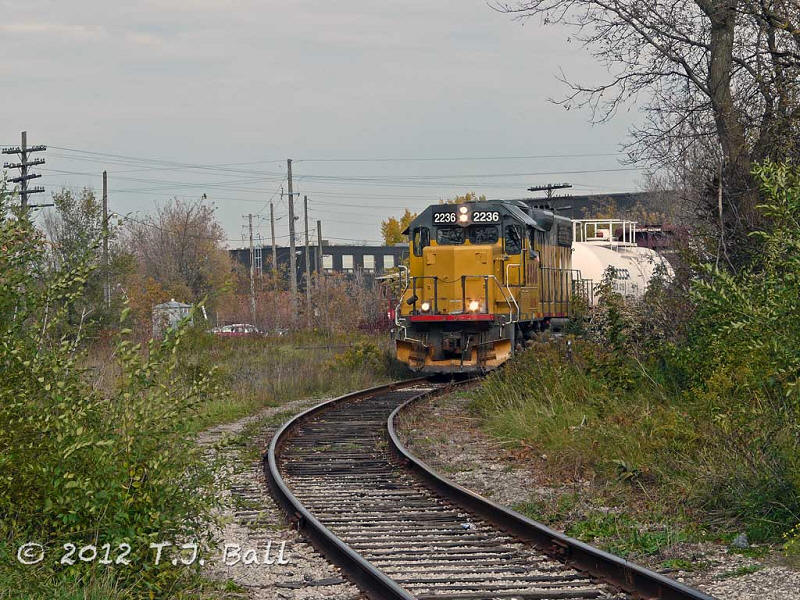 ---
David Lemke snapped POM 1002 RP20BD after departing from Relco in Albia IA enroute to Montreal on CP.
---
On October 12th, Michel Daoust snapped HLCX SD40-2 7205 with her new TSH (Thsieutin Rail) decal which was done at the Metro East Industries Shop.
---
The passenger cars for the Train Touristique de la Gaspésie were enroute October 7th with SFG 1039 and 1041 at Joffre, QC, SFG 111 and 1047 on train 400 and SFG 108 et 1059 at CN Taschereau Yard, and SFG 1057 and 104 at Matapedia. In May 2012, cars 1053 and 1058 were delivered to the SFG. This railway will be in need of at least two HEP cars at some point, likely those retired from AMT which are sale. (J-P Dumont)
---
JLCX has purchased SW900 #001 from PPG Standard Chemical in Beauharnois, QC, and then promptly resold it to Larry's Truck Electric, in Ohio. This SW900 is ex-CN 7941 which had large road number boards applied to the rear of the switcher only. PPG's plant is located on the CSX (ex-CR) and is accessed via the former NYC trackage from Messena, NY to Valleyfield, QC then terminates at Beauharnois, QC. It used to go all the way to CP (Delson Sub) south of Montreal but was abandoned over 10 years ago.
---
Wreck damaged Cartier (QCM) AC4400CW #20 was released from Quality Rail in Madison, IL in late-October wearing new Arcelor-Mittal orange/gray paint complete with French lettering. On October 26th Mark Mautner photographed her on the TRRA transfer from Madison Yard to the BNSF Lindwood Yard. It is moving as ATDX 20 on BNSF to Houston, and is 100% confirmed by BNSF sources, to be destined to Port Cartier, QC by ship departing from the port in Houston, TX, a long way around but apparently a less expense routing.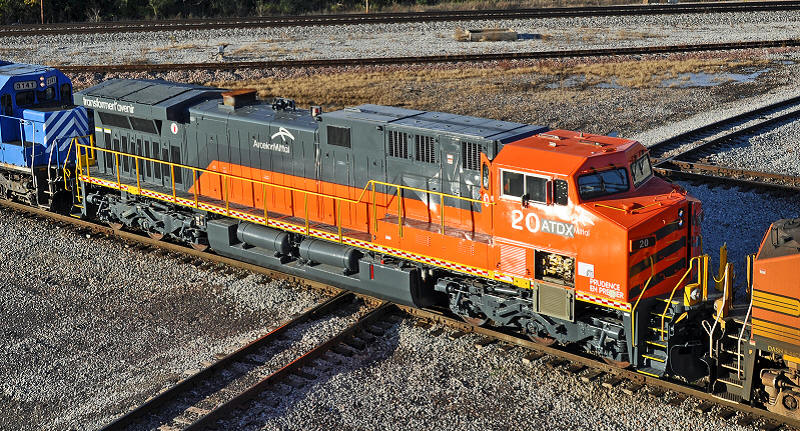 ---
Regional Montreal Maine and Atlantic (MMA) are acquiring ten locomotives due to increased traffic, (new oil trains from CP, etc). As a new helper service is now required at Sherbrooke, QC MMA has acquired two F40PH's that had been in Montreal Commuter service; ex-AMT (SLC) F40PH 270 and F40PHR 293. The other locomotives acquired by MMA are: Ex-New Hope & Ivyland (NHRR) C39-8 8202, 8207, and 8208. ex-NS same numbers, nee-CR 6004, 6012, 6014. They are currently at Derby being prepared for service. Ex-CN SD40-2 5364, and 5374 owned by MMA will return to service. As well MMA will lease CP units as needed.
---
New Brunswick Southern Railway (NBSR) have leased GMTX GP38-2's 2639, 2645, and 2666 all on the property and newly arrived GMTX GP38-2's 2644 and 2657. They also have HLCX SD40-2's 6200, 6304, 6315, 6318, 6319, 6332, 6340 and 8144. NBSR have also leased four HLCX GP38-3's 906, 911, 913, and 917, and two switchers GMTX MP15DC's 203 and 204 all on the property.
---
On October 2nd this former baggage-parlor car (NYSW) Susquehanna #508 passed through CN- Charny, QC enroute to the NBSR. This car is former AMTRAK, Penn Central, nee-New Haven.
---