CANADIAN RAILWAY HISTORY
CPR STEAM VIGNETTE: Bruce Chapman forwarded us this great shot from Jim A. Brown's extensive collection, showing CPR #1950, an early experimental steam engine with the odd looking Mallet 0-6-6-o wheel arrangement, taken in Field, BC in 1910!
---
RECOMMENDED RAILWAY MUSEUMS AND
TOURIST LINES
(Listed West to East)
---
BRITISH COLUMBIA
---
Canadian Museum of Rail and Travel
http://www.trainsdeluxe.com/
The Canadian Museum of Rail and Travel in Cranbrook, BC is restoring this CP FA2 4090 and FB2 4469. Kevin Dunk took this shot August 1st.
---
Revelstoke Railway Museum: www.railwaymuseum.com
Our Railway Days festival took place from August 16th until the 19th. During that time the Railway Museum and a number of other groups and organizations hosted a variety of events all over Revelstoke. We were lucky enough to have a great amount of community support and we were able to provide free admission for all visitors that came during Railway Days.
Each day we had Coffee in the Business Car which is, as the name suggests, coffee and goodies in our Business Car #4 that was built in 1929. We had coffee and goodies provided by Tim Hortons and a local coffee shop, Conversations. Numerous people joined us for coffee and a trip back in time to when the Business Car was in service.

Our Kick-Off BBQ, held on Thursday, August 16th, was the Museum's first big event of the festivities. We had a band, The Maritime Kitchen Party and a local Radio station, Stoke FM, serving up hotdogs. During this event we rang the bell and officially began Railway Days! During the first day of the festival, the Railway Museum had 172 visitors!
Friday, August 17th was the day of our Dinner with special guest, Robert Turner. We had 75 people purchase tickets and join us in our Rotary Park for dinner and entertainment. We had a band, the Cats and the Fiddle perform and we made some important announcements. We named the outdoor display of rolling stock, the David W. Johnson Yard, after the Revelstoke Railway Heritage Society's president who passed away suddenly earlier this year. As mentioned, we had Robert Turner as our special guest and he did a wonderful illustrated talk about the Last Steam Railways, Around the World. His illustrated talk took the audience to places such as Brazil, Paraguay, Botswana, Serbia and Zimbabwe, to name a few. Within these countries are railways in which steam earns it's way by hauling coal, miners, molten steel and sugar cane, and while they are in service now, they will all be gone within the next few years.
On Saturday, August 18th, the Railway Museum hosted it's annual Family Day event! We had a variety of organizations represented this year, such as the Revelstoke Acrobats, Revelstoke Credit Union, B.C Hydro Power Smart, Operation Lifesaver, A&W, the Salmon Arm Model Railroad Club and the Revelstoke Model Railroad Society. We had a bouncy obstacle course, CPR Puffer Belly rides, a face painter, musical entertainment by the Kettle Valley Brakemen and our 5468 Steam Locomotive open to the public! We were also lucky enough to have author, Ian Baird, visit and sign books in our giftshop! Kids and their families were given cards with a checklist of things to see and do. At each place, they were given a stamp or a checkmark and brought their cards to the Railway Museum tent where they received a balloon, a fold-out train and a chance to win door prizes! In addition to free admission, the activities for Family Day were also free! In the giftshop, we counted over 325 visitors to the Museum during Family Day! It was an incredibly busy day but it was certainly a train load of fun!
Sunday, August 19th, the Railway Museum hosted it's annual Vintage Car Show! We had over a dozen cars show up for our trackside car show, with years ranging from 1928 to 1982! Our awards included Owner's Choice, People's Choice and Furthest Travelled! We had a volunteer up in our Wedge Snow Plow and we were able to open it up to the public! It was overall a great day, with over 250 visitors to the museum!
---
Kamloops Railway Historical Society: www.kamloopsheritagerailway.com
---
CRHA - E&N Division
---
West Coast Railway Association (WCRA)
PGE 100 Centenary Convention:
Fans and modellers of the Pacific Great Eastern Railway and its successors BC Rail gathered in the CN Roundhouse & Conference Centre at the West Coast railway Heritage Park in Squamish BC on July 13, 14 and 15 for the PGE100 Centenary Convention. This three day event celebrated the railway's 100th birthday. The opening of the convention was marked by the arrival at the Station of a vintage PGE Freight (RSC3m #561, Hopper PGE #273, Tank PGE#1926 and Caboose 1859). The event included clinics on PGE — BCR modeling and operations, operating HO and N scale model layouts, commercial and model displays, contests. Full scale and MiniRail PGE equipment operated throughout the weekend giving brides and providing many photographic opportunities.
Electric Locomotive BCER#960 Restoration:
Update #1 – July 2012 Bill Marchant reports: We are finally installing rebuilt components back on to locomotive 960, after months of carefully removing, cleaning and painting them, or replacing old steel with new steel, old wood with new. For example, 2 mini air reservoirs on the cab wall have new wood saddles and bolts, are back in place. Both cab doors have been restored and fit in place, but require some more hinge 'tune-up' to align with the new steel. Thanks Bob Gordon for help. (Staffer) Randy (Lucas) has added new steel bands to rebuild the 2 sandboxes, plus torched off some rusted bolts. Mike (McGaw) has been cleaning and repainting major items: the blower housing and motor, the sand-boxes, air brake distributing valve, etc. Many inside components had 2 shades of green paint applied over the years; we will probably stick with one shade. We continue to search for the 2 headlights, and a builder's plate; help is always welcome.
Mike McGaw continues … Back deck is descaled and fully primed & painted. Traction motor blower housing, plus motor, have been cleaned up and painted. Sand boxes repaired and painted. Thanks Randy for the great welding work refitting the new sand box skirting. We now have the two small outside of cab compensating air tanks mounted, after some considerable toiling to get their saddles fitted and aligned. Nothing comes easy with 960.
Update #2 – August 2012. Mike McGaw reports BCER 960 is now a little over 100 years old and nearly one year into her active restoration at the old BC Rail Motive Power shop. Rotten bug infested wood removed, top decks and cab flooring descaled with sealer / primer applied. Rear deck appliances are being refurbished and sand boxes restored. Replaced rusted out cab footings, some vertical angle bracing, the outside cab skirting fully replaced. In the case of the welded on skirting, the rivet replacements situated as per prototype.
Side window frames were completely rebuilt, original cab doors and hardware, after long hours of work, are now back in shape stronger than new and hanging proudly. All outside layers of paint … Alco black, Oregon Electric green, original BCE brick red, plus the numerous BCE / BC Hydro yellows applied over the years, are no more. 960's cab and roof have been protectively primed pending some serious paint work. The knocked about rear pilot is being reworked with front still to go. Air reservoir tanks / replacements coming together ... The two previously removed hoods are nearly 1/2 way rescaled. Stirrup steps recently straightened and ready for re-install. We're now starting disconnects with every stubborn fitting on undersides needed to facilitate frame lifting and the likely truck removal in preparation for sandblasting the underside. Bill Marchant, and myself are still putting in two days a week of discovery and hard labour, plus, we're getting great help from Martin Jergens, and a number of others with both advice and some on site skills. We have our bell recovered of course, and are now; acquiring a few brake gauges, but still need two Golden Glow headlights and numerous electrical gauges. So, any thoughts on our electric beauty, experiences with her, rare 960 pictures, those much needed parts, and or free time on your hands, give us a call—Mike McGaw / 778 679 4610 or 250 652 1627 or by email mike_mcgaw@telus.net
Run a Locomotive:
Coming to the Greater Vancouver area? Have a spare (half) day and don't know what to do? Join the elite group which now includes Mike Berton, son of the late author Pierre Berton, and enrol in the West Coast Railway Heritage Park's extremely popular Run a Locomotive program. You have the choice of using one of three Locomotives - RSC 3 #561; S3 #6503 or F7au 4069. Pricing depends on the unit selected. On completion you will receive a framed Certificate and a commemorative photo. Contact Russ Grycan, WCRA's Chief Mechanical Officer by email russg@wcra.org or by phone (604) 898-9336.
Photo shows Mike accepting his certificate from engineer John Jellis and CMO Russ Grycan on completion of his run.
---
Rocky Mountaineer - Vancouver, BC
http://www.rockymountaineer.com/en_CA_ON/
John Leeming snapped RMRX 8014 West (Train 609 ) with - NREX GP50's 2903-2906 trailing at Savona, BC, on Aug 17, 2012.
---
Frasier Valley Heritage Railway Museum – Surrey, BC.
Two interurban cars, the BC Electric Rail (BCER) Car 1225 (built in St. Louis in 1912 and 1304 (built in New Westminster in 1911) were moved August 16th from the old Sullivan Station facility to a new home in Cloverdale, BC. The interurban system, permanently shut down in the 1950's, will begin running again next May from Cloverdale to Scott Road after rehabilitation to offer a heritage rail experience to tourists. The BCER car 1225 was the last car to run from Vancouver to Steveston before the system was shut down. The BCER car 1304 was liveried in fancy plush furniture and fixtures to carry Prince Arthur the Duke of Connaught (third son of Queen Victoria, and Governor General of Canada) and his family on a tour of the Fraser Valley. (Vancouver Sun).
---
British Columbia Chapter of the National Railway Historical Society
A very special event will be held at the Braid Street Warehouse in New Westminster on September 8th, 2012 starting at 10;00 Hrs through 13;00 Hrs, and is open to all. Many of our readers may have herad of Barrie Sanford who has just released his new book. "TRAIN MASTER, The Railway Art Of Max Jacquiard. Both Barrie and Max will be on hand for an official book signing.
In addition, the VIA 6300 that was donated to the NRHS that I recently sent you photos of with its "new look" will be on official display for your viewing, along with select rolling stock from the societies collection. You won't want to miss this opportunity if you have the chance to attend. Space is limited. As such this is an RSVP event. If you'd like to attend and meet these fine gentlemen and see the equipment, please contact Terry Fergusson directly at: fergussontrain@gmail.com You must make a reservation to attend, and for instructions on accessing the secured site. Much effort has gone into both of these major projects and the NRHS BC Chapter looks forward to your visit. (Andy Cassidy)
---
ALBERTA
---
Royal Canadian Pacific Luxury Train
http://www.royalcanadianpacific.com/schedule.html
---
Alberta Railway Museum – Edmonton, AB
http://www.albertarailwaymuseum.com/
---
Alberta Railway Museum – Bieseker, AB
The museum has two MLW switchers: Ex-CP RS-23 8017 (ex- Saskferco - Belle Plain, Saskatchewan), and Ex-CN S13u 8704 (donated by CANAC).
---
Alberta Central Railway Museum - Wetaskiwin, AB
http://www.abcentralrailway.com/
Jeff Keddy submitted the following shots taken August 19th at the Alberta Central Railway Museum during their Railway Day event. CP RS23 8015 and CP RDC-2 9108 provided the eye candy and operated over a two-mile circle of track in a field.
In 1949 BUDD launched a revolutionary new self-propelled passenger coach, called a rail diesel car (RDC). Between 1949 and 1962, Budd built 398 of the RDC's. Because they had operating controls at both ends, the use of a turntable or wye track was unnecessary to turn the train around. Another advantage was they came equipped with two diesel engines. Should one fail, the second was sufficient to get the rail car to its destination. Canadian Pacific Railway acquired RDCs as its last ditch attempt to remain competitive in the intercity rail passenger market. When Via Rail was formed by the Government of Canada in the 1970s, most of Canadian Pacific Railway's remaining Dayliner fleet was transferred to the Crown Corporation.
CPR retained a handful of Dayliners including 9108. The car was transferred to Sudbury where it was used to transport railway personnel in Northern Ontario. It was also renumbered RDC 91. The flexibility of RDC 91 allowed the railway to move various elected officials and media around the region in a massive Communications Program designed to show railways were an
integral part of the Canadian economy and an environmentally sound and safe means of moving goods across the country. In 1981 RDC 91 along with other display cars was used across Ontario to help mark the railway's 100th founding anniversary.
In Sept. 1984, RDC 91 was brought out West to move media and dignitaries to a special ceremony in the heart of Rogers Pass, BC to mark the beginning of the railway's double tracking mega-project through the Selkirk Mountains. This was the first time a rail diesel car had ever operated independently from Lake Louise to Revelstoke.
In 1996 when Canadian Pacific Railway moved its headquarters to Calgary, the decision was made to bring RDC 90 and 91 as well. The intention was to refurbish the cars and put them in the original livery and use them for both public affairs duties as well as for employee events.The cars were put into storage and never restored as intended.
Stored at the company's shops in Calgary, the decision was made to try and find suitable museums for Canadian Pacific Railway's last two RDCs. RDC 90 was renumbered to its original 9069 and is located at Exporail on the outskirts of Montreal.
RDC 91 likewise has been renumbered 9108 and operates at the Alberta Central Railway Museum.
---
The Alberta Prairie Railway Excursions – Stettler, AB
Rocky Mountain Railway Society:
This year, CNR U-1-f 4-8-2 Mountain type (AKA "Bullet Nose Betty") #6060 was condemned with major boiler issues and now requires a major and costly overhaul. It will not be running for some time, if ever again. In the meantime APR has been using their ex-CN SW1200RS 1259 repainted into CNR green and a fully serviceable 2-8-0 #41 which is an American steam engine which is similar to a CNR 2-8-0.
On August 6, 2012, Ben Alain and company rode the Alberta Prairie Railfan's Special from Stettler,AB to Big Valley,AB. The train was pulled by APR's #41 Baldwin 2-8-0 and during the stopover in Big Valley, APR's fleet of diesels was brought to the station and put on display. The fleet includes GMD-1m #1118, SW1200rs #1259 and GP9 #7438.
---
Alberta 2005 Centennial Railway Museum Society)www.alberta2005rail.com
---
SASKATCHEWAN
---
Southern Prairie Railway
Ogema Heritage Railway Association
Jeff Keddy submitted the following shots he took on his August 12th visit to the Southern Prairie Railway in Ogema, SK.
Later that day Jeff shot the Parrish & Heimbecker S-3 #8454 in Moose Jaw (previously used on the Prairie Dog Central).
---
MANITOBA
---
Winnipeg Railway Museum: www.wpgrailwaymuseum.com
---
ONTARIO
---
Southern Ontario Locomotive Restoration Society:
www.steam-train.org
---
---
The Bytown Railway Society – Ottawa, ON
http://www.bytownrailwaysociety.ca/about.htm
Duncan DuFresne looks out on the south end of Ottawa (Walkley Yard) as he engineers CPR G5-a #1201 towards Saint John, New Brunswick on June 1st, 1989, passing through Walkley Yard, as RS18u 1831 pilots the small train. A long time contributor to Branchine magazine, sadly Duncan passed away two months ago and we offer our condolences to Duncan's family and friends. He will be missed.
The Bytown Railway Society in Ottawa's GE 50T #10 is presently in the midst of repainting. The Association decided on a CNR inspired scheme and will be honoring Duncan Dufresne who was instrumental in getting this engine that is the back bone of our operations. Shots were taken at the CMST (Canadian Museum of Science and Technology) on August 3rd 2012 by Charls Gendron during the painting phase. Mr. Gendron also sent ex-CN NSC-built Baggage car 9246 (ex-VIA 9627), which they completed this spring. It is used to store tools and many artifacts including five Speeders and a Trailer.
The Bytown Railway Society 2012 Canadian Trackside Guide is "SOLD OUT, but previous issues are available at:
http://www.bytownrailwaysociety.ca/about.htm
---
Chatham Railway Museum
http://www.chathamrailroadmuseum.ca/
---
Huntsville and Lake of Bays Railway Society http://www.portageflyer.org/
Wayne Shaw snapped "The Portage Flyer" as it chugs its way up out of the dip on its way back to Rotary Village Station on August 8th.
"Marge" is 79 years young, and as a girl of 20 she had 3 dreams in life; she wanted to fly (anywhere) in an airplane, downhill ski and drive a steam locomotive. On Canada Day 2012 she fulfilled the third and final dream by being the first to "hop on board" with Muskoka Heritage Place's "Engineer for a Day" program on the Huntsville and Lake of Bays Railway. As you can see, a little bit of rain did nothing to dampen her spirits as she waits at Fairy Lake Station to take the Portage Flyer back to Rotary Village Station at the other end of the line.20120721044a: To those not used to it this view of old Number 2 seemingly preparing to take a dive into the Muskoka River where it flows into Fairy Lake could be a bit disconcerting. No worries though, it's just the view from the Engineer's seat as the Brakeman and Fireman spin the old girl around on the turntable at Fairy Lake, preparing to run around the train to haul it back to Rotary Village Station 2012-07-21.20120721051b: The Engineer's perspective as the Portage Flyer whizzes along the side of the hill above Camp Kitchen Road, returning to Rotary Village Station from Fairy Lake 2012-07-21.
---
Elgin County Railway Museum
---
Toronto Railway Heritage Association
Walter Pfefferle clicked CNR 4-8-4 Northern 6213 and GP7 4803 at Roundhouse Park July 10th. When donated in the 1980's, this GP7 was fully operational. It was moved from Turcot Yard in Montreal following a CNR green repaint at the Point St-Charles shop on CN train 253 as a trailing unit to CN Spadina Yard. The Northern had been displayed at the Canadian National Exhibition grounds in Toronto grounds for decades and was trucked to the John Street Roundhouse a couple of years ago.
---
York Durham Heritage Railway
---
Halton County Railway Museum
---
Northern Ontario Railway Museum & Heritage Center - Capreol, ON http://www.northernontariorailroadmuseum.ca/
---
The Canada Science & Technology Museum - Ottawa, ON.
http://www.imagescn.technomuses.ca/
http://www.imagescn.technomuses.ca/railways/index.cfm
---
Galt Historic Railway Park
http://www.galtrailway.com/home/
---
The Palmerston Railway Heritage Association
http://www.palmerstonrailwaymuseum.ca/
CLC CNR 2-6-0 #81 is on display nearby the museum
---
Railway Museum of Eastern Ontario (REMO)
---
South Simcoe Railway
http://www.southsimcoerailway.ca/
---
QUEBEC
---
EXPORAIL – CRHA
http://exporail.org/en/welcome-to-exporail/
The new book Canadian National Railways Diesel Locomotives (Volume 1) book was launched at Expo Rail August 11th with authors Ken Goslett and Kevin J. Holland. The book is a comprehensive first volume of Canadian National Railways Diesel Locomotives. Fittingly CNR 77, (CNR`s first diesel switcher) was on display as well.
September 1 to 4:
Exporail will be open daily 10:00 AM to 18:00 (6:00 PM).
September 5 to 30:
Exporail will be open Wednesday to Sunday 10:00 AM to 5:00 PM
September 1 to 30:
View a water-color exhibition by artist Alice Macredie, she paints in memory of her father, who was a railway bridge engineer in western Canada. This exhibition combines history, art and engineering!
One of the many watercolours by Alice Macredie on display at Exporail.
British A-4 steam locomotive "Dominion of Canada" is now undergoing final preparation at Exporail, for transport to England in mid-August. This unique Steamlined 4-6-2 from the Museum's collection will be on loan to the world's most prestigious railway museum, the National Railway Museum (www.nrm.org.uk) in York, England. Built in 1937 for the London and North Eastern Railway (LNER), the "Dominion of Canada" will be part of a program of celebratory events in 2013 commemorating the 75th anniversary of the world speed record by a steam locomotive. "Dominion of Canada" will be restored and repainted LNER blue and white, at the shop at Shildon, England for the 2013 celebrations before being returned to Exporail in 2014.
At Exporail on August 18th for model train weekend, Michael Berry snapped "Dominion Of Canada" getting tested with CN 30 (70 tonner) The steam engine is expected to leave the first week of September. The test was to ascertain if Exporail could turn DofC on the turntable to change tracks, so they can use the loading ramp, and the test was successful. The "Dwight D Eisenhower" is being off loaded in Halifax the week of August 21st, and the same two flat cars will be sent to Montreal to pick up "Dominion of Canada". Likely the week of September 3rd. the engine and tender will be loaded and then go via CP to St-Luc Yard Montreal, and then by CN to the Port of Halifax.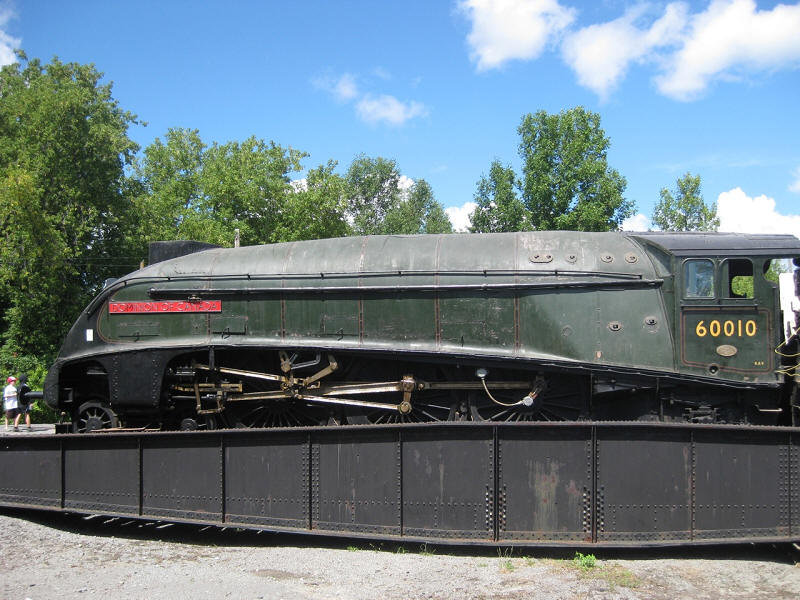 South of the border, the Dwight D. Eisenhower was on the move in Neenah, WI in late-July (See photo) and arrived at Halifax, NS via CN on August 21st. Prepared for her long voyage overseas at the National Railroad Museum on July 28th Henry Nye snapped her on two flat cars, the locomotive and its tender are to be shipped to a museum in England as part of a two-year loan agreement. The British Railways A4 has been a popular attraction at the Ashwaubenon Museum for nearly 50 years. The Eisenhower was built in Great Britain in the late 1930s. As part of the loan agreement, while overseas, the locomotive and its tender will undergo restoration work. The Eisenhower will also be part of a 75th celebration of the world steam locomotive speed record set in July 1938.
The Dwight D. Eiesenhower arriving in Halifax, Nova Scotia on August 19th on CN train #120 passing Sandy Cove West at track speed and later entering the Rockingham Yard.
CTV news presented this report about the unloading the Dwight D. Eisenhower in the Port of Halifax: Scroll ahead to 18 minutes into the broadcast: http://atlantic.ctvnews.ca/video?clipId=745294
Canadian Rail Magazine: The September - October issue of Canadian Rail features articles on Allan Toohey, source of the Fonds Toohey in the CRHA Archives; a tribute to Omer Lavallée featuring some 20 of his best photos; Heritage Business Car. Canadian Rail is mailed to CRHA members and is available in better hobby shops across Canada.
---
Hull - Wakefield Steam Train - Gatineau, QC
The Wakefield steam train will not be running again until 2014, and only between Chelsea and Wakefield. The rest of the track, between Gatineau and Chelsea, was badly damaged during heavy rains last summer and won't be back online until 2016. The train itself was kept in the region late last year when several Quebec municipalities, the provincial government and Outaouais tourism pulled together $500,000. At the time, in November, the municipal owners of the tracks said they hoped to have the train running by 2013. According to Louise Boudrias, president of the CCFO (the railway company managed by the municipalities of Gatineau, Chelsea and La Pêche), the work to repair the cars, stations and tracks will not start until the necessary funds are collected through fundraising. Boudrias said the temporarily shorter route could be appealing for young families who sometimes found the journey from Gatineau to Wakefield too long.
When construction and repairs between Gatineau and Wakefield are done, customers will be able to board the train at one of three stations. Officials are also thinking about extending the tourist season of the train into the winter, but nothing has been decided.
The delay is disappointing for some business owners in Wakefield, because the steam train brought in customers. Marc Fournier of La Confiserie Wakefield said he isn't surprised by the delay. Fournier told Radio-Canada he doubts the CCFO can raise enough money to fund the project. (CBC News)
Montreal Railway Modeler's Association AMFM http://www.canadacentral.org/
---
NEW BRUNSWICK
---
Moncton Transportation Museum:
The New Brunswick provincial government announced August 20th they investing $1 million for the construction of the Moncton Transportation Museum. The Transportation Discovery Centre, an extension of the Moncton Museum, will illustrate the fundamental role transportation has played in shaping the history and growth of Moncton and highlight the city's position as the transportation hub of Atlantic Canada, officials said. "This very much is about our heritage so if we think about today our children and the opportunity they will have to learn more about different modes of transportation and what has happened in the past and very importantly as well it's about our economy," said Alward. The centre will "honor Moncton's transportation history and heritage from shipbuilding to the railroad, from trucking to air transportation, and looks forward to today's information highway in a truly educational and family-friendly environment," said Deputy Mayor Merrill Henderson. The 1,170 square meter (12,593 square foot) centre will feature exhibition galleries, an interactive exhibit on all modes of transportation.
---
The New Brunswick Railway Museum Hillsborough, NB
http://www.nbrm.ca/en/index.shtml
The NBRM in Moncton, NB have on display ex-CNR 4-6-2 #5270, which was the first of this type to be used in the Atlantic Region, and for many years it operated on the Saint John-Moncton line in passenger service. Appropriately, the engine was donated almost 101 years after the opening of the line. On passenger runs it carried a crew of two: Engineer and fireman. During the Second World War, engine 5270 was used in transporting goods and troops across the Atlantic Region.
---
NOVA SCOTIA
---
Nova Scotia Museum of Industry - Stellarton, NS
http://museum.gov.ns.ca/moi/en/home/default.aspx
---
Memory Lane Railway Museum - Middleton, NS
http://memorylanerailwaymuseum.com/
---
Train Station Inn - Tatamagouche, NS
---
Orangedale Railway Museum - Orangedale, NS
http://www.novascotiarailwayheritage.com/orangedale.htm
---
USA
---
NEW YORK:
---
Bridge Line Historical Society - Delaware and Hudson RR
CLICK HERE TO VISIT THE BRIDGE LINE HISTORICAL SOCIETY'S HOME PAGE
---
ILLINOIS
---
Monticello Railway Museum http://www.mrym.org/
---
PENNSYLVANIA:
---
Lake Shore Railway Historical Society http://www.grape-track.org/home
Steamtown National Historic Site: http://www.nps.gov/stea/index.htm
---
OVERSEAS
---
Cornwall, England, United Kingdom
---
©CRO September 2012