CANADIAN PACIFIC
---
On August 3rd, Jody Moore and William Baird had a full day of railfaning, with a special tour of the Port of Montreal diesel shop, (See- Shortlines section), the Exporail Museum , and CP St-Luc Diesel Shop. A nice surprise was catching CPR script-liveried GP38-2 3084, here for wheel and truck work, and attractive CP beaver repaint AC4400CW 8579 getting a coupler replacement on the rear. CP AC4400CW's 8565 and 9754 were undergoing engine change-outs in the back shop. St-Luc Diesel Ship will change-out 48 Diesel Engines during the year 2012 !
The following are the units noted at the St-Luc Shop:
CP GP38-2 3084 for truck repairs
CP SD60 6225 (The entire rebuilt SD60 fleet will receive (PTC) Positive Train Control modifications at the St-Luc Shop).
CP SD40-2 5947 (SUS to go to Mayfield, KY in 2013).
CP GP9u 1599, 1604 1626, 1639, 1690. (1690 is ex-TH&B GP9 403)
CP AC4400CW 8565, 8579, 8639, and 9754.
CP ES44AC 8702, 8738, 8774, and 8837
CITX SD40-2 3065
AMT F59PHI 1322 (repairs)
AMT F40PH 400 (repairs)
RBRX F59PH 18531 (repairs)
AMT F59PH 530 (repairs)
---
On August 29th, your Editor returned to St-Luc Diesel with Richard Marchi who snapped some interesting shots (See Below), including CPR GP38-2 3084 here for truck repair and temporarily assigned to yard service paired with (former TH&B) CP GP9u 1690. CP ES44AC 8864 was here too, still not repainted since the Olympic Logo was removed. We also caught the first of the new AMT F59PH's (AMXX 1341) being load tested in preparation for commuter service.
Outside the shop:
CP GP38-2 3120, 4452
CP SD40-2 5926, 6080
CP SD60 6234 (Fresh paint after Cadrail overhaul)
CP AC4400CW 8534, 8652, 8553, 9708, 9784.
CP ES44AC 8752, 8738 (Repairs)
CP ES44AC 8864, 9378.
CEFX SD40-2 3155
Roundhouse:
AMT F59PHI 1328 (Repairs)
AMXX F59PH 1341 (Being load tested)
AMT F40PH 400 (Repairs)
Back Shop Stored:
CITX SD40-2 3065 (SUS)
CP GP9u 1599, 1626, 8237, 8247. (SUS)
CP GP9u 1639, 8214 (Retired, will soon move to Coquitlam, BC)
CP SD40-2 5947 (SUS, will go to Mayfield, KY in 2013).
Inside the shop:
CP SD60 6225, (Modifications)
CP AC4400CW 9817, 9821, 9831
Some of the Yard Power:
CP GP9u 1509, 1608, 1647, 1688 (ex-TH&B 401), 8219
CP GP38-2 3084 (CPR Script Paint)

Expressway Power:
CP SD40-2 5687, 5976.
The CC&F built CPR smooth side baggage which for over 60 years was positioned (with out its trucks) beneath the St-Luc Yard Tower at the bottom of the hump, was being lifted by a large crane on August 29th for transport. We don't know its disposition.
---
CP Units Retired:
During July the following CP slugs were retired:

STLH 1001, (Toronto)
CP 1010, 1016, 1020, and 1023. (Two from Coquitlam)
CP 1153, 1154, 1155, 1157, 1158, and 1160. (Most from Toronto Hump)
Now retired, STLH Slug 1001 has an interesting history: Built by EMD as MILW SW1200 2026 in November 1954, she was renumbered to MILW 631, and again to MILW 706. Acquired by SOO LINE in 1985, she was "patched" and renumbered SOO 1211. (See photo below). In 1996 CP converted her to slug 1001 and repainted her STLH 1001 in 1998. Most of her life she was paired with CP GP9u (Mother) 1607 and worked Agincourt Yard Toronto.
---
As well, IC&E GP40-2's 4200-4209 were removed from service in mid- August 2012, and will be returned to the lessor.
Retired CP SW1200RS's 1210 and 1245 which had been stored in Calgary's Ogden Yard for sometime, were moved east on CP in Late August (Video link below). The Ontario Southland Railway (OSRX) have purchased CP SW1200RS's 1210, 1245, and 1249, along with some other interesting power! (See SHORTLINES).
http://www.flickr.com/photos/vehicle-images/7824886632/
---
CP GP38-2 Overhaul Update:
EMD-Progress Rail in Mayfield, KY continues to overhaul GP38-2's for Tier 0+ compliance, equipping them with AESS (Locomotive Automatic Engine Start/Stop), and repainting them into CP livery.
GP38-2's released from EMD-Progress Rail (Mayfield, KY):
CP 3024, 3038, 3048, 3057, 3062, 3066, 3111, 3126, 3129 and (former SOO) CP 4414, 4424, 4427, 4428, 4446, 4447, 4506, 4513, 4514 and 4515.

GP38-2's to be Overhauled at EMD-Progress Rail (Mayfield, KY):
CP: 3041, 3117, 3127, and 3133.
SOO: 4415, 4418, 4436, 4450.
GP38-2's to be Overhauled at NRE (Silvis, IL)
CP 3033, 3103, 3124 and 3134.
SOO 4426.
---
Bill Miller wrote: "The ugliest engine on CP has finally been repainted!" CP 242 Is seen at Galt, ON on August 6th with AC4400CW's 9543-9566 and GP38-2 3057. Prior to repaint, CP 3957 looked worse than those GE's. (See photo below)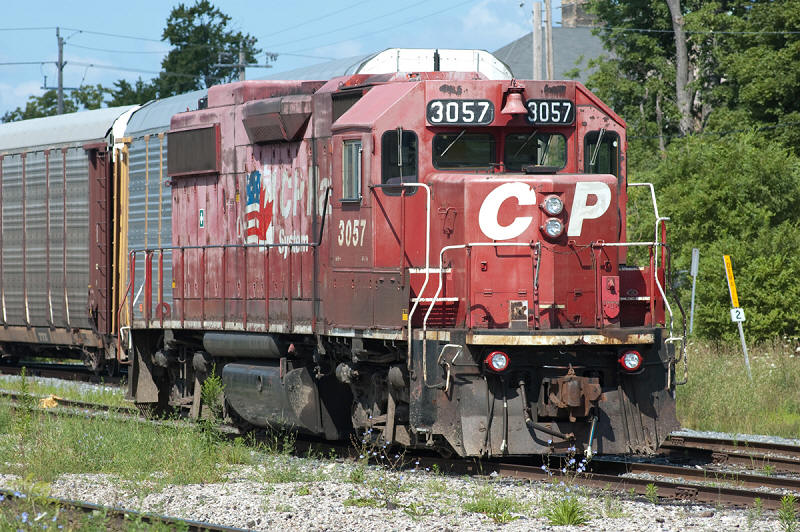 ---
Darren Doss caught CP 4424 and 4506 fresh from the shop in Mayfield , at Fulton, KY August 1st.
He also bagged CP completed 4515, which was returned for warranty repair and newly arrived CP 3133 and SOO 4415 at Fulton, KY August 17th.
---
George Redmond snapped CP 3133 and SOO 4415 the 3rd and 4th units on a SB train CN L590 at Centralia, IL August 17th. Both GP units are enroute to Fulton, KY and will be sent to Progress Rail at Mayfield, KY.
---
Christopher Bodkin also caught CN L590 on August 17th SB thru Cobden, IL. CN SD75I 5776 leads CN GP40-2LW 9592, with dead in tow CP GP38-2 3133 and SOO GP38-2 4415.
---
SOO SD60 Overhaul Update:
SOO SD60 overhaul update:
CAD Railway Services (Lachine, QC) continue to overhaul 18 SOO SD60's and one SD60M to Tier 0+ compliance, equip them with AESS (Locomotive Automatic Engine Start/Stop) to conserve fuel, and repaint and renumber to CP 6200-series. The entire rebuilt SD60 fleet will receive (PTC) Positive Train Control modifications at the CP St-Luc Diesel Shop.
In Service:
CP SD60 6234 (ex-SOO 6034) released August 15th, 2012
CP SD60 6252 (ex-SOO 6052) released July 25th, 2012
CP SD60 6255 (ex-SOO 6055) released June 21st, 2012
CP SD60 6229 (ex-SOO 6029) released June 5th, 2012
CP SD60 6243 (ex-SOO 6043) released April 20th 2012
CP SD60 6254 (ex-SOO 6054) released March 29th 2012
CP SD60 6245 (ex-SOO 6045) released March 6th 2012
CP SD60 6242 (ex-SOO 6042) released March 1st 2012
CP SD60M 6260 (ex-SOO 6060) released January 13th 2012
CP SD60 6228 (ex-SOO 6028) released December 16th 2011
CP SD60 6225 (ex-SOO 6025) released December 1st 2011
CP SD60 6241 (ex-SOO 6041) released November 2011
CP SD60 6240 (ex-SOO 6040) released October 2011
CP SD60 6250 (ex-SOO 6050) released October 2011
At Cadrail:
SOO SD60 6036 arrived at Cadrail July 9th
SOO SD60 6057 arrived at Cadrail April 2nd
SOO SD60 6023 arrived at Cadrail March 30th
At St-Luc Yard:
SOO SD60 6030 arrived in Montreal July 24th.
SOO SD60 6021 arrived in Montreal June 25th
---
Richard Marchi snapped your CRO Editor (William Baird) verifying the release date on the CADRAIL Builders Plate of CP SD60 6234 at St-Luc Diesel Shop August 29th. CP SD60 6234 (ex-SOO 6034) was released following overhaul and repaint August 15th and will receive new modifications at the CP Montreal shop.
---
Fresh from rebuild at Cadrail, John Allen caught CP SD60 6234 trailing nasty looking CP AC4400CW 8559 on train #441 at Jury Road, Lobo (west of London, ON), on August 17th.
---
On August 23rd, Kenneth Borg clicked CP AC4400CW 8559 and CP SD60 6234, at Delray, near Detroit, MI.
---
CP SD30C-ECO Update:
The first bunch of CP SD40-2's to be rebuilt at EMD-Progress shops to meet Tier 0+ US emissions standards are in Mayfield, Kentucky. These rebuilt SD30Cs are to be numbered beginning at CP 5000 and CP will utilize SD40-2's from their ICE and DME roster as well. CP expects to receive the first locos of the order during the 3rd quarter of 2012.
The SD30C-ECOs will be rebuilt from SD40-2 cores and frames, powered by a new 12 cylinder 3000 hp 12-710G3F engine. Similar to other new locomotives delivered by GE and EMDI, LED lighting is expected, except for head and ditch lights.
Further information about ECO re-powering can be found here:
http://www.progressrail.com/repowered-locomotives-710ECO.asp
The following 20 CP SD40-2's will be done this year:
5415, 5672, 5691, 5728, 5734, 5735, 5745, 5789, 5869, 5918, 5933, 5934, 5950, 5971, 5980, 5983, 6027, 6039, 6056 and 6606.
The following SD40-2's and SD40-2F's are the proposed units for ECO rebuild in 2013:
SD40-2: 5648, 5787, 5795, 5844, 5902, 5924, 5930, 5931, 5940, 5944, 5947, 5948, 5967, 5992, 5997, 5998, and 6006.
SD40-2F: 9000, 9002, 9005, 9010, 9016, 9018, 9019, 9022, and 9024.
---
CP GP20C-ECO Update:
The GP20C-ECOs are to be numbered beginning at CP 2200, with the 4-axle units built at Muncie, IN at the EMD facility. These will have new frames, new cabs and fuel tanks, and meet FRA safety requirements. As well they will feature the 8-710G3A prime mover and other hardware upgrades.
Four are still stored in Montreal (St-Luc Yard) and remain to be cannibalized for usable components at the SRY shops in New Westminster, BC, and then scrapped. Almost all of the 35 GP7u/GP9u locos from the list below have been stripped with most already scrapped.
| | | | | | | | | | |
| --- | --- | --- | --- | --- | --- | --- | --- | --- | --- |
| 1501 | 1503 | 1505 | 1515 | 1519 | 1525 | 1528 | 1565 | 1566 | 1567 |
| 1568 | 1569 | 1570 | 1581 | 1582 | 1588 | 1603 | 1611 | 1612* | 1615* |
| 1617 | 1621 | 1638 | 1639* | 1644 | 1649 | 1682 | 1696 | 1697 | |
| 8214* | 8224 | 8229 | 8240 | 8242 | 8264 | | | | |
(Still in Montreal: *).
On a very hot August 4th with temps hitting 33C (91F) Andy Cassidy drove up to Surrey, BC and made his way to ABC Metals at Mile 22.0 on the CP Page Sub and caught the last remains of CP GP9u 8224. Her trucks were loaded onto a flatcar, and there were also some others from previous victims sitting there. The engine is standing proud in the sun, but will no doubt be reduced to small chunks by the big shear in the background in short order. It's sad to see all these good old GP's going down for the count here.
---
CP Leased Locomotives on the Property in August
CEFX (GP38-3) IN SERVICE: 3803, 3805, 3807, and 3811.
CEFX (AC4400CW) IN SERVICE: 1002, 1006, 1007, 1014, 1018-1020, 1023, 1024, 1026-1059.
CEFX (SD40-2) OFF LEASE: 2786, 2791, 2797, 2802, 2803, 3105, 3109, 3112, 3120, 3121, 3127, 3128, 3130, 3133, 3137, 3139, 3143, 3145, 3148, 3149, 3155, 3163, 3164, 3166, 3168, 3172, 3176, 3181, 3182, 3183, and 3188. The CEFX SD40-2's are OFF LEASE and stored at various locations on CP, except the following unit which has remained in service: CEFX 3173
CITX (SD40-2) STORED: 2783, 2792, 2799, 2804, 3008, 3024, 3026, 3035, 3036, 3053, 3054, 3055, 3057, 3059, 3060, 3061, 3062, 3064, 3065, 3066, 3067, 3070, 3071, 3072, 3073, 3074, 3075, 3078, 3080, 3082, , 3083, 3086, 3089, 3090, 3091, 3092, 3095, 3097, 3098, 3099 3100, 3157 and 3177, all off lease and stored at various locations on CP. In July, 3032 was removed from storage at Cociitlam and sent to the SRY for lease.
CITX (SD40-2) IN SERVICE: 2785, 2794, 2796, 3056, 3058, 3063,
3077, 3079. 3081, 3088, 3101, 3102, 3110, and 3170.
Over the next few months, CP will be storing, and returning to the leaser many of the locomotives currently on lease. Some are to go to BNSF for Storage at Superior, WI, with some moving elsewhere.
---
It's coal under golden light at Harrogate mile 109 on the Windermere Sub with CP ES44AC 9376 accompanied by DPU ES44AC 8783 and AC4400CW 9813 locos 8783 and 9813 bringing up the rear. Kevin Dunk battled malicious blackflies and the on-off-on-off-on lighting and held his ground against the Columbia River's nastiest snakes!
---
This bird's eye-view of the CP yard in Golden, BC was submitted by Kevin Dunk with thanks. The large shop is for servicing the coal hopper fleet as they have been since its inception, there is no provision for locomotive servicing other than fueling and sanding at this facility.
---
CP and CN joint running:
CN ES44DC 2274 at Coho, the point where the joint operating agreement between CP and CN becomes effective. To the right is Nepa and the CP main which is the eastbound line from the coast. It is at Nepa and Coho where the CP and CN trains, in effect, return to their own trackage.
Deane Motis snapped CP ES44AC 8905 after just leaving its home rails at Coho and is splitting the uprights at Basque, BC on August 11th.
GREAT SHOT! Looking like a spectacular model railroad layout, CP ES44AC 8950 is on the south track at Spence, BC moving past a "yarded" CN coal load before entering the limits at Boston Bar, BC. On August 11th, 2012
---
David Sandor posted the following great shot on our CRO Facebook page: Repainted AC4400CW 8579 at Sainte-Anne, QC on August 4th.
---
In St. Charles, MN on August 17th, Dennis Weber snapped DM&E Train 277, with SD40-2's ICE 6434, DM&E-6364, and ICE-6426.
---
The same day Dennis caught DM&E Train 633 with SOO SD60 6044, with a trio of SD40-2's DM&E-6359, ICE-6427 and 6445 hauling grain hoppers and ethanol tanks.
---
On July 12th, Ron Visockis snapped this great shot of CP ES44AC 8722 leading a hotshot intermodal from Nichols Road near Trenton, Ontario. The wooden bridge is a great vantage point for railfans.
---
Almost one quarter of the shale oil being produced in North Dakota will soon be headed by rail to the Port of Albany. NY via CP. A $5 million expansion at the Global Partners Albany terminal is increasing capacity there to 160,000 barrels a day, from 55,000 barrels previously. The Waltham, Mass.-based terminal operator also said Wednesday in regulatory filings that it will spend $2.6 million to build a propane storage and distribution facility in Albany, which also will be supplied by rail. The crude oil, which will arrive from North Dakota's Bakken field aboard CP "tank trains", will be loaded onto barges to be shipped down the Hudson River to refineries along the East Coast. The Bakken field produced 574,000 barrels a day in May, according to the North Dakota Department of Natural Resources.
David McLellan snapped a westbound tank train placarded for crude petroleum and led by CP AC4400CW 9502, ES44AC 8799 and buffer car arrive at Smiths Falls for a quick crew change on August 2nd.
---
Canadian Pacific is doubling the length of three siding tracks at its Colonie yards north of the port to 3,000 feet each to accommodate 120-car tank trains. That work is expected to be completed by early October, a CP spokesman said. "At present, we are targeting two trains a day to Albany," CP spokesman Ed Greenberg said in August. "The model is to eventually operate 124-car trains. We have been moving 80-car trains, but are now moving 104-car trains for the Port of Albany. We feel we're an alternative to pipeline" shipment, Greenberg said. When the 124-car trains are operated, they will use three GE locomotives in DPU position, likely two up front and the other in the train. David McLellan snapped a westbound tank train placarded for crude petroleum and led by CP AC4400CW 9502, ES44AC 8799 and buffer car arrive at Smiths Falls for a quick crew change on August 2nd. CP said sidings will be extended in the Albany, NY area to accommodate these 124-car length trains.
---
A former D&H unit, CP GP38-2 7309 was assigned to the CP TEC train on August 19th and was sent to the MMA. Francois Jolin shot the train at Foster, QC August 20th.
---
CP shareholders will receive details of the new CEO E. Hunter Harrison's plan for improving profitability for the railway during the first week of December 2012. Apparently, the changes will be "sweeping" and will include a plan to relocate CP's downtown Calgary headquarters to a less expensive location at a yard on the outskirts of Calgary. Other measures are expected to include a reduction in headcount, terminal downsizings and yard closures. At the end of June, former CN Rail CEO was appointed CEO of CP after a contentious proxy battle launched by the company's largest shareholder, Pershing Square Capital Management, which is headed by Bill Ackman. The showdown saw Fred Green ousted as boss of the railway and the departure of former CP Chairman, John Cleghorn as well as several other board members.
Among the six major North American railroads, CP has been the worst performer. Harrison has pledged to reduce the company's operating ratio-- a key financial measure in the industry -- to 65 percent or better. The ratio is derived by dividing operating expenses by revenue, which means a lower number is better. At of the end of the second quarter, CP's operating ratio was 82.5 percent. Industry leader CN Rail reported an operating ratio of 61.3 percent in the second quarter. Hunter Harrison retired as CEO of CN at the end of 2009 after leading it to become the most efficient railroad in North America. On the day his appointment was announced, Harrison said he expected to have a "comprehensive plan" in place within 120 days, which would have put it at the end of October. Now the presentation is, now scheduled for early December, will take place in either New York or Toronto.
---
THE CHALK RIVER SUBDIVISION: END OF AN ERA
On August 7th Raymond Farand compiled this report of the Chalk River work train, as he once again strode purposefully along portions of the r-o-w between Chalk River and Mattawa that haven't felt his footsteps in almost two and a half years. Ray arrived in the Chalk as the crew was doing their brake test in front of the old station location. Nothing is left standing now, not even the ATCO style M-O-W structure that had adorned the location since the early '80s and was demolished in July All that remains is a concrete slab in the ground to go along with the crumbling asphalt platform that stretches for a distance in the eastward direction along the south side of what used to be considered Main Track. The yard is quickly becoming what you would expect to see at an old abandoned drive-in movie site, with Mother Nature's greenery taking over pretty much everywhere. If they're careful removing the rail, the town of Chalk River will be able to advertise the existence of its first railway sponsored arboretum by the beginning of this year's fall foliage season.
The bright and cloudless Ottawa sky that I had woken up to about 3 hours earlier had now changed to a hazy to medium overcast which softened the harsh morning shadows as the CWR train prepared to begin its journey to western Canada. As the day progressed, a steady and at times heavy rain made the task of photographing the first of what will be several rail trains more challenging, but no less exquisite given the finality of the experience. Due to the overcast conditions there wasn't a bad picture taking seat in the house anywhere along the line, with the dampness, something that we haven't had much of in the Ottawa area this summer, accentuating the scent of trackside ferns, moss and pine forests that line the North Bay Subdivision through the Upper Ottawa Valley. In addition, the heavy humid air made the echo of 9013's air horn all that much sweeter as it bounced off the hills along the Ottawa River.
Ray was impressed at how well the North Bay Sub is holding up. Aside from the encroachment of foliage next to the r-o-w shoulder, the track surface is largely weed free, with track gauge and alignment looking pretty darn good. I'm told that sections of the line could probably sustain 50MPH ops even today in spite of it not seeing service for the past 2 years. Reminds me of the track condition of the Beachburg Sub through Algonquin Park when it was ripped up 2 years after service was terminated over that line.
Watching CP SD40-2F 9013 lead that CWR train up the hill west of Mackey was a real treat, as the throttle on the 9013 was moved in and out of Run 7 thus ensuring that adequate power was available to get the 6 track miles of racked CWR up the hill. That look at 9013's nose approaching me half way up the hill could have been easily been 471's train charging up the grade back in the '90s. Priceless!
More impressions, well it was strange to hear the eastbound Tembec on approach to Mattawa have a conversation with the 'RTC St. Albans'. Not something that I have previously heard in the Valley. Yes, it would appear that the American RailAmerica dispatchers do refer to themselves as RTCs at least when they converse with operations people north of the border. It was a joy to hear a scanner begin with "OVR detector, mile 81.1 North Bay Subdivision, total axles……….". You won't hear that any more for any of the 196.4 miles between there and Smiths Falls. On the flip side, it was sad to see that the ABS has been completely turned off east of North Bay. Imagine, aside from the diamond at Coniston, you won't see any searchlight signals lit up anywhere from Romford to Smiths Falls. Never thought that I'd see that……….or maybe I should rephrase that as, not see that!
A real highlight for me yesterday was seeing a crew change at the forlorn and neglected Mattawa station. Witnessing both incoming and outgoing crews huddled out of the rain under the sagging station canopy with the lights near the eave 'lighted' was a photographic jewel to behold. I wouldn't have wanted to miss that photo-op for the world. As a footnote, the switch for the Temiscaming Sub is now lined normal for the branch. I guess that says it all. The empty rail train depart the week after, with subsequent dismantlement seeing the line disappear as far as Stafford to the west of the interchange at Pembroke. In early August, the threader cars have been returned to Sudbury for more maintenance.
After delivering their train to Mattawa, the work train gang rubber-tired it back to Chalk River where they used the services of the 9020 to move empty centre-beam flats to Stafford and empty gondolas to Pembroke for loading. The clock keeps ticking with no timeout in sight. Yes, once in motion a moving train is hard to stop. Where's Hollywood when you need it!
A youtube video reflecting times on the Chalk River Subdivision
---
Cor van Steenis submitted the first evidence of the demolition at CP's Ogden Yard, on August 10th the gatehouse on Ogdendale Road was razed. On August 12th the Calgary Hump operation was shut down. SCROLL DOWN TO CP VIGNETTES, for Deane Motis photos of the variety of Calgary Hump power from 1975-2008).
On August 13th, we learned that CP will close down the Schiller Park, Illinois (COFC) Intermodal facility, and move that container traffic into the former MILW COFC facilty in Bensenville/Franklin Park, IL. The Milwaukee, WI COFC operation, which is a contracted operation on the Port of Milwaukee property, is also scheduled to close down. These changes to occur In the next few months .
---
A visual marker well known to anyone who has watched trains at Dorval over the last century, the old CP signal mast has been removed, with the new signal now finally up. It had been laying there incomplete since the winter of 2012. Michael Berry snapped these photos during the first week of August.
---
CP VIGNETTES:: "THE CALGARY HUMP"
With the CP closing of the Calgary Hump last month, Deane Motis kindly submitted these historic shots of the operation from the 1970's until recent years. Back in June 1975, Deane had the luck of the Irish catching chop nosed CP GP9 8634 mated with CP H24-66 Trainmaster 8904 pushing a long string of cars in Calgary, AB.
The Calgary yard often utilized cabless units on the Hump arranged A-B-A with an F9B between two Geeps. CP Rail GP9 8635 is seen up front on September 10th, 1978.
CP Rail GP9 8633 and CP's first Trainmaster H24-66 (#8900), team up in Calgary in June 1975.
Last but not least, some Calgary Hump power of a more recent vintage... CPRS SD40M-2 5497 and CP SD40-2 6615 team up on April 20th, 2008. Over the last 15 years, CP had assigned SOO SD40B 6450 , and the remaining units of the 5400-series that were trail only SD40-2's on the hump. All are now retired.
---
CPR VIGNETTE: How many of you remember the old coal chute at St-Luc Yard in Montreal? To this day the St-Luc employee's still refer to this area as the "Coal Chute" even though it was torn down 40 years ago! Today, this is the location of the fuel stand and sanding tower. Ron Visockis took this photo in 1972.
---
©CRO September 2012