CANADIAN NATIONAL
---
CN/GMTX SD60 STATUS as of September 1st
| | | | |
| --- | --- | --- | --- |
| CN 5400 (9013) | CN 5411 (9042) | CN 5422 (9058) | CN 5433 (9079) |
| CN 5401 (9020) | CN 5412 (9043) | CN 5423 (9060) | CN 5434 9080) |
| CN 5402 (9023) | CN 5413 (9045) | CN 5424 (9064) | CN 5435 (9085) |
| CN 5403 (9027) | CN 5414 (9046) | CN 5425 (9066) | CN 5436 (9086) |
| CN 5404 (9030) | CN 5415 (9050) | CN 5426 (9069) | CN 5437 (9087) |
| CN 5405 (9033) | CN 5416 (9051) | CN 5427 (9071) | CN 5438 (9089) |
| CN 5406 (9034) | CN 5417 (9053) | CN 5428 (9073) | CN 5439 (9092) |
| CN 5407 (9035) | CN 5418 (9054) | CN 5429 (9074) | CN 5440 (9095) |
| CN 5408 (9036) | CN 5419 (9055) | CN 5430 (9075) | CN 5441 (9097) |
| CN 5409 (9037) | CN 5420 (9056) | CN 5431 (9076) | CN 5442 (9099) |
| CN 5410 (9040) | CN 5421 (9057) | CN 5432 (9078) | |
Painted and in service:
5401, 5407, 5408, 5420, 5431, 5432, 5433, 5434, and 5440.
Painted and at Centralia being finished:
5402, 5404
Patched and in service:
5409, 5427
Patched and stored, shopping, or in paint shop:
5403 - Centralia stored
5410 - Memphis stored
5411 - Centralia ready for paint
5412 - Centralia in paint shop
5413 - Centralia stored
5417 - Quality Rail, Madison, IL
5421 - Centralia stored
5424 - Centralia ready for paint
5425 - Toronto stored
5429 - Centralia stored
5436 - Centralia stored
---
Darren Doss snapped CN 5407 near the scales at Fulton Kentucky August 2nd.
---
Darren also shot CN 5433 at S. Buda, a CTC control point at Fulton, KY.
---
George Redmond caught freshly painted CN 5401 in Centralia August 3rd. It later went to the B Yard for a local assignment.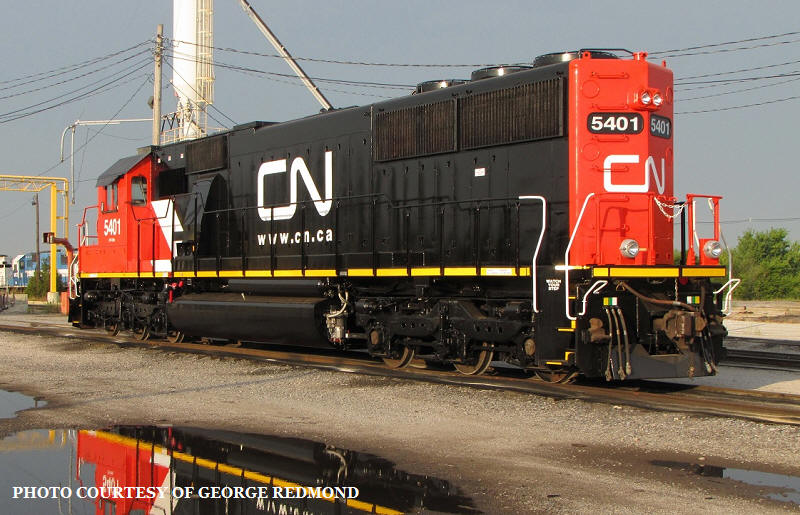 ---
The two most recent repaints CN 5401 and 5434, both headed south from Centralia August 5th for Fulton, KY. George Redmond snapped CN 5434 in CN B yards at Centralia, IL and GMTX 9055, 9075, and CN 5411 all still in Oakway paint on August 8th.which is earmarked for repaint.
---
Over June/July/August 2012, CN retired these 12 units:
CN GP9RM 4119

BCOL B39-8E 1700, and 3901-3910 inclusive.
---
NIL
---
CN Shop Repairs & Repaints
CN C40-8M 2429 has received a new coat of paint from Quality Rail and made it to Du Quoin, IL August 5th, and continued on its way north, passing Mattoon on the same day. CN C40-8M 2400 has also been repainted and was seen in Chatanooga, TN on the Norfolk Southern August 2nd.
---
CN SD40-2W 5258 has been repainted at Cadrail, and was noted outside the shop August 3rd. This locomotive will be the first of Canadian National Railway's Natural Gas test units. (See below)
---
Richard Marchi snapped CN 5258 as she looked on June 15th 2012.
---
Richard Marchi snapped the pair Natural Gas test units CN SD40-2W's 5258 and 5261 in fresh paint at Taschereau Yard (Montreal) August 25th. Note the modified SD45-like flared radiator on the long hood. The pair left westbound on train Q107 August 25th arriving at Winnipeg, MB August 29th. They then departed for Edmonton August 30th. According to a CN employee Richard spoke with, they use diesel fuel when in notches 1 through 3 and Natural gas only through notches 4 through 8. On August 24th, CN Woodcrest Shop released the painted natural gas tank car "CNW1" which was purchased from Union Pacific (with the same CNW1 number) for use as a fuel tender CN's LNG locomotive project. It departed Markham Yard August 27th. Dan Braun snapped CN fuel tender CNW1 on August 29th, on train Q199 through Oshkosh, WI on CN's Neenah Subdivision. The 'before' picture (below) was taken on August 19, as the car went south on train Q196 through Oshkosh, WI on CN's Neenah Subdivision.
---
For the longest time Canadian Railways have remained skeptical about natural gas, but new emissions standards and improved technology may change their opinion. Roughly 16 years after Burlington Northern, now BNSF Railway, removed their two natural gas-powered locomotives and fuel tender from service, CN are giving the fuel another look. Constructing a locomotive to Natural Gas costs 20 to 40 percent of the engine price, an expensive move on top of a locomotive price tag of $1.7 million to $3 million, depending on power, fuel efficiency and emissions output. Therefore CN is considering the conversion of their older locomotives as a test. With the engines more efficient and natural gas prices are lower and even more stringent emissions rules will come in 2015. These factors are likely causing railroads, particularly Canadian National Railway, to rethink prior assumptions about natural gas fuel. Westport and locomotive manufacturer Electro-Motive Diesel are outfitting two CN locomotives with a natural gas-powering system. The duo is using high-pressure, late-injection technology, while Energy Conversions along with Gaz Metropolitaine (Quebec) and Cadrail will be completing two CN locomotives (CN 5258 and 5261) with low-pressure, direct-injection equipment. Chesapeake Energy (USA), the second-largest natural gas producer in the U.S., also wants in. Chairman and CEO Aubrey McClendon in March said the company partnered with Caterpillar and General Electric to build natural gas locomotives.
---
Christopher Bodkin snapped recent repaint CN GP40-2LW 9411 sitting in the Du Quoin yard August 12th. CN SD40-2W 5283 was also repainted in August.
---
At the Centralia Shop for repairs, IC GP40-2R 3110 took a spin on the turntable at the CN engine facility August 20th.
---
Ian Campbell bagged recently painted CN SD40u 6008 now outfitted with RC for hump service in Winnipeg.
---
No, not a repaint but looking like one, George Redmond clicked GTW 4GP38-2 4932, the assigned switch engine at Centralia, IL on August 28th.
---
Christopher Bodkin caught IC SD70 1003, CN C44-9W 2525, and BCOL C40-8Mu 4621 on a northbound coal empty at Carbondale, IL on August 3rd.
---
IC SD70 1036 was the second unit on southbound CN coal train 436 at Centralia, IL and was snapped by George Redmond August 3rd. (Photo below). The Illinois Central SD70 order was delivered in two batches of 20 units. The first batch was delivered in 1995, but subsequent teething problems prompted IC to postpone its second order of SD70. Thus, the second batch was finally delivered only 1999 ,with a total of 40 built numbered between 1000 and 1039. On July 11th, 2005 four were wrecked in Arbing, MS when IC SD70's 1006, 1013, 1014, and 1023 hit another train head on with two BNSF C44-9W's. The four IC units were cut up on the spot. As well, four SD70's have been repainted into CN/IC colors. Although commonly said to be the last new power Illinois Central purchased, such a statement is incorrect. In 2003, IC placed an order for 30 General Electric DASH 9-44CW (better known as C44-9W) locomotives. The order was not put into production at GE until 2004 and as such, the units were re-specified to be built to Canadian National standards and were numbered as IC 2697-2726. (Thanks to Alex Wood, J-F Turcotte, and John Read)
---
Dan Tweedle snapped CN SD70M-2 8930 popping out from the shadows on 146 meeting a GE led freight at MP 36 Oakville Subdivision in Burlington, Ontario, on July 29th.
---
George Redmond snapped a great consist of CN "heritage units" August 9th at Centralia, IL: CN C40-8W 2144, BCOL C40-8Mu 4603, GTW GP38-2 4932, IC SD70 1021, and BCOL C40-8Mu 4613 SB train A432 at Centralia, IL.
---
Chris also caught IC SD40-2 6100,EJE SD38-2 657 and CN C40-8W 2141 shuffling cars in the Du Quoin yard August 12th, as well as GTW GP38-2 4932 is the 3rd unit on train M336 passing through Du Quoin, IL.
---
On August 17th George bagged CN 5776, 9592, CP 3133, and SOO 4415 on train L590, as well as IC 1004, and CN 5609 on SB train A432 at Irvington, IL.
The CP and SOO units DIT, are enroute to
Fulton, KY and will be sent to Progress Rail at Mayfield, KY.
---
Kim Kafura caught WC GP40 3022 trailing CN 2332/5702 on Q199 as it headed north through Neenah, WI, on July 13th. Directly behind WC 3022 is a loaded wheel car. The locomotive was activated in late July after storage at Woodcrest, and is a repaint candidate.
---
Two old switchers were noted at Taschereau Yard August 12th. East Jersey Railroad SW8 #321 (IMTT Quebec) which is former New York Central Sw8 8621, and XSTRATA - Belldune, NB, (ex-Falconbridge Ltd. Brunswick Smelter) SW9u #506, which was built as TH&B
SW9

#55

.

The XSTRATA Mine in Belldune, NB was closed down recently.
---
Warren Calloway visited Montreal, QC in 1978, and submitted these fabulous VIGNETTES from Taschereau Yard, Pointe St-Charles Shop, Dorval Station on the West Island, and Mount Royal Station on the Deux Montagnes electrified commuter line.
Interesting power was a plenty at Taschereau Yard in those years and Warren bagged CN C630M 2022, 2041, SD40 5168, and CN M420W 2532. Other units in the yard included hump assigned S13's w/slugs, hi nosed RS18's, M636's, SW1200RS's, GP9's and GP40-2LW's. Those were the days!
---
At the VIA Pointe St-Charles Shop Railfans will no doubt be drooling after seeing the locomotives Warren witnessed in September 1976. CN RS18 3111, FPA4's 6760, 6764, 6772, 6783, 6790 at the shop.
---
At the Mount Royal CN commuter Station Warren
bagged

Z-1-a
CN 6724
---
At Dorval, QC in September 1976, Warren snapped VIA/CN Turbo preparing to depart for downtown Montreal with the old CP Dorval Station on the right, which was torn down in the 1980's.
---
If You like hearing and seeing smoking Canadian MLW's, this amateur video of Kelowna Pacific, Canadian National and Roberval- Saguenay locomotives should whet your appetite!
---
©CRO September 2012