MODELER'S CORNER
modellerscorner@canadianrailwayobservations.com
---
CRO would like to welcome Barry Oldham.
Well this is my first installment of modellers corner for CRO. And while this column is a little thin this month, I hope to change all that starting next month. The previous people who did this column have done a wonderful job and gave me an excellent template to build on. Aside from the typical news
from "my side" of the counter... I want to have some pictures of some of the great model railroads around, and share some tips and techniques I have used in the last 20+ years of my work. I grew up in Hamilton and worked right beside the TH&B yards for, many years before getting into the "model train business" , as I result I enjoy anything TH&B. So bear with me while I find my bearings, and happy railroading in what ever format you do it in.
Barry.
---
Coming Soon To A Hobby Store Near You
---
HO Scale
Atlas C-424's have just been announced in DC and DCC (ESU) sound versions. There will be three numbers of the CN noodle version and 3 versions of The CP Rail multimark version. Link below
http://www.atlasrr.com/HOLoco/hoc424b.htm#.UHbMwK6WH0Q
Atlas RS-3's and RSD 4/5's in DC/DCC sound. They did announce a CNR green and yellow RS-3 as well.
http://www.atlasrr.com/HOLoco/hors3classic7.htm#.UH6zk66WH0Q
---
Rapido trains - True North locomotives: The most detailed Canadian F-units ever:
---
Athearn HO Stock cars CNR
http://www.athearn.com/newsletter/102312/03_RTR_40_Stock%20Car_102312.pdf
Athearn HO 2 bay hoppers CP Script
http://www.athearn.com/newsletter/102312/04_RTR_34'_offset_hop_102312.pdf
Athearn yard tractor CN (orange noodle)
http://www.athearn.com/newsletter/102312/05_RTR_Yard_Tractor_102312.pdf
---
---
Athearn HO Tight bottom ore cars CP Rail Action red.
http://www.athearn.com/newsletter/092512/06_RTR_26%27_Ore%20Gondola_092512.pdf
MULTISCALES: Intermountian railway company upcoming product release sheets
http://intermountain-railway.com/newscomingsoon.html
Some of the "Yard limit models we are working on in HO and N
http://www.tctrainscanada.com/
Bachman SD70ACEs and ES44ac's have been announced in the NS heritage schemes with Sound value decoders, however no price has been announced. Good fodder for modellers who paint their own.
---
N Scale
Atlas announced and N scale RS-3 in PGE two tone green paint.
http://www.atlasrr.com/NLoco/nrs3c.htm#.UH60u66WH0Q
Atlas 50' mechanical reefers CN and CP Multimark
http://www.atlastrainman.com/NFreight/tmn50mech.htm
DCC new products.
New block detector boards are available from a Canadian company and are quite affordable.
http://circuits4tracks.daxack.ca/index.html
---
---
Arriving on November (hopefully)
Athearn Genesis GP-38-2W's should be arriving.
Bowser- second run of C630's
---
CN C40-8 #2112 "15 Years" Anniversary Paint Scheme
By Peter Merseburg and Sandra Ludwig Merseburg
36 of these GE locomotives were purchased by CN from UP about three years ago, all former CNW C40-8's, and most were painted and prepared for service at the Centralia Illinois Shops. As this purchase coincided with the 15th anniversary of CN from a government owned Crown Corporation into a private company several C40-8's, a GP9RM and one GP38-2 following shopping were repainted with this "15 years the journey continues" anniversary logo. One side of unit has the logo in English and French on the other.
Detailing and painting a Dash 8-40C into the CN "15 years Anniversary" image was a fun project. This model began as an Atlas C40-8, and we equipped it with DCC (Digitrax) (with light function, Cab Light, Head Light and Ditch lights).
We used lacquered paint with the colors Tamyia black and created CN Safety Orange by mixing colors to match the prototype CN red, and the decals are by Microscale and Highball Graphics. We will be adding more details to complete the model and the images show the model in its current state. Feel free to email William Baird for our email address if you have questions about this model. We will be happy to answer you personally.
---
Coming Soon in Modeler's Corner
Next month Peter and Sandra model the AMTRAK "TALGO TRAIN" in HO Scale.
---
---
---
Events
To Advise us of a listing - Please email to: modellerscorner@canadianrailwayobservations.com or nathanbrown299@yahoo.ca
---
Modeling From The Prototype
The following terrific models were done by Cliff Holder in Nova Scotia:
1) CN 79873 is a 'Sylvan kit' , light weathering, Semi-scale wheelsets, scale couplers.
2) CN 598005 is kitbashed from two 'MDC' boxcars (3620/1930) to represent a 60' 9" combination door boxcar (Trenton-built car), details and light weathering.
3) CP 42809 is built from a 'Front Range kit' , detailed and light weathering, Semi-scale wheelsets, and scale couplers.
4) SKNX 625512 is built from an 'Intermountain kit' to represent a recent repaint, detailed, Semi-scale wheelsets, scale couplers, Plano walkway.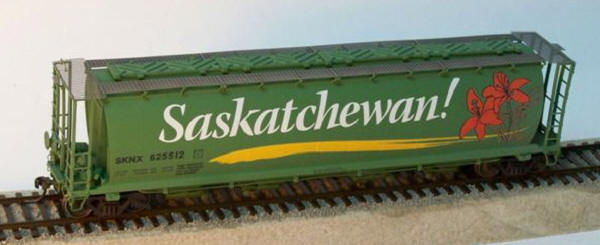 5) UNPX 120892 kitbashed from an 'Intermountain kit' to represent a 'sodium Chlorate' car used primarily in the paper industry, detailed, kitbashed hopper outlets, Semi-scale wheelsets, scale couplers, and is un-weathered. This is a common hopper car on CP and CN trains, and badly needed as a ready to run model.
---
Walthers kit modified for CN standards of the early 70's: one window was removed and a service door was built instead on each side and the grab irons arrangement was modified. Built by Denis Côté in 2012.

Ex-CP Rail 434631 is a caboose now on the Quebec-Gatineau Railway as pictured in Trois-Rivières, QC yard. It was Built from an HO Angus Rapido NB Southern model. Note the boarding of the windows that denotes its use on transfer runs only. Built by Denis Côté in 2012.
---
Ron Visockis photographed the sand tower at Sault Ste. Marie, Ontario, a former Algoma Central Railway Covered hopper atop an A-frame. This would make a great modeling project!
---
---
Ontario:
---
Date and time

Location

Information

Sunday Nov 4th

10am -3pm

KITCHENER – Bingemans (Marshall Hall) 425 Bingemans Centre Drive

The Kitchener Model Train Show features over 130 tables of vendors selling Model Trains of all scales including Train Sets, Locomotives, Transformers, Rolling Stock, Track, Structures, Photographs, Videos, DVD's and Railroad Memorabilia. The show also features Model Train Layouts in operation throughout the day. Admission is $5.00 per person; Children under age 12 will be admitted for Free when accompanied by an adult. Featuring several new vendors.

Sunday November 11

10am -3:30pm

Ancaster – New marritt Hall, New Ancaster

Fair Grounds, 630 Trinity Road (

(Exit Highway 403 south at Highway 52 / Trinity Road, on right past Wilson Street / Highway 2/53.)

Rail-Ops Club TH&B Model Railroad Flea Market

Operating layouts.

· Over 120 tables.
Fare: Adults $5, under 12 free.

Saturday/ Sunday November 17 & 18

10am -4:30pm

10am - 4pm

Whitby - Father Leo J. Austin School, 1020 Dryden Boulevard
(southwest of Taunton Road and Anderson Street)
(From 401, take Brock north to Dryden then right/east,
or take Thickson north to Rossland, Rossland left/west to Anderson, Anderson right/north to Dryden.

Pine Ridge Railroaders Model Railroad Show

Display layouts, exhibits and vendors.

Fare: adults $5, under 14 $2, under 5 free.

Info: www.trainweb.org/prrc

Sunday November 18

10am – 4pm

Mississauga - International Centre, Hall 3, 6900 Airport Road

16th Annual Toronto Christmas Train Show

· 70000 sq ft of layouts and vendors - the largest in Ontario.

· Over 50 layouts/exhibits in 2011.

· 225 vendor tables in 2010.

· Everything for the rail fan, modeller, historian or toy train collector.

· Model and toy trains, kits accessories controls, scenery, track, switches, books, videos, DVDs, slides, photos, prints, paintings, real railroadania, preowned older trains, anything railroad. Fare: ?
A $2 discount coupon is on the web site www.antiquetoys.ca,

Sunday November 25

10am-3pm

Brantford - at the Best Western Brant Park Inn, 19 Holiday Drive - DIRECTIONS: exit Highway #403 at the Wayne Gretzky Parkway and go one block south on the Wayne Gretzky Parkway and then turn east at the stoplight onto Holiday Drive

Over 60 vendor tables. Featuring Model Trains of all Scales, Train Sets, Locomotives, Track, Rolling Stock, Transformers, Structures, Photos, Videos, DVD's & Railroad Memorabilia. Also featuring an Operating Layout. TWO BANQUET HALLS with lots of free parking. Admission is $5.00 per person; Children under age 12 will be admitted for Free when accompanied by an adult.

Saturday/ Sunday December 1 & 2

10am-4pm

Belleville - Quinte Secondary School
45 College Street West
(From 401 eastbound, take exit 538 Wallbridge-Loyallist Road south, left/east on Bell Boulevard, right/south on Sidney Street, left/east on College Street.
From 401 westbound, take exit 643 south, right/west on College Street.
Follow the yellow signs.)

Belleville and Brighton Model Railroad Clubs 17th Annual Quinte Christmas Model Railroad Show

· 11,000 sq ft of Vendors and Displays.

· Door prizes.

· Sales and expert advice on Model Railroad Christmas gifts for young and old.

Fare: Adults $5, Seniors $4, Students $4, Children $2, Family $10.
Info: Rick Potter rickp@reach.net 613-398-7260
---
EVENTS
YOUR TRAIN MODEL OR SLIDE SHOW EVENT HERE
---
©CRO November 2012