CANADIAN RAILWAY HISTORY
---
RECOMMENDED RAILWAY MUSEUMS AND
TOURIST LINES
(Listed West to East)
---
BRITISH COLUMBIA
---
Canadian Museum of Rail and Travel
http://www.trainsdeluxe.com/
---
Revelstoke Railway Museum: www.railwaymuseum.com
---
Kamloops Railway Historical Society: www.kamloopsheritagerailway.com
---
CRHA - E&N Division
---
West Coast Railway Association (WCRA)
POLAR EXPRESS 2012:
Do you have (Grand-) Children in the Greater Vancouver area and live there or plan to visit during early December? Polar Express is coming to the West Coast Railway Heritage Park in Squamish BC on December 1st, 2nd, 8th and 9th. Tickets for the event open for sale on Wednesday, October 10. Watch for details on www.wcra.org.
We have added additional capacity to each train this year but this event sells out fast.
Were you unable to attend our Polar Express event in last December … or would you like to revisit the experience. A short video is available online at http://vimeo.com/36620335
---
Kettle Valley Railway Society (KVSR)
http://www.kettlevalleyrail.org/
Visitors flocked to Summerland, B.C., to ride a tourist train powered by a CPR Consolidation steam locomotive #3716 that turned 100 years old this year. CP #3716 was built for the Canadian Pacific Railway in November 1912 at Montreal Locomotive Works. Ron Restrick, general manager of the Kettle Valley Steam Railway, says it has played an important role in the Okanagan and Kootenay regions. The train hauled everything from lumber to agricultural goods -- just about anything that could be placed into a boxcar or onto a flatcar. Visitors were welcomed to rides in the train on Saturday after a ribbon-cutting ceremony at Prairie Valley Station as part of the Spirit of Summerland Centennial Celebration. "It's a multi-dimensional experience," Restrick said. "It was a workhorse because of the location and the trackage," he added. "The 3716 was built for power, not speed." The locomotive has undergone two restorations. The first was in the 1970s, after which it was used as a museum train for the province of B.C. For 21 years, it was the backup locomotive to the Royal Hudson 2860, on B.C. Rail's Hudson excursions from Vancouver to Squamish, B.C. In the mid-1990s, the train was pulled off-line. But in 2001, the Kettle Valley Steam Railway successfully bid for the chance to restore and operate the locomotive.
In 2003 there was a second restoration. Two years later, the steam engine was back on track. Its first run was on May 22, 2005. The 3716 has been steaming up the tracks ever since, pulling the cars for train rides at various times in the spring, summer and fall, including special rides during holidays.
---
Rocky Mountaineer - Vancouver, BC
http://www.rockymountaineer.com/en_CA_ON/
---
Fraser Valley Heritage Railway Museum – Surrey, BC.
---
British Columbia Chapter of the National Railway Historical Society
---
http://caboosecoffee.blogspot.ca/2011/08/welcome-to-caboose-coffee-my-new-blog.htm
---
ALBERTA
---
Royal Canadian Pacific Luxury Train
http://www.royalcanadianpacific.com/schedule.html
---
Alberta Railway Museum – Edmonton, AB
http://www.albertarailwaymuseum.com/
---
Alberta Railway Museum – Bieseker, AB
The museum has two MLW switchers: Ex-CP RS-23 8017 (ex- Saskferco - Belle Plain, Saskatchewan), and Ex-CN S13u 8704 (donated by CANAC).
---
Alberta Central Railway Museum - Wetaskiwin, AB
http://www.abcentralrailway.com/
---
The Alberta Prairie Railway Excursions – Stettler, AB
Rocky Mountain Railway Society:
---
Alberta 2005 Centennial Railway Museum Society)www.alberta2005rail.com
---
SASKATCHEWAN
---
Ogema Heritage Railway Association
The Southern Prairie Railway rosters one GE 44-tonner #15 (ex-MEC 15). The Southern Prarie Ralway has leased Neptune Bulk Terminals Alco T6 #804 from a private owner. SPR are negotiating the purchase of nine former AMT (ex-CP) 800-series commuter coaches that had spent time on the Agawa Canyon train, and then later sold and moved to the USA.
You can follow the Southern Prairie Railway on Facebook for
upcoming events and the reactions from the many riders they had this year.
http://www.facebook.com/southernprairierailway?fref=ts
---
MANITOBA
---
Winnipeg Railway Museum: www.wpgrailwaymuseum.com
---
ONTARIO
---
Southern Ontario Locomotive Restoration Society:
---
News updates can be found here: www.waterloocentralrailway.com/news.
These pictures were taken, by one of CRO readers, who took the WCR from downtown Waterloo to St. Jacobs, Ontario during the annual Octoberfest in Kitchener, Ontario.
Upcoming Railway Events: October 27, 2012 Hallowe'en Train

As is our tradition, the last regular train of the season will be our Hallowe'en Train. Our regular three trains will operate with stops at the Market and Village and our regular fare structure will apply. Children in costume may Trick-or-Treat by knocking on the door of the snack bar to receive some candy.

To purchase tickets for our Hallowe'en Train online, please visit our online Ticket Window

Upcoming Railway Events: Santa Train Update

We have set the dates, times and prices for our Santa Trains this year. The price for any passenger 3 and over will be $18 taxes included (pre-tax price $15.93). Children 2 and under will be given a free VIP ticket but they will need to sit on an adult's lap.

Santa Trains will depart at 11:30am and 2:30pm sharp from Waterloo on the following dates:
* Saturday, December 1
* Sunday, December 2
* Saturday, December 8
* Sunday, December 9
* Saturday, December 15
* Sunday, December 16

The train will not stop at the Market nor the Village. The total trip time is expected to be about 2 hours dependent on the number of children on board. The train will not return to Waterloo until Santa has visited every child on board.

Santa will visit each child at their seat in one car while there is a carol sing in the other car. When Santa is finished in one car, he and the musicians will switch cars so everyone has the same experience. Hot chocolate and cookies will be provided (cider available upon request). A carol book will be provided with children's activities.

Tickets go on sale Thursday, November 1 online and at our Waterloo Station, 10 Father David Bauer Drive. We cannot take reservations over the phone.

Book our Business Car for your family gathering on the Santa Train!
New this year on the Santa Train, we are offering the lounge area of our business car, 15000 "Lord Elgin" for groups of up to 30 people for $540 taxes included ($477.88 pre-tax) . This would be perfect for larger groups, or family gatherings. There will be one spot available for each Santa Train departure. The experience will be the same as in the other railway coaches. Santa will visit the children in the lounge during the trip.

Reservations are now being taken on a first come, first served basis up to and including Thursday, November 15. Payment must be received by November 15 to secure the reservation or else the seats will be opened to general admission.

To reserve your spot now, please send an email to neal@waterloocentralrailway.com with your complete contact information including name and phone number as well as your preferred departure date and time. To avoid disappointment, please also add an alternate choice in case your first choice is already spoken for.
More news updates can be found here:
www.waterloocentralrailway.com/news.
---
Niagara Railway Museum
Check out their Flanger Repairs
---
The Bytown Railway Society – Ottawa, ON
http://www.bytownrailwaysociety.ca/about.htm
The Bytown Railway Society 2012 Canadian Trackside Guide is "SOLD OUT, but previous issues are available at:
http://www.bytownrailwaysociety.ca/about.htm
---
Chatham Railway Museum
http://www.chathamrailroadmuseum.ca/
---
Huntsville and Lake of Bays Railway Society http://www.portageflyer.org/
---
Elgin County Railway Museum
---
Toronto Railway Heritage Association
---
York Durham Heritage Railway
YDHR NEWS: The Guelph Junction Railway Museum has forwarded five RDC's that had been used for a tourist train in Guelph, ON, via CP to downtown Toronto and delivered the GO Transit facility. It is expected a GO transit locomotive will haul the RDC's to Stouffville, ON for the YDHR.
---
Halton County Railway Museum
---
Northern Ontario Railway Museum & Heritage Center - Capreol, ON http://www.northernontariorailroadmuseum.ca/
The Northern Ontario Railroad Museum and Heritage Centre recently secured former Temiskaming & Northern Ontario Railway locomotive #219. Without the museum's hard work, the locomotive would have been sold for scrap.
With #219's future assured, the Museum is now in need of money to move the locomotive to Capreol, ON and to restore it. They are part of Aviva's Community Fund and you can help without spending a penny! Follow the links to find out how you can vote for Aviva to help fund the restoration of #219. Voting starts today!
For more information:
http://thomasblampied.blogspot.ca/2012/10/vote-to-help-219.html
---
The Canada Science & Technology Museum - Ottawa, ON.
http://www.imagescn.technomuses.ca/
http://www.imagescn.technomuses.ca/railways/index.cfm
---
Galt Historic Railway Park
http://www.galtrailway.com/home/
---
---
The Palmerston Railway Heritage Association
http://www.palmerstonrailwaymuseum.ca/
CLC CNR 2-6-0 #81 is on display nearby the museum
---
Railway Museum of Eastern Ontario (RMEO)
---
South Simcoe Railway
http://www.southsimcoerailway.ca/
A throwback to earlier times has a CPR vintage "American" 4-4-0 #136 (on ex-CNR trackage) is about to cross under the CP Mactier Sub (behind the photographer Wayne D. Shaw) at 7th Line south of Beeton, Ontario. This was taken October 8th 2012 on the South Simcoe Railway's 4-4-0 136 doing the honors on an extra run ordered this Canadian Thanksgiving Day because there were still 150 people wanting a ride after the last scheduled run was made.
---
The Guelph Junction Railway Museum
---
QUEBEC
---
EXPORAIL – CRHA
http://exporail.org/en/welcome-to-exporail/
Exporail News, November, 2012:
November 3 to 30: Exporail will be open Saturday and Sunday 10:00 AM to 5:00 PM
Exporail is hosting the 2012 Railway Heritage Preservation Conference from November 5 to 10, 2012. The conference will be held at the Nouvel Hotel, 1747 Rene levesque Boulevard West, with Friday being spent at Exporail. You are invited to participate, go to www.railwaymuseums.org for the full program, click on conference.
November 5, 2012 (Monday) Orford Express Charter Gourmet Lunch Excursion, rare mileage, this one way trip will operate from Bromont to Sherbrooke, return bus transportation is included from the Nouvel Hotel (or back to Bromont if you drive).
First Class $ 130.00
Lounge Class $ 145.00
Our train will be pulled by the Orford Express' new (to them) GMD FL9 locomotive 484. Photo Josee Salois
Saturday, November 10, 2012, Gala Closing Cocktail Banquet at Exporail, join us for the conferences' Gala Closing Banquet, come meet mingle with a great group of railway museum and tourist train professionals. Mr. Tom Price, CPR Track Work Specialist from British Columbia will be our guest speaker, his topic 130 Years of Mayhem on the CPR! Cocktail and Banquet $ 75.00. For further information, or to order tickets call Stephane St. Marie 450-638-1522 local 244, credit card payment is accepted. Or e mail stephane.stemarie@exporail.org
From November 24: A Railway Christmas, storytelling, craft workshops, mail your letter to Santa from our mail car, visit Santa from November 24 to December 23 (weekends only).
British A-4 steam locomotives "Dominion of Canada" and "Dwight D. Eisenhower residing for decades in North America have safely made the trans-Atlantic journey home. The Dwight D. Eisenhower from the National Railway museum at Green Bay, Wis., and the Dominion of Canada from the Canadian Railway Museum (Exporail) near Montreal. Three weeks ago, the locomotives arrived at the Port of Liverpool after a 2,527-mile journey at sea from Halifax, Nova Scotia. The locomotives will travel another 150 miles by heavy truck to Shildon for a short display before the final trip York. Both will be reunited with sister engine, the world-famous Mallard, for the 75th anniversary of its world steam speed record. In July 1938 the Mallard set a new speed record of 126 MPH.

The Grisly designed 4-6-2 A4 Pacific steam engine 60008 "Dwight D.Eisenhower" at Locomotion, the National Railway Museum in Shildon, County Durham, England. This engine is one of two A4's which can be seen at Shildon over the coming weeks. The other is the "Dominion of Canada" 60010. They are to undergo restoration work at Shildon and York. Both locomotives arrived in Liverpool on October 2nd having been shipped over from Canada. They are expected to remain in England for two years before being returned to the USA and Canada as museum exhibits. Photo by Stan Laundon
http://www.flickr.com/photos/stanhartlepoolmonkey/8056636935/
---
Hull - Wakefield Steam Train - Gatineau, QC
The Wakefield steam train will not be running again until 2014, and only between Chelsea and Wakefield. The rest of the track, between Gatineau and Chelsea, was badly damaged during heavy rains last summer and won't be back online until 2016. The train itself was kept in the region late last year when several Quebec municipalities, the provincial government and Outaouais tourism pulled together $500,000. At the time, in November, the municipal owners of the tracks said they hoped to have the train running by 2013. According to Louise Boudrias, president of the CCFO (the railway company managed by the municipalities of Gatineau, Chelsea and La Pêche), the work to repair the cars, stations and tracks will not start until the necessary funds are collected through fundraising. Boudrias said the temporarily shorter route could be appealing for young families who sometimes found the journey from Gatineau to Wakefield too long.
When construction and repairs between Gatineau and Wakefield are done, customers will be able to board the train at one of three stations. Officials are also thinking about extending the tourist season of the train into the winter, but nothing has been decided.
The delay is disappointing for some business owners in Wakefield, because the steam train brought in customers. Marc Fournier of La Confiserie Wakefield said he isn't surprised by the delay. Fournier told Radio-Canada he doubts the CCFO can raise enough money to fund the project. (CBC News)
Montreal Railway Modeler's Association AMFM http://www.canadacentral.org/
---
NEW BRUNSWICK
---
Moncton Transportation Museum:
The New Brunswick provincial government announced August 20th they investing $1 million for the construction of the Moncton Transportation Museum. The Transportation Discovery Centre, an extension of the Moncton Museum, will illustrate the fundamental role transportation has played in shaping the history and growth of Moncton and highlight the city's position as the transportation hub of Atlantic Canada, officials said. "This very much is about our heritage so if we think about today our children and the opportunity they will have to learn more about different modes of transportation and what has happened in the past and very importantly as well it's about our economy," said Alward. The centre will "honor Moncton's transportation history and heritage from shipbuilding to the railroad, from trucking to air transportation, and looks forward to today's information highway in a truly educational and family-friendly environment," said Deputy Mayor Merrill Henderson. The 1,170 square meter (12,593 square foot) centre will feature exhibition galleries, an interactive exhibit on all modes of transportation.
---
The New Brunswick Railway Museum Hillsborough, NB
http://www.nbrm.ca/en/index.shtml
---
NOVA SCOTIA
---
Nova Scotia Museum of Industry - Stellarton, NS
http://museum.gov.ns.ca/moi/en/home/default.aspx
---
Memory Lane Railway Museum - Middleton, NS
http://memorylanerailwaymuseum.com/
---
Train Station Inn - Tatamagouche, NS
---
Orangedale Railway Museum - Orangedale, NS
http://www.novascotiarailwayheritage.com/orangedale.htm
---
USA
---
CALIFORNIA:
---
The Orange Empire Railway Museum
(Photos courtesy Kenneth Wadden)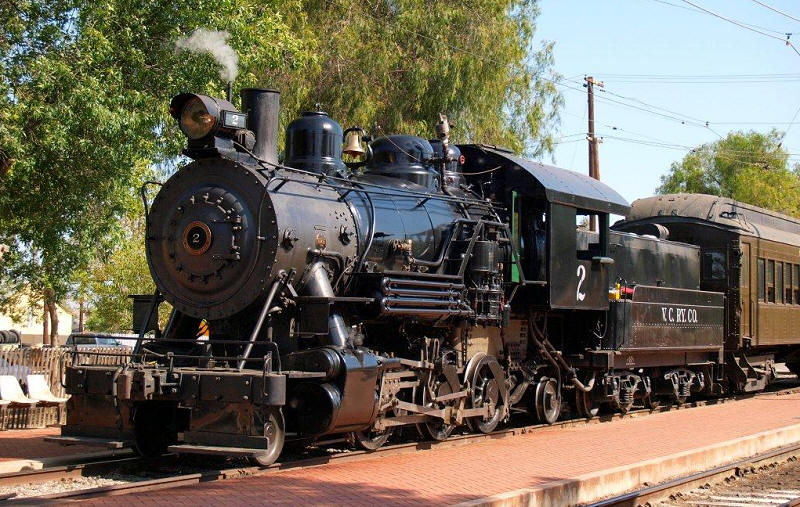 ---
NEW YORK:
---
Bridge Line Historical Society - Delaware and Hudson RR
CLICK HERE TO VISIT THE BRIDGE LINE HISTORICAL SOCIETY'S HOME PAGE
---
---
ILLINOIS
---
Monticello Railway Museum http://www.mrym.org/
---
MINNESOTA:
---
The Iron Horse Museum - Chicago City, NN http://www.ironhorsecentral.com/
---
PENNSYLVANIA:
---
Lake Shore Railway Historical Society http://www.grape-track.org/home
Steamtown National Historic Site: http://www.nps.gov/stea/index.htm
---
OVERSEAS
---
Cornwall, England, United Kingdom
Check us out on facebook: http://www.facebook.com/helstonrailway
BRAKE VAN RIDES from Trevarno Station
Between 10:30 am and 4pm
Adult rides £5, Children (over 5) £3, Family tickets £12 (2 adults and 3 children)
Every Thursday, Sunday and Bank Holiday weekends until November
Access is via Trevarno Gardens normal car park and a 750 yard walk to the station. Customers with mobility or health issues should note that whilst it is a pleasant walk through the estate, it is uphill to the railway. The good news is that the buffet will be available for refreshments (when railway is open)
Free Entry
---
©CRO November 2012