CANADIAN PACIFIC
---
CP Units Retired and Sold:
Retired October 2012:
CP Hump Controller 1150 (Collision at Agincourt Yard and will be scrapped)
CP Slug 1022 Stored Serviceable in Montreal since last year (and which had been mated to a GP9u at St-Luc), was retired in October, and will be scrapped.
CP GP9u 1557, 1575, 1607, 1609, and 1610. (All destined to Coquitlam BC).
Sold October 2012:
CP SW120oRS 1210, 1244, 1245, and 1249 to Ontario Southland Railway (OSRX)
CP SW1200RS 1271 was sold to GMTX and is destined to Paducah, KY via CP and CN.
Ex- CP SW1200RS 1244 arrived on the OSR at Galt, ON October 13
th
joining 1210, 1245, and 1249 already on the property.
---
CP GP38-2 Overhaul Update:
EMD-Progress Rail in Mayfield, KY continues to overhaul GP38-2's for Tier 0+ compliance, equipping them with AESS (Locomotive Automatic Engine Start/Stop), and repainting them into CP livery.
GP38-2's released from EMD-Progress Rail (Mayfield, KY):
CP 3024, 3038, 3048, 3057, 3062, 3066, 3111, 3117, 3126, 3127, 3129 and (former SOO) CP 4414, 4418, 4427, 4428, 4436, 4446, 4447, 4450, 4513, 4514, and 4515.
GP38-2's to be Overhauled at EMD-Progress Rail (Mayfield, KY):
CP: 3025, 3041, 3042, 3061 and 3133.
SOO: 4415.
GP38-2's released from NRE (Silvis, IL)
CP 3033, 3103, 3134, CP 4426 (Former Soo Line)
GP38-2's to be Overhauled at NRE (Silvis, IL)
CP 3124.
---
George Redmond caught CN C44-9W 2564, IC SD70 1026, with former SOO GP38-2's CP 4450 and 4418 heading back to CP NB train A431 at Junction City, IL on October 4th.
---
Jay Butler snapped CP GP38-2 3134 fresh from rebuilt and repaint at NRE seen trailing on CP 244 yesterday through Tilbury, ON October 16th Tilbury is located at mile 80 on the Windsor Subdivision, about 25 miles east of Walkerville.
---
Joe Ferguson snapped theses two latest releases from Mayfield, KY for CP's GP38-2 program. The pair, CP 4424 at Foulton, KY October 28th, and CP 3117 at Paducah, KY October 22nd, will move north DIT on CN.
---
SOO SD60 Overhaul Update:
SOO SD60 overhaul update:
CAD Railway Services (Lachine, QC) continue to overhaul 22 SOO SD60's and one SD60M to Tier 0+ compliance, equip them with AESS (Locomotive Automatic Engine Start/Stop) to conserve fuel, and repaint and renumber to CP 6200-series. The entire rebuilt SD60 fleet will receive (PTC) Positive Train Control modifications at the CP St-Luc Diesel Shop.
In Service:
CP SD60 6221 (ex-SOO 6021) released October 6th, 2012.
CP SD60 6223 (ex-SOO 6023) released September 20th, 2012
CP SD60 6257 (ex-SOO 6057) released August 31st, 2012
CP SD60 6234 (ex-SOO 6034) released August 15th, 2012
CP SD60 6252 (ex-SOO 6052) released July 25th, 2012
CP SD60 6255 (ex-SOO 6055) released June 21st, 2012
CP SD60 6229 (ex-SOO 6029) released June 5th, 2012
CP SD60 6243 (ex-SOO 6043) released April 20th, 2012
CP SD60 6254 (ex-SOO 6054) released March 29th, 2012
CP SD60 6245 (ex-SOO 6045) released March 6th, 2012
CP SD60 6242 (ex-SOO 6042) released March 1st, 2012
CP SD60M 6260 (ex-SOO 6060) released January 13th, 2012
CP SD60 6228 (ex-SOO 6028) released December 16th, 2011
CP SD60 6225 (ex-SOO 6025) released December 1st, 2011
CP SD60 6241 (ex-SOO 6041) released November, 2011
CP SD60 6240 (ex-SOO 6040) released October, 2011
CP SD60 6250 (ex-SOO 6050) released October, 2011
At Cadrail:
SOO SD60 6031 arrived at Cadrail on Occtober 15th
SOO SD60 6038 arrived at Cadrail September 30th
SOO SD60 6056 arrived in Montreal Septmber 9th
SOO SD60 6046 arrived at Cadrail September 7th
SOO SD60 6030 arrived in Montreal July 24th.
SOO SD60 6036 arrived at Cadrail July 9th
---
At Smiths Falls, ON Tim Mayhew snapped Train 235 with CP SD60 6223 on her first assignment out of Montreal since release from CAD, paired with CP 9504.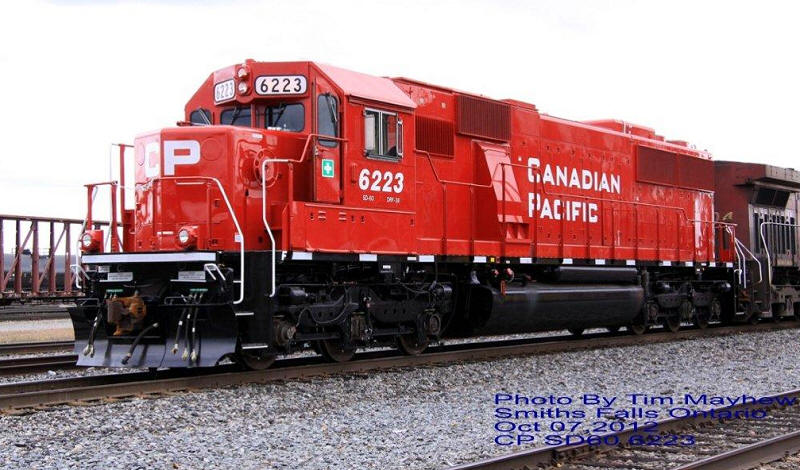 ---
CP SD60 6254 looks great on train 641 at Windsor, ON October 11th.
---
Bob Heathorn snapped CP SD 60 6221 on her maiden voyage following a headsup from the Belleville Sub hogger. CP train 607-298 with Bakin Oil empties had CP SD60 6221 and 6225 back to back. Sadly the sun decided to disappear in a cloud bank about 15 minutes before arrival. Note all the new the oil business on CP. This was the 4th train through this day. In Bob's photo CP 607 is on the north track, and 609 is on #1 long track, and 608 on #2 long track.
---
CP SD30C-ECO Update:
The first bunch of CP SD40-2's to be rebuilt at EMD-Progress shops to meet Tier 0+ US emissions standards are in Mayfield, Kentucky. These rebuilt SD30Cs are to be numbered beginning at CP 5000 and CP will utilize SD40-2's from their ICE and DME roster as well. CP expects to receive the first locos of the order during the 3rd quarter of 2012.
The SD30C-ECOs will be rebuilt from SD40-2 cores and frames, powered by a new 12 cylinder 3000 hp 12-710G3F engine. Similar to other new locomotives delivered by GE and EMDI, LED lighting is expected, except for head and ditch lights.
Further information about ECO re-powering can be found here:
http://www.progressrail.com/repowered-locomotives-710ECO.asp
The following 20 CP SD40-2's will be done this year:
5415, 5672, 5691, 5728, 5734, 5735, 5745, 5789, 5869, 5918, 5933, 5934, 5950, 5971, 5980, 5983, 6027, 6039, 6056 and 6606.
The following SD40-2's and SD40-2F's are the proposed units for ECO rebuild in 2013:
SD40-2: 5648, 5787, 5795, 5844, 5902, 5924, 5930, 5931, 5940, 5944, 5947, 5948, 5967, 5992, 5997, 5998, and 6006.
SD40-2F: 9000, 9002, 9005, 9010, 9016, 9018, 9019, 9022, and 9024.
---
CP GP20C-ECO Update:
The GP20C-ECOs are to be numbered beginning at CP 2200, with the 4-axle units built at Muncie, IN at the EMD facility. These will have new frames, new cabs and fuel tanks, and meet FRA safety requirements. As well they will feature the 8-710G3A prime mover and other hardware upgrades.
The following are newly added numbers GP7u/GP9u loco's to be cannibalized for usable components at the SRY shops in New Westminster, BC, and then scrapped at ABC Metals in Langly, BC:
CP 1508, 1514, 1530, 1531, 1538, 1543, 1557, 1573, 1574, 1575, 1607, 1609, 1610, 1612, 1614, 1615, 1618, 1632, 1636, 1639, 1647, 1649, 1652, 1691, and 1692, 8214, 8227, 8230, and 8237. (Eight are stored in Toronto, one in Alyth, fourteen in Coquitlam, and two are still stored in Montreal St-Luc Yard).
The following 31 GP7u/GP9u locos from the list below already been scrapped at ABC:
CP 1501, 1503, 1505, 1515, 1519, 1525, 1528, 1565, 1566, 1567, 1568, 1569, 1570, 1581, 1582, 1588,1603, 1611, 1617, 1621, 1638, 1644, 1649, 1682, 1696, 1697, 8224, 8229, 8240, 8242,and 8264.
---
Andy Cassidy snapped the dead line of GP9u's at the Diesel Shop Mile 111.9, CP Cascade Sub in Coquitlam, BC and bagged CP 1530, 1575, 1632, 1636, 1647, and 1692. Two Canada geese strut past dead GP9u 1575 awaiting its date with the cutting torch.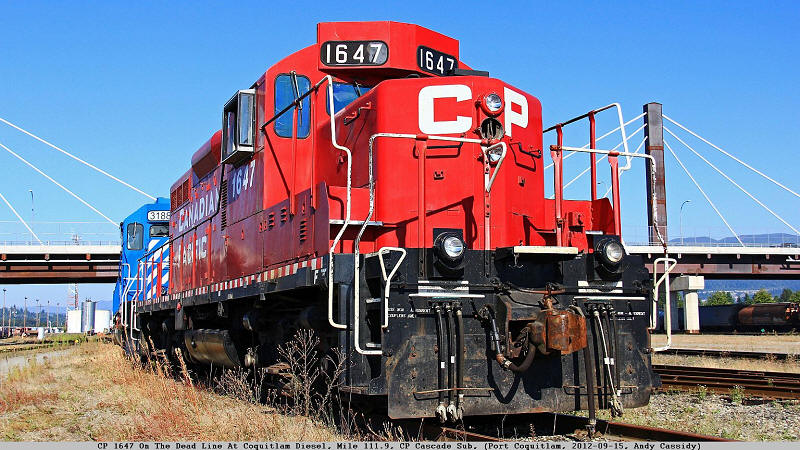 ---
CP GP9u 1612 and CP 1615 were seen at Smith Falls, ON October 5th on their journey from Montreal to Coquitlam. As of October 31st, CP 1615 that had been sidelined Bad Order in Toronto and 1557 were moving west through Saskatchewan. 1612 was in transit westbound departing Calgary, and 8227 and 8230 had arrived at Coquitlam, BC.
---
CP Leased Locomotives on the Property in October
CEFX (GP38-3) IN SERVICE: 3803, 3805, 3807, and 3811.
CEFX (AC4400CW) IN SERVICE: 1002, 1006, 1007, 1014, 1018-1020, 1023, 1024, 1026-1059.
CEFX (SD40-2) OFF LEASE: 2786, 2791, 2797, 2802, 2803, 3105, 3109, 3112, 3120, 3121, 3127, 3128, 3130, 3133, 3137, 3139, 3143, 3145, 3148, 3149, 3155, 3163, 3164, 3166, 3168, 3172, 3173, 3176, 3181, 3182, 3183, and 3188. Many of these units are now back in the USA.
CITX (SD40-2) STORED: 2783, 2792, 2799, 2804, 3008, 3024, 3026, 3035, 3036, 3053, 3054, 3055, 3057, 3059, 3060, 3061, 3062, 3064, 3065, 3066, 3067, 3070, 3071, 3072, 3073, 3074, 3075, 3078, 3080, 3082, , 3083, 3086, 3089, 3090, 3091, 3092, 3095, 3097, 3098, 3099 3100, 3157 and 3177, all off lease and stored at various locations on CP. In July, 3032 was removed from storage at Coquitlam, BC and sent to the SRY for lease.
CITX (SD40-2) IN SERVICE: 2785, 2794, 2796, 3056, 3058, 3063,
3077, 3079. 3081, 3088, 3101, 3102, 3110, and 3170.
CP has stored and is slowly returning to the lessor many of the locomotives that had been on lease. They are currently stored system wide with many in the USA.
---
Kenneth Borg snapped CP 142 on Sep 30th with a matched pair of CP Beaver painted AC4400CW's at Delray Interlocking, Detroit, MI.
More matched doubles greeted Ken, as CP T-27 arrived with two SD40-2's at NS Oakwo0d Yard in Melvindale, MI on Sep 30th. This CP pair had been assigned to the interchange run for the past week.
---
Dennis Weber snapped the following three CP trains: CP 810, with BNSF ES44AC 6413 at the point passing through Sparta, WI on September 29th:
---
CP Roadswitcher with CP GP40 4600 at Bangor,WI on September 29th:
---
DM&E Train 277, had CITX SD40-2 3079 leading ICE SD40-2's 6408 and 6418 at Stockton WI September 30th. It is somewhat rare to have a CITX SD40-2 leading a CP train
---
Dennis Weber snapped SOO GP40 2012 and CP GP40 4618 at LaCrosse WI on October 3rd.
---
John Soehner bagged this impressive power transfer to Montreal at Tichborne, ON October 8th on ethanol train #642 with CP AC4400CW's 8581, 9521, SD60's 6228, 6241, 6252, AC4400CW 9736 and SD60 6240.
---
Francois Jolin, Thomas Blampied and William Baird visited St-Luc Diesel Shop and AMT Sortin Yard on October 17th and noted the following units:
ST-LUC DIESEL SHOP power Oct 16th:
AMT F40PHR 400
AMT F59PHI 1327
RBRX F59PH 18523
CP GP9u 1509, 1626, 1630, 1639,
CP GP38-2 3072, 3089, 3120,
CP SD40-2 5947 (Retired for Mayfield, KY in 2013) 6013, 6049,
CP SD40-2 6013
CP SD60 6228, 6240, 6241, 6250, 6252, 6257 (For PTC Mods)
CP GP38-2 7309 (Ex-D&H 7309)
CP GP9u 8214, 8219, 8228, 8241, 8247,
CP ES44AC 8703, 8705, 8708, 8722, 8836, 8908, 8927,
CP AC4400CW 9628, 9736, 9754, 9773, 9805, 9815 (Xmas)
CP SD40-2F 9006
CEFC GP38-3 3804 (Off lease and Stored - xCADRAIL)
CEFX SD40-2 3065, 3155 (Off lease and stored)
RBRX F59PH 18523 (wearing new RBRX light grey and yellow striping paint scheme). The week of October 29t, this locomotive entered service on the AMT Candiac line.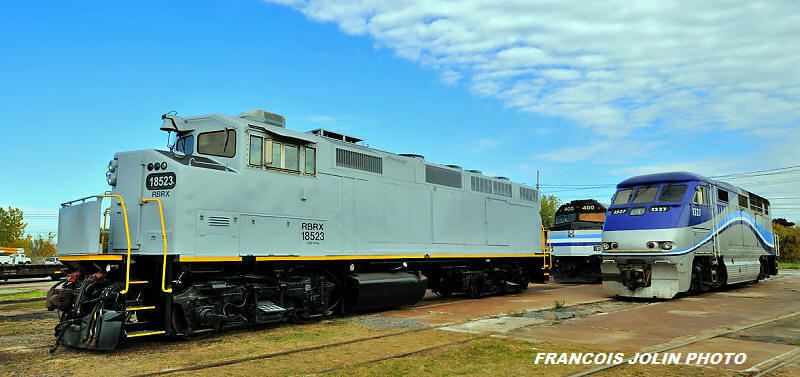 ---
Thomas Blampied snapped CP SD40-2 6013, SD60 6241 at the shop and AC44ooCW 9815 being decorated for the Christmas train.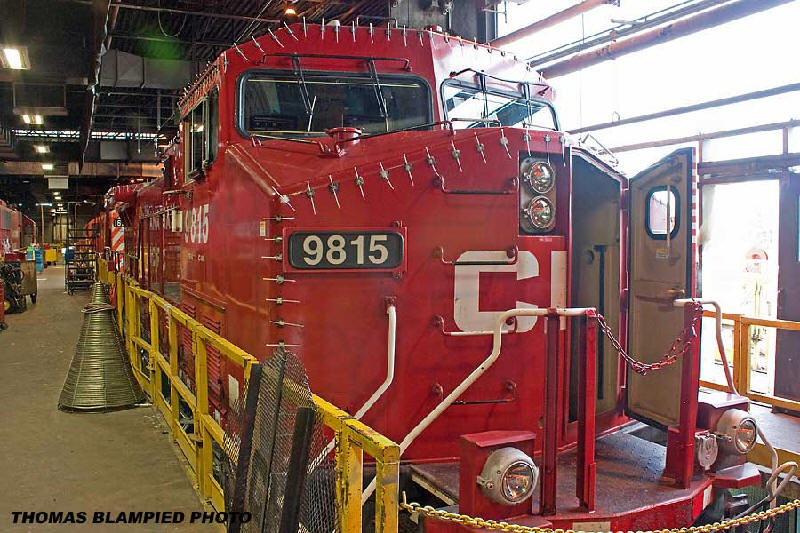 ---
CP is now installing these new narrow band radios into their locomotive cabs.
---
In October CP Released their HOLIDAY TRAIN Schedule for both the USA and Canada:
http://www.cpr.ca/en/in-your-community/holiday-train/schedule/Pages/canada.aspx
---
During October a meeting was held with labor leaders in Chicago with Canadian Pacific Railway President and Chief Executive Officer E. Hunter Harrison offered a preview of plans to improve management and operations at CP. Harrison's management team will present its proposals at a shareholder meeting in early December. Several of the proposals recently outlined by Harrison aligned with suggestions made earlier this year by Trains columnist Fred Frailey during the proxy fight for control of CP.

Among the proposals by Harrison:

• The three Hump yards at Toronto, Winnipeg, Alyth (Calgary), and Bensenville (Chicago) would be shut down, with some being converted to flat yards. Harrison says 70 percent of CP's trains are unit trains, and manifest traffic could be classified at flat switching facilities.

• The former Milwaukee Road hump yard in St. Paul, Minn., will be retained and improved. It will take on a greater role classifying traffic moving between the U.S. and Canada.

• The former Dakota, Minnesota & Eastern Railroad lines west of Pierre, S.D., will likely be sold. The company has no plans to build into Wyoming's Powder River Basin to access coal business, as DM&E had planned before CP acquired it in 2008. Harrison says the deteriorated physical plant and the amount of business west of Pierre did not justify retaining the line.

• The future of the former Delaware & Hudson is undecided. Harrison claims that since CP purchased the D&H in 1990, it has never made money on it. He says he will be meeting with connecting railroads to discuss shorter routes for CP traffic in exchange for other railroads operating trains over the D&H. If the lines' performance can't be improved, there is the possibility it could be sold.

• Harrison says his tenure at CP would be brief. He signed a four-year contract specifically to turn CP around and bring the operating ratio down to the mid-60 range.
He says to do so will require will require a reduction in CP's labor force, for both management and union employees. Harrison says the railroad was very "top heavy" in management, especially in Calgary.
Many employees will be given the opportunity to relocate and train in other locations they may be needed, but if they were unwilling to do so, they would not be retained.

Harrison believes that there are great business opportunities for the company, including the expanding oil business from North Dakota to destinations along the East Coast.
He says for this business to be profitable, it makes more sense to move the oil east of Chicago via NS and/or CSX rather than over the current CP route via Detroit, Toronto, and Buffalo to Binghamton, N.Y., and then over D&H and trackage rights to East Coast destinations.

A CP spokesman in Minneapolis says the railroad will not comment on its plans at this time, and intends to provide details to CRO in December.
---
Prime Minister Stephen Harper received a note that rail companies face no regulatory hurdles for hauling western Canadian crude oil to markets, but pipelines — which do face such hurdles — remain more efficient, says a briefing note for the prime minister.
"Pipelines are generally the most efficient and cost-effective means by which to transport large quantities of oil over significant overland distances," said the note. "In addition, pipeline operators in North America are strictly regulated and have a strong overall safety record." "While rail transport could play some role in facilitating market access for Canadian producers, this mode will not readily substitute for the 525,000 barrels per day that could flow through the Northern Gateway pipeline, or the 300,000+ barrels per day additional capacity associated with Kinder Morgan's proposed Trans Mountain pipeline expansion." The note says that Transport Canada officials have confirmed there are no regulatory hurdles for transporting crude by rail, but hauling oil to the West Coast would still require new marine terminals and tanker traffic, both subject to lengthy environmental assessments. Canadian Pacific (TSX:CP), which is not specifically cited in the released version of the document, moved some 8.3 million barrels of crude oil in 2011, and expects to hit 44.8 million barrels next year — a year earlier than projections, says spokesman Ed Greenberg. The calculation is based on about 640 barrels for each rail car. "Our crude volumes continue to grow at a pace that exceeds earlier expectations," he said. The note cites rival Canadian National Railway Co. (TSX:CNR), or CN, to create a pipeline-on-rail business model with Calgary-based Altex Energy Ltd., referring to advantages touted by CN, including flexibility and scalability. The briefing note claims that "CN is proposing to voluntarily use double-hulled rail cars for the transport of crude oil" as a precaution against spills. But CN spokesman Mark Hallman, who declined to comment directly on the document, noted that "CN does not supply tank cars for the transportation of crude oil by rail — the tank cars are supplied by rail shippers."
---
CPR 4-6-2 #2459 works hard as she begins the long climb out of Windsor Station in downtown Montreal to Westmount, QC (Glen Yard) in 1953. In tow are the new 800-series commuter/suburban coaches which lasted up until the early 2000's on AMT! The bridge is over Mountain Street (Now called Rue de la Montagne).
---
CPR 4-4-4 Jubilee #3003 was regularly assigned to trains 352/349 between Montreal and Quebec; 3004 handled the opposite local, trains 350/351. This, then, is probably #349 on a Saturday morning enroute from Quebec to Montreal,. It was usual that the Superintendent of the Laurentian Division, would go east on #350 Friday and return on #349 Saturday. For this excursion, he used his business car #8. The last car in the photograph looks like a wooden business car and this would fit as the usual consist was five cars. In the photo, there are six. Another personage that used these trains in this way was the General Superintendent, Quebec District, using the business car "Quebec"/ His trips, however, were invariably the same – out on #350 to Trois Rivieres – up the branch to Grand-mere – back the same day on #351. Thus he was always hauled by 3004, not 3003. 'The sign is likely an advertisement for Cumming-Perrault, an automobile dealer on Decarie Boulevard. Thu location on the photo could be the Adirondack Subdivision between North Junction and Breaslay, say in the vicinity of Decarie Boulevard. (Doug Wilson photo Collection)
---
This slide photo of GM's "Train of Tomorrow" submitted by Bill Miller was taken by his Grandfather, William I. Miller. It shows being taken at 10am on Sept 25/49 eastbound on CP at "Galt". This was prior to construction of the current Killean siding, the west switch of which would be approximately where the rear dome car is (about mile 56.5 or so). The original Killean was out around mile 51 or 52 iirc, long gone now. (Photo by William I. Miller, collection of Bill Miller).
---
On February 25th 1974 at Sault Ste Marie, Ontario Ted Ellis snapped a CP Eastbound extra hauling 40-foot box cars. CP FP7A 4066 was destroyed in the head-on wreck at Hinton, Alberta on February 8, 1986 as VIA FP7A 6566.
---
From his personal photo collection. Bob Heathorn submitted the only SOO LINE GP9 4233 to get the "hockey stick" paint scheme (where the red paint curves to meet the red paint on the edge of the body). Photo by Hugh Blaney taken at Nahant IA April 24th, 1985.
---
Terry Juuti snapped these Budd's back in 1980 clearly showcasing the two RDC paint schemes last used by CP Rail. The shot was taken in 1980 in Red Deer Alberta. The Budd cars operated a passenger service between Calgary and Edmonton, Alberta. A few years after this photo, the RDC's were removed from this service, and replaced by VIA diesel powered trains until VIA ended the service in the mid-to late 1980's.
---
Taken a few years back at the Mud Lake Trestle west of Smiths Falls, ON. Bob Heathorn was out of slide film at the time so used up a roll print film ( ASA400) and would have never have got the shot with K64. No digital Camera in those days.
---
©CRO November 2012