| | |
| --- | --- |
| | SOUTH OF THE BORDER |
---
| | | |
| --- | --- | --- |
| | NS HERITAGE FLEET 2012 | |
A week before press time April 26th, Norfolk Southern released NS ES44AC 8114 wearing the original 1950's NS paint scheme. This is the ninth special liveried GE locomotive to be released, and the last of the NS ES44AC's to get heritage paint. Ten brand new SD70ACe's will be the next painted by Progress Rail in Muncie, IN into the remaining heritage scheme units. The numbers will be NS 1065-1074 inclusive for a total of 19 HERITAGE painted units.
Wearing Cornell red paint, Lehigh Valley ES44AC 8104 is the eighth Norfolk Southern Heritage unit to be released. NS 8104 was photographed on a rainy April 23rd .
On April 18th Norfolk Southern released their seventh heritage unit, with NS ES44AC 8105 wearing the Interstate Railroad Heritage livery.
On April 17th, the sixth heritage unit was released: NS ES44AC 8102 wearing the handsome Pennsylvania maroon with pinstripes.
On April 6th NS ES44AC 8103 was released in Norfolk and Western paint, the fifth Heritage loco to be released. Note NS SD60E 6904.in the background.
During the first week of April, NS released the 4th unit, ES44AC 8101 looking fabulous in her Central of Georgia Railroad Heritage uniform.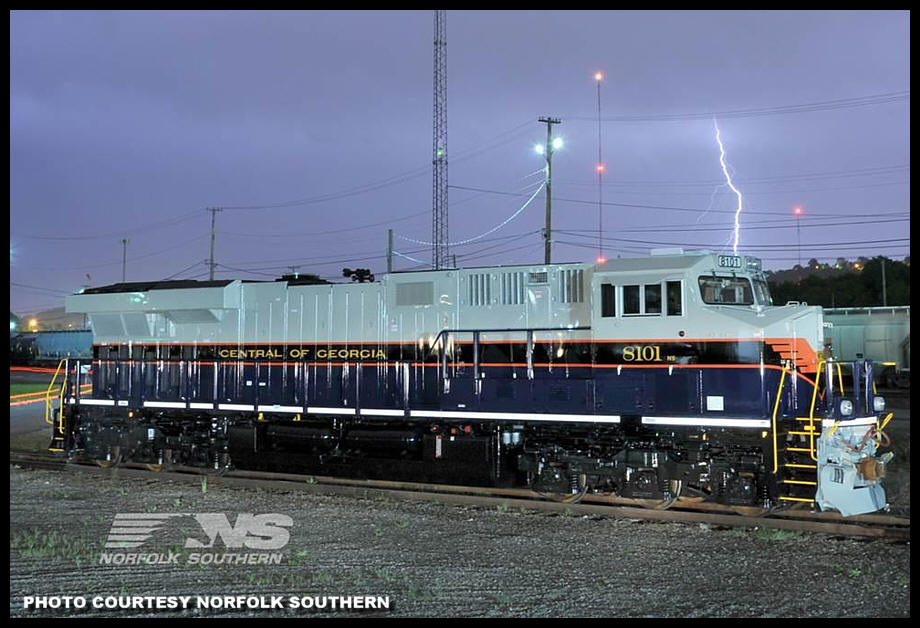 ---
On March 31st George Redmond snapped BNSF SD70ACe 9263, the DPU on a NB coal empty, and NS C40-9W 9263 leading an EB NS train 223 at Centralia, IL.
---
On April 16th, George was able to bag red and white painted NREX SW1200 3514 and NREX SD50 5463 still in Conrail paint at the NRE Locomotive Shop at Mount Vernon, IL.
---
In the first week of April, Mark Mautner snapped these photos at Metro East Industries in East St Louis, IL. As always MEI is super busy with lots of contract work for CN and UP taking place in addition to the normal workload.
1. Foster Townsend Rail Logisitics Railway (FTRL) SW1500 1515 (ex-Alton & Southern) is the first unit to wear the new FTRL logo and new livery of orange and red. In Mark's view, the unit is not complete, still missing cab glass, numberboards etc. She will be assigned to the former Manufacturers Railway (MRS) property with ex-MRS SW1500 258 getting transferred to another location.
2. MEI has received a contract to paint several units for Union Pacific. The first was UP GP40-2 1478, and Mark caught the second completed UP GP38-2 508. The third unit is a switcher that was in sandblast April 3rd prior to UP repaint.
3. RSIX SD40-2 6963 (built as GTW 5918), is undergoing a complete rebuild at MEI, and is likely destined overseas to India.
4. Saratoga & North Creek BL2 56 undergoing continued work at MEI, and requires lots of work to be made operational. The owners Iowa Pacific will be repainting her as sister Saratoga & North Creek BL-2 52, and also is destined to the NY state tourist line.
5. Sporting classy Western Maryland paint, Georges Creek Railway SD38-2 7436 (ex-WM SD40, VMV rebuild 1556), was outside the MEI paint shop after the newly installed plow was painted. The GCK pair (the 2nd unit is WM SD40-2 7471) are expected to leave MEI later in the month.
---
George Redmond snapped NS C44-9W 9142 leading NS train 960 WB at Centralia, IL on April 6th.
---
The first of the six former Oakway SD60's to be rebuilt for the Susquehanna, NYS&W SD60 3810 (Ex-GMTX 9094) has been completed at VMV-NRE in Paducah, KY. On April 23rd she was photographed by J.L. Scott at Louisville, KY at Paducah & Louisville's Oak Street Yard. NYSW 3810 is currently undergoing testing on the PAL, and came up overnight from Paducah on train PL4. The remainder of the units being repaired /repainted are: GMTX 9016, 9044, 9061, 9067, 9082, and 9094 which will become NYS&W 3800-3810 (even numbers only).
---
Known and/ or publicized o2012 General Electric locomotive orders with some yet to be announced. (by Sean Graham-White)
ALL - Brazil (7) DASH 9-40BBW 8300-8306
BNSF (175) ES44C4 6850-6869, 6900-7054
CP (30) ES44AC 9350-9379
CSXT (65) ES44AC 3000-3064
NS (25) ES44AC 8091-8115
Rio Tinto - Australia (15) ES44DCi 8172-8186
UP (127) ES44AC 7925-8051
Vale VL - Brazil (15) DASH 9-40BBW 6020-6034
Note: CN's ES44AC have been ordered but are part of 2013-2014 deliveries.
---
The Railway, Track & Structures webpage reported the Connecticut Department of Transportation (CDOT) and several state-owned freight rail lines will benefit from track material generated from the West Haven train station project. These freight rail lines are operated and maintained by private companies. Five miles of track are being replaced with all-new components, re-establishing the fourth mainline track between New Haven and Milford. The new mainline track will also have overhead wire and signaling installed to operate the passenger trains that will be servicing the new West Haven train station, scheduled to open in 2013.
"Recycling rail, ties and other railroad materials is the right thing to do. Re-use of track materials generated by large-scale projects benefits Connecticut's freight railroads and the environment as we mark Earth Day this week," said Commissioner James Redeker. "The Department continues to work with all freight operators in the distribution of this sought-after material." With this project and in accordance with a new state law, the state DOT will be recycling the used materials and distributing them to seven railroads, including the Providence & Worcester Railroad and the Housatonic Railroad Company. These entities will be able to step up their efforts to rebuild and strengthen rail infrastructure on branch lines throughout the state.
As he knows how much I like them, Warren Calloway submitted these great Warbonnet images:
1) Eastbound stack train rolls through Crozier Canyon in Arizona in September 1995 behind four super fleet units lead by Dash B40-8W 557.
2) Eastbound empty hopper train is seen in Arizona's Crozier Canyon in September 1995 with

C40-8W 645 the

lead unit.
3) An eastbound stack train has passed through Valentine, AZ and is slowing for the tight turn as the train will soon enter Crozier Canyon behind a trio of Warbonnets.
4) North of Kingman, AZ, westbound stack train is rolling through Kingman Canyon and headed to California during September 1995.
5) Three Warbonnets head up an eastbound stack stack train as it approaches Nelson, AZ in September 1995.
---
Each year there are a number of special excursions run to Louisville, KY for the Kentucky Derby in early May. CSX runs one from Midway, KY., the Norfolk Southern sends their OCS, and Amtrak has a special between Chicago and Louisville. In addition, the RJ Corman Railroad Group has an excursion from the RJCC yard in Lexington, KY. On a rainy May 1, 2010, RJCC ran their excursion powered by RJCC 2008, a Chinese built 2-10-2, RJ Corman Railpower RPRX 2009, and a pair of F7As from the Corman dinner train. The first of Stew Winstandley's photos show the headend at the Wick Moorman wye at Christianburg, KY. The two lead locomotives were removed here with the train continuing to Louisville with the two F7A's. The second photo shows CN 1060 on the rear. The train consisted of BNSF business cars, RJ Corman dinner train cars, and a pair of CN cars.
---
Now this is a classic heritage scheme! Adrian & Blissfield GP9 painted in Lionel colors working excursion service in the State of Michigan, shot in South Fairfield, MI in May 1993.
---
© CRO May 2012