CANADIAN NATIONAL
---
CN/GMTX SD60 STATUS as of November 1st
| | | | |
| --- | --- | --- | --- |
| CN 5400 (9013) | CN 5411 (9042) | CN 5422 (9058) | CN 5433 (9079) |
| CN 5401 (9020) | CN 5412 (9043) | CN 5423 (9060) | CN 5434 9080) |
| CN 5402 (9023) | CN 5413 (9045) | CN 5424 (9064) | CN 5435 (9085) |
| CN 5403 (9027) | CN 5414 (9046) | CN 5425 (9066) | CN 5436 (9086) |
| CN 5404 (9030) | CN 5415 (9050) | CN 5426 (9069) | CN 5437 (9087) |
| CN 5405 (9033) | CN 5416 (9051) | CN 5427 (9071) | CN 5438 (9089) |
| CN 5406 (9034) | CN 5417 (9053) | CN 5428 (9073) | CN 5439 (9092) |
| CN 5407 (9035) | CN 5418 (9054) | CN 5429 (9074) | CN 5440 (9095) |
| CN 5408 (9036) | CN 5419 (9055) | CN 5430 (9075) | CN 5441 (9097) |
| CN 5409 (9037) | CN 5420 (9056) | CN 5431 (9076) | CN 5442 (9099) |
| CN 5410 (9040) | CN 5421 (9057) | CN 5432 (9078) | |
Painted and in service:
CN 5401, 5402, 5404, 5405, 5406, 5407, 5408, 5412, 5415, 5420, 5424, 5428, 5430, 5431, 5432, 5433, 5434, 5435, 5437, 5438, 5439, 5440 and 5442.
Patched painted and returned to service:
5403, 5425, 5427, 5429
Patched and stored, shopping, or in paint shop:
5409 - Centralia painting
5410 - Stored in Memphis
5411 - Centralia painting
5413 - Centralia painting
5416 - Quality Rail, Madison, IL after painting at Centralia
5417 - Quality Rail, Madison, IL
5418- Painted at Centralia awaiting final prep to complete
5417 - Quality Rail, Madison, IL
5421 - Centralia Being prepped for painting
5436 - Centralia painting
5441 - Centralia Shopping


George Redmond snapped freshly painted CN 5430 at the Centralia, IL., engine facility on November 11th, awaiting completion.
Then on November 23rd, George caught completed CN 5430 on her first run going northbound solo to the BNSF, to pick up cars for the CN at Centralia, IL.
Incomplete CN 5419 is seen in new paint at the Centralia engine facility November 25th .
Completed CN 5435 is on her first run on a northbound light engine move at Centralia on November 9th.
---
Chris Bodkin caught patched SD60 CN 5429 back in service in Carbondale, IL on November 2nd.
On November 19th Chris bagged recently repainted IC GP40R 3117 in the Du Quoin, IL yard.
---
On November 3rd, former Oakway SD60 CN 5427 is in the siding waiting for a high priority CN intermodal train to pass. This was the first CN patched (ex-GMTX) SD60 to be seen on western CN rails, and she continued on towards Edmonton, AB.
---
Even further west, Mark Forseille bagged CN 5406 looking splendid at Port Coquitlam, BC Oct 28th.
---
CN GP9RM 7010 was sold to the Pennsylvania Northeastern Railroad and lettered PN 7010 at Woodcrest Shop November 17th.
GCFX SD40-3 6911 was sold to the Dakota Minnesota and Western in October 2012.
CN GP9RM 7210 was retired in September 2012.
CN GP9RM`s 4118, 4119, and 7061 were sold in the Auction Sale to the Central Manitoba Railway (CCGX) and in November were hastily relettered CCGX (Cando Contracting LTD), and began to move November 5th. Henry Nye snapped CCGX 4118, 4119, and 7061 in transit at Neenah, WI on November 5th.
---
BCOL B39-8E (1700, and 3901-3910 inclusive), were all retired back in 2011, and stored in the former IC yard at Centralia, IL. These GE locomotives were sold in the September CN Auction Sale and we will update our readers on the buyer when they begin to move.
Lambton Diesel Services (LDSX) purchased CN SW1200RS 1375, IC SW14 1501, and SW1200RSu 7316 at the CN Auction.
CN GP9RM 7010 sold at the September CN Auction, is destined for the Pennsylvania Northeastern Railroad and was snapped at Woodcrest on November 27th beside several stored IC and WC units.

Locos listed in the August-September CN Auction Sale:
CN Yard Slug 219 (Unmovable)
CN Yard Slug 241 (Unmovable)
CN Yard Slug 269 (Unmovable)
CN Yard Slug 272 (Unmovable)
CN SW1200RS 1375
IC SW14 1501
CN SW1200RSu 7316
CN GP9RM 4023 (Unmovable)
CN GP9RM 4118
CN GP9RM 4119
CN GP9RM 7007
CN GP9RM 7010
CN GP9RM 7018
CN GP9RM 7041
CN GP9RM 7045 (Unmovable)
CN GP9RM 7061
CN GP9RM 7070 (Unmovable)
CN GP9RM 7216
CN GP9RM 7218 (Unmovable)
CN GP9RM 7249
CN GP9RM 7259 (Unmovable)
BCOL B39-8E 1700
BCOL B39-8E 3901-3910 (inclusive). Note: BCOL 3911 was wreck damaged one year ago, and scrapped at Prince George, BC).
---
EJ&E SD38 654 was sold to the Hartwell Railroad (HRT) two years ago. CN disposed of them as they were not Dash 2ís. (Tracy Smith Photo)
Sister SD38 EJ&E 650 was sold to the SSR in 2010. (Nick Smith photo)
---
CN Shop Repairs & Repaints
Chris Bodkin snapped repainted CN GP38-2 4715 in Carbondale, IL on November 2nd.
---
On November 17th, Mark A. Perry clicked CN E9A 103 sitting on the drop table inside the Symington Diesel Shop for wheel change out.
---
More "used" locomotives coming:
CN will soon receive the first of 42 C40-8ís (4000 hp) to be numbered CN 2000-2041, and lettered CREX 9023-9064. These are ex-UP same numbers, nee-CNW 8501-8542 and is the second group of ex-UP nee-CNW Dash 8ís that CN has purchased. Last year, CN acquired 43 second-hand EMD SD60`s (3,800 hp) locomotives from GMTX and those now in service are upgraded to CN specifications.
New locomotives coming:
Expected early next year are CN's 30 newest SD70ACe`s which are to be numbered CN 8100-8129, and their first General Motors built AC locomotives. On October 26th, CN tested brand new CN 2801 at the plant in Erie, PA. Afterwards, it was parked with other new units earmarked to South Africa's Transnet.
In total, CN will acquire 65 new high-horsepower locomotives and is splitting the new locomotive order in two, with GE Transportation delivering 35 ES44AC 4,400 hp locomotives during 2013 and 2014, and Electro-Motive Diesel (EMD) supplying 30 4,300 hp SD70ACe locomotives. The new locomotives will be equipped with Distributed Power (DPU) technology. CN expects 50% of its high-horsepower locomotive fleet will have DPU capability by the end of 2013.
New locomotives arriving: On October 26th, GE tested brand new CN 2801 at the plant in Erie, PA.. Afterwards, it was parked with other new units earmarked to South Africaís Transnet. On November 22nd, the first four arrived at Toronto Yard (CN 2801, 2802, 2803 and 2804) from Erie, PA.
Mike Bannon was very fortunate to catch CN 2801, 2802, 2803, 2804 on Norfolk Southern Transfer #H3R (Frontier Yard Buffalo - Fort Erie at 2:38 pm on November 22nd. The units were moved later in the day by CN (2nd #422) to Mac Yard Toronto.
The video shows CN 2804 and 2803 heading westbound from Toronto (at Boyne, Mile 146 on the Bala Sub.) on November 23rd

With the last hold out for DC (Canadian National) now ordering AC locomotives, domestically it appears it may be the end for Class One railroads ordering new DC road freight power. There are speed advantages on production lines and economies of scale in terms of purchasing costs when you are building all AC domestics. When EMD delivers their SD70ACe-P4 to BNSF next year, and assuming that they deliver the kind of performance that GE's C4 does, that will likely be the final blow. Remember that the $ savings to purchase a C4/P4 have to match performance expectations. Performance and $ metrics are able to be obtained and calculated in as many permutations as the customer needs very easily these days. But, there will still be foreign customers that will want DC traction motors from GE and EMD, and MPI, Brookville, NRE will be happy to deliver DC-motored four-axle power. ( Sean-Graham White)
---
LNG Locomotive Testing:
During November, Canadian Nationalís pair of Liquefied Natural Gas test units (CN SD40-2W 5258 and 5261 with the LNG tank car between them continued operation in captive service between Walker Yard in Edmonton and Lynton, 1.1 miles south of Fort McMurray, AB. CN did this conversion of these older SD40-2W locomotives as a test, because natural gas prices are lower and even more stringent emissions rules will come in 2015. CN is using a leased Union Pacific-owned LNG tank car (CNW-1 is in Umler) to provide fuel to the two locomotives for the initial testing. UP attempted a LNG program in the early 1990s, but no locomotives were ever placed into service with the LNG tank cars that UP purchased for the testing.
---
New CN Ore Cars: During October and November, American Railcar Industries began delivery of the first 115 new ore cars from a 232-car order. These cars which carry DMIR reporting marks, will operate mostly in Minnesota on the Duluth, Missabe and Iron Range, joining 704 cars of this type already in service. Earlier in the year, CN purchased 200 new style ore cars featuring Air dump Doors from Nation Steel Car in Hamilton, ON. The older DMIR cars continue to be used in Minnesota and in Michigan but as the new cars arrive, many will get sidelined and scrapped over the next year.
---
The last WC GP40-2R (WC 3026) remains in service around Edmonton, AB where Jesse Acorn shot her last month, wearing the map of Wisconsin on the long hood.
All of the remaining WC GP40ís on the CN roster were retired June 15th, 2012 and stored, with many returned to the lessor .
---
In early November Canadian National announced they are working with Arc Terminals L.P. to construct a tank car unloading terminal in Mobile, AL to handle crude oil shipped from western Canada, and light crude destined to refineries on the Gulf Coast. This new facility will have a maximum handling capacity of 75,000 barrels, (120 tank cars per day) and is scheduled to begin operation by June 2013. The facility, which will be the first tank car crude-oil unloading terminal in Alabama, will accommodate a quick car turnaround to increase product delivery. The terminal also will be used to load condensate into tank cars for backhaul by CN to western Canadian oil producers, and will accommodate both general-purpose and insulated/coiled cars. "Crude oil by rail is one of CN's fastest growing businesses. We expect to move in excess of 30,000 carloads in 2012, and we believe we have the scope to double this business next year," said Jean-Jacques Ruest, CN's executive vice president and chief marketing officer.
CN are expecting to ship twice as many carloads of crude oil in 2013 as it will again this year, the railroad's chief marketing officer said in November. CN expects to move more than 30,000 carloads of crude oil in 2012 to various North American destinations. "We think next year there is a fair enough chance we could do twice as much as we were able to do this year," Jean-Jacques Ruest said in an interview. In 2011, CN shipped only 5,000 carloads. "Currently we are tracking at 40,000 carloads annualized, and every quarter there is an improvement from the prior quarter," he said. Ruest said the estimate for 2013 took into account "projects that we have on the plan right now" and assumed that "construction season allows us to get these things done with a reasonable winter.
---
In November, CN and Tundra Energy Marketing agreed they will construct a new railcar-loading terminal for Bakken crude oil producers in Manitoba and Saskatchewan. The terminal will initially load 30,000 barrels of crude oil a day into rail cars, equal to more than 50 tank cars worth, starting in the second quarter of 2013. The facility will have the potential to accommodate a train consisting of 100 tank cars. Each train could carry about 60,000 barrels per day of crude oil. The project will provide producers with "access to alternative North American markets for Williston Basin crude oil over CN's network at a time when there is inadequate pipeline take-away capacity," said Bryan Lankester, president of Tundra.
The large Port at Prince Rupert, BC is fast becoming a "true North American gateway" noting 70% of its inbound containers go beyond destinations in Canada. Outbound from Canada, Prince Rupert's emergence provides Canadian forest products shippers with a cost-effective alternative to Port Metro Vancouver. The Cosco uangzhou, for example, took on containers loaded with lumber bound for the Chinese housing market. Overall, Prince Rupert's container traffic in July rose 5.5% year-over-year, to a monthly record 48,977 TEUs. "Prince Rupert is two or three days faster to China than sailing from Vancouver," a port spokesperson said. "That makes it faster than Vancouver, but not necessarily cheaper." Compared to Los Angeles-Long Beach, the trip is 68 hours shorter, he added. Prince Rupert isn't the only Canadian port undergoing expansion. Port Metro Vancouver's container-handling capacity of 3.3 million TEUs will increase to 4.1 million TEUs this year. In the East, Montreal is considering long-term plans to develop a container terminal at Contrecoeur, on the south side of the St. Lawrence Seaway. The site already consists of a bulk terminal and has direct access to CN's mainline.
---
CN Carew Diamond Replacement: Track block went into effect at 12:30 November 9th and the ripping out began. Walter Pfefferle managed to get these photos including one of the diamond in the air. The mainline will be moved 8 feet to the north, and an additional 80 feet of track will be added (40 feet per side), to allow for the realignment and higher speeds and super elevation banking. See link:
http://railfan. thegrebs. com/CN
---
Railway Investigation Report R11D0075: The Office of the Transportation Safety Board of Canada (TSB) investigated this occurrence for the purpose of advancing transportation safety. CN freight train M310-31-23 Canadian National Railway at Mile 2.03 of the subdivision near Montreal Pointe-Saint-Charles, QC September 24, 2011.
http://www.tsb.gc.ca/eng/rapports-reports/rail/2011/r11d0075/r11d0075.asp
---
CN CASO SUBDIVISION
---
This railway served as a short cut through Ontario for name New York Central System Streamliners, time sensitive mail, express and freight trains as well as local trains and branch lines serving Ontario communities. The present CASO owners, Canadian National and Canadian Pacific Railways, published a Notice of Discontinuance for the CASO from St. Thomas, Ontario to Attercliffe (near Hagersville) on Oct. 19, 2001. This is a matter of about 83 miles of the 251 miles between Windsor/Detroit and Fort Erie/Buffalo. Although there were parties that petitioned for the line not to be removed, as you can see below, that the line now has begun to be removed.
---
A cool gloomy morning sets the mood here. After just coming off of the Sarnia Spur and onto the CN CASO Sub, GTW 5937 & CP 6030 slowly pull the rail train to the first crossing west of Fargo where a CN foreman will watch it pass thru. The train will make its way to Essex today and start pulling track tomorrow as it heads back east towards Fargo.
On November 15th, Myles Roach snapped CP 6030 and GTW 5937 pulling rail past the Essex Station. The power will next go to Comber, retrieve the rail train then back down here again to remove this section of rail. This is the very last time locomotives will pass the Essex Station.
Jay Butler also snapped CN/CP rail train on the CN CASO Sub Wed Nov 21, 2012
---
Ron Visockis snapped CN GP38-2 4711 with a Ballast train Belleville, ON on Oct 17th, with an ICG caboose on the tailend.
---
Just over a week later, Ron bagged GTW SD40-2 5937 with a another ballast train at Belleville, ON Oct 29th.
---
The same ballast train continued to provide interesting power over the next days. Witness good looking GTW SD40-2 5936 and the ICG Caboose assigned to the work train November 8th at Belleville, ON.
---
CN operated a special train on the St-Hyacinthe sub over several days the first week of November and parked it in Southwark yard each evening; Michel Lusier snapped these images of CN GP9RM 7224 and AMT coach 1207 (Train#7224) was a CN student train (for training purposes). Following behind was CN tank train 785 with CN 2593+2561, on November 1st.
---
Darren Doss snapped GTW SD40-2 5932 and patched CN SD60 5403 at Fulton, KY November 4th.
---
CN 5746 is seen with train M396 at North Siding, Fulton, KY. CN M396 is patiently waiting for the arrival of train CN M342 led by CN 2586. CN M342 will then be re-crewed at Fulton, KY, with set-out, pick-up and will then continue south to Memphis, TN. CN M396 with a fresh crew on board and will continue northward to Champaign, IL and points north.
---
On November 18th, George Redmond bagged IC SD40-3 6201 in OLS livery at the CN engine facility at Centralia, IL. There are only a two or three (black painted) IC SD40-3ís left in service.
---
Ron Visockis shot this November 6th facing the East end of the yard tracks in Belleville. CN is considering to have Elmwood road become a new Crew Change Point with the station name ELMWOOD. The new Track # 1 is already in use, and Ron noted a lot of activity around such as re-ballasting, repaving of access roads, and new signal installations.
---
Ron also submitted this shot of the east end of the Belleville VIA station showing the construction of the new VIA track # 1 into the new station.
---
CN SD70M-2 8910 on a westbound at Dorval, QC November 10th, now wears a label for earth day in both French and English and sporting fresh paint. (Michael Berry photos)
---
At the yard in Oakville November 11th, ON Wayne D. Shaw snapped CN 4116 doing some work with 4791 sitting a bit further back in the yard. Part of the Ford Oakville Assembly Plant complex looms over a mile away in the background, appearing much closer due to telephoto "compression".
---
Jesse Acorn was at Walker Yard (Edmonton, AB) November 24th, and clicked CN SD38-2 1653 on its way from Walker to Bissell, AB for crew training purposes.
---
Bi-Directional CNR #48, a 4-6-4T Class X10a was one of only six built - numbered 45 to 50. These engines were used in Montreal Commuter Service from Downtown, St-Henri, Lachine and the West Island. Date is unknown but the photo was shot in the 1960ís at Turcot Roundhouse in St-Henri, QC (CPR Glen Yard is above). (Deane Motis traded an Amtrak F40 slide for this one. A really Good deal!)
---
Super streamlined CNR 4-8-4 Class U4a #6400 looks modern, impressive and handsome in Jim Parkers photo taken on display at the Belleville Days Railroad Show in Belleville, Ontario back in 1964.
---
Jim also submitted a shot 0f #6400 in freight service service at Hamilton, ON in 1955.
---
Sibling CNR #6404 is shown under steam at the Mimico Yard in 1956.
---
CNR S13 8518 working in Spadina Yard and switching cars east of the Bathhurst bridge in Toronto in May 1966.
---
CN S13 8516 wearing the CN noodle paint scheme is seen in at Toronto in 1966 with her cars under the Bathhurst bridge.
---
Phil Mason snapped this Montreal Vignette. CN FPA4 6758 at Val Royal Station, on his graduation day from Westmount High School on June 17th, 1968. Phil treated himself to a ride out to Val Royal station on the CN commuter line to Deux Montagnes. The westbound Grenville passenger train (complete with a steam generator car for some reason), was snapped before sunset.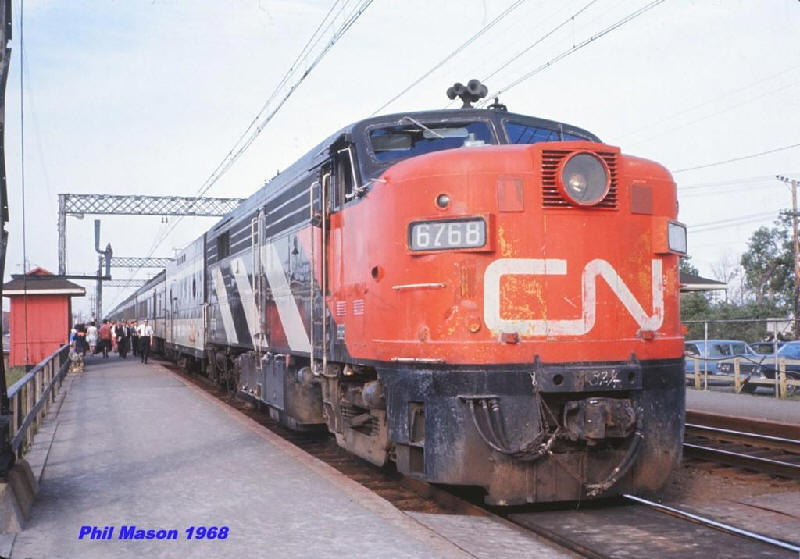 ---
CN FP7A 9086 warms itself in the morning sun beneath the sand tower in Calder yard at Edmonton, AB in the summer of 1968. Note the early style ditch lights used exclusively out west in the Rockies.
---
Handsome CN GMD1 1614 switches the yard in Saskatoon, SK on a wintery day in December 1994.
(Keith Bowler collection).
Back in July 1989, CN GMD1 1608 - fresh from an overhaulin, heads north out of Prince Albert, SK to Paddockwood to forward empty grain hoppers. The light rail on that subdivision required units with A1A trucks. (Keith Bowler collection).
---
CN GMD1 1045 switches old style grain cars (inside lined 40-box cars) at Fork River MB, back in 1987.
---
Bob Heathorn snapped CN SD40-2 6106 (ex-MP and still in UP colours), at North Bay ON in June 1994.
---
On October 10th, 2002 Arnold Mooney had learned some new power was coming over on CN from Erie. He elected to shoot from this location because open areas along Niagara without shadow are not that easy to find. CN train #334 was quite a sight with a huge lashup of new GE led by GMD power: CN SD75I 5684, SD50F 5447, SD40-2W 5269, GE Dash 9-44CW's 2669, 2661, 2670, 2666, 2665, 2662, 2664, 2660, 2667, 2659 and 2663.
---
©CRO December 2012