On July 3rd - 4th, all 20 Norfolk Southern Heritage locomotives were gathered for a "family portrait" at the North Carolina Transportation Museum (NCTM) in Spencer, N.C. The 20 locomotives painted in the color schemes of predecessor railroads were displayed together for this once in a lifetime photo lineup.
Click Below for Video
The Ultimate Slide Show:
http://tools4fire.zenfolio.com/p849796102/slideshow
---
Heritage Fleet Round-Up Spectacular
A CRO "SOUTH OF THE BORDER" SPECIAL REPORT
(By George Pitarys)
George Pitarys compiled this CRO photo railfan report on the Norfolk Southern Anniversary Event in Spencer, NC over July 3- 4, 2012, as well as shots taken a few days earlier in Saratoga Springs, NY.
George Pitarys compiled this photo report on the Norfolk Southern Anniversary Event in Spencer, NC over July 3- 4, 2012
Last Wednesday June 27th, as Candy and I drove home from camp, my cell phone rang, and it was our good friend Tom Carver.
He got quickly to the point, and said he had Jul 3-4-5 off from his job as engineer on the S&NC, and how would I like to make a fast trip to Spencer North Carolina to attend the gathering of the 20 NS heritage units at the North Carolina Transportation Museum ?
Obeying the first rule of retirement, ( go when and where you feel like) I immediately replied I would indeed go. I am going to say here, that many people were quite surprised to hear I was going, it being an event that was quite out of character for me. However, I saw it as an opportunity to spend three days with a dear friend, and at the same time doing something different, and perhaps unique.
So I began to plan, and here's what transpired;
MONDAY JULY 2
I left home at 1400 on Monday, leaving a very disappointed Candy to face a three days on District 3. She would love to have attended, but.... well, it's the railroad and days off in summer are hard to come by.. My plan was to drive to the Saratoga Amtrak station ditch my car, meet Tom and ride back to North Creek with him on the train. Then spend the night at his house and leave for Roanoke Va Tues morning. I had an uneventful 3 hr and 40 min trip, arriving at 1740, and the inbound train from North Creek due at 1757. The train arrived on time with the E-8 leading, meaning the BL-2 would lead north. I had ridden, even run the 52 back in the mid 70's when I worked out of Brownville Jct. and I was very pleased to renew acquaintances!
They had to run around the train, and then wait for the arrival on Amtrak No 291 for a passenger. The Ethan Allen was only a couple of minutes late. The morning NB is to the left our train in the middle, and of course Amtrak on the right.
The passenger was quickly boarded, and we were underway only a few moments late. In this picture the S&NC branches to left, the CP main line is straight ahead, looking north,
We hadn't any time to get any dinner, so, after departure we ordered from the dining car. A quick stop up the line a bit, and we were dining on Chicken Cordon Bleu, in the cab of the BL-2 as we purred along at track speed tracing the the Hudson River. We arrived in North Creek just as thundershower broke overhead, but only a few minutes tardy. Tom completed his paperwork, and we went home, and soon were stacking zzz's.
TUESDAY JULY 3
We got up at 0530, had a quick coffee and bite, and hit the road at 0600. Rather than really tax ourselves and drive all the way to Spencer, we had decided to stop short at Roanoke Va., then round trip to Spencer on Wednesday. This would also somewhat shorten Thursday's drive home. We proceeded down to Albany, then switched to I-88 and followed the D&H to Bingo, and then to I-81 from there to Roanoke.
We saw no trains along the way, but as we were "in good shape" approaching Scranton, we decided to duck into town and see what was going on with the DL. We arrived at Bridge 60, and found the ratty (but still desirable) item.
As we shot it, we clearly heard a Northbound "244" head under the bridge on the the line to Carbondale. We decided to spend a little time and see if we could get a shot or two. As many of you know, chasing that line is nearly impossible, and we didn't do too well. We killed an hour looking for without seeing our quarry, and finally realizing we had a long ways to go, broke off the hunt, and continued south.
The rest of the trip was more or less uninterrupted, at least by trains, and we arrived at the motel in Salem Va at 1800. Pretty much a "straight 12 hr day". There was a very good Mexican restaurant next door, so dinner was soon taken care of, and we adjourned to the comfort of the motel...
WEDNESDAY JULY 4
We got up at 0530, gathered ourselves, and snagged a coffee and headed for Spencer at 0630, about 3 hrs away. It was an uneventful trip, and my ol' Tom Tom GPS took us right to the door. Tom had pre-ordered tickets, so we got those and entered the facility. They had arranged a "parade of power" at 0815, and they began promptly, so we actually missed seeing the Savannah and Atlanta, and Southern units, in this morning parade.
Essentially they turned each unit two full revolutions on the turntable, then backed it out on the lead. The turning made the light correct, and they ran them out this long (maybe 3/8ths of a mile) lead at a walking pace while people photographed the units.
Looking toward turntable
Looking away from turntable
Now, there were 20 units, and rather than show each one, I am going to pick some shots here, then from the afternoon session, and try and show most of the units
It was about lunch time when the parade was finished, and the power remained lined up, awaiting a return to the turntable and "farm" tracks around the engine house in the afternoon.
There were numerous booths with food and drink as well as souvenir shops set up in the engine house, as well as other displays from the museum. There was an Amtrak display train with one of it's heritage units attached.
We had a light lunch, and sat in the shade for a bit. It was getting quite warm indeed. It was at least 100 by mid afternoon. We chatted with some friends we ran into, and generally just loafed until they began replacing the engines around 1400.
There were bleachers and a viewing stand at the engine house, but the number of people on the stand was limited. As someone came down, another was allowed to ascend. I stood on that platform for well over two hours in the broiling sun. My feet ached terribly, and I felt like a slice of toast on the "dark" setting, but I didn't plan to give up that spot... It was worth it.
Once the last unit was positioned, we headed out. There would be a night photo session, but we had opted against staying, so we headed back to Roanoke. It was a uneventful trip, and we got back to Roanoke about 2000. We walked down to Denny's ( our Mexican place was closed due to the fourth of July.. I would have expected that on May 5th, but !!!!! )
We relaxed, and reveled in our pictures, and sacked out about 2300. We had a long drive upcoming !
THURSDAY JULY 5
We got up at 0500, and left at 0540. We decided we wouldn't get distracted by Scranton, and made what turned out to be a straight shot to Saratoga. had we been late, rather than face the 3.75 hour drive home, I was going to go back to North Creek, and ride down on the train in the morning. But seeing as we arrived in Saratoga at 1520, I decided to drive home. We quickly split up the gear and headed our respective ways. I arrived home at 1920. For space reasons I haven't included a shot of every unit, but suffice it to say they were all immaculate, and a real pleasure to behold.
FWIW, my least favorite was the Monongahela, my favorite the Virginian...or maybe the Lackawanna, or maybe the Lehigh Valley
ah Hell !
It was a long, hot trip, and despite the fact that this isn't my usual cup of tea, I have to say it was worth it. The NS clearly went to considerable effort, and put on a well organized and managed show. Having three days with a friend, and the spontaneity of it all contributed significantly to the enjoyment. As well as the first rule of retirement, of course.
George Pitarys
---
Warren Calloway was present for the 30 year NS anniversary event in Spencer, NC July 3rd and 4th and submitted these great shots to CRO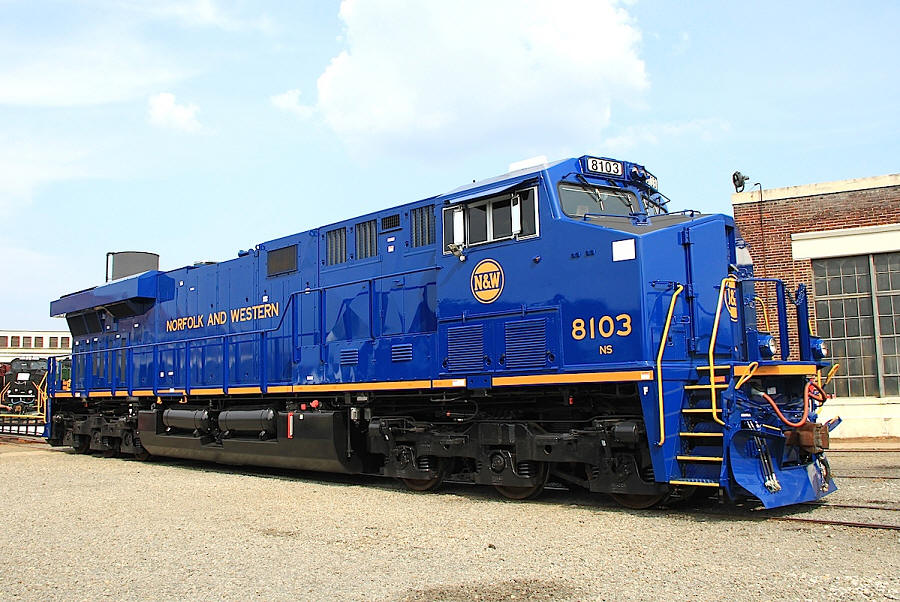 ---
George Redmond took these shots at the NS anniversary event in Spencer, NC July 3rd and photographed, NS 1030 with anniversary number boards, NS 1065 Savannah & Atlanta paint, NS 8114 original Norfolk Southern paint, NS 8098 Conrail paint, NS 1072 Illinois Terminal paint, NS 1070 in Wabash paint, NS 1616, Southern E8A 6900, Southern FP7A 6133, RNCX 1810 leaving the Salisbury, NC station and the Heritage units at the turn table.
---
In Aberdeen, NC on July 4th, Terry Redecker snapped great looking Aberdeen Carolina & Western SD40-3 (ACWR) 6926 and 6919 waiting for their next call to duty along the CSX mainline. These are former GCFX, WC, nee-CN SD40's .
---
On July 23rd, Genesee & Wyoming Inc. (GWI) announced they had purchased RailAmerica, Inc. (RA) The agreement under which GWI will acquire RailAmerica for an all cash purchase price of $27.50 per share. GWI's acquisition of RailAmerica will combine the two largest short line and regional rail operators in North America, strengthening GWI's ability to serve its industrial customers and Class I railroad partners. In addition, the combination should yield significant synergies and provide strong leverage to the eventual recovery of the U.S. economy, while creating a powerful platform for future industrial development along railroads in the 37 U.S. states in which GWI will do business. GWI owns Canadian shortlines: Huron Central, Quebec-Gatineau and the St, Lawrence and Atlantic. RA owns Canadian shortlines; Goderch-Exeter, Southern Ontario railway, Ottawa Valley Railway, and Cape Breton & Central Nova Scotia.
---
Mark Mautner visited Metro East Industries (MEI) on July 25th, and snapped this 32 year old workhorse with a new lease on life! Union Pacific SD40-2 9947 (ex-Missouri Pacific 3114) was shot literally 12 hours after being pulled from the paint shop. It may be assigned to yard or hump duty but still glad to see's earning her keep. Taken on MEI property with permission. MVPX 3093 is destined to Texas for use on the Gardendale Railroad and on July 25th was at TRRA Madison yard in transit.
---
On June 27th at MEI, Mark snapped somewhat rare SDP40 carbody MVPX #3093 (Ex-BN 6397, nee-GN 323), and super fresh HLCX GP38-2 #3866 just out of paint at MEI.
---
Gary Shermerhorn snapped inbound OCS biz train P911-25 (July 25th) at CP-SK (Selkirk Yard in upper New York State), with smart looking back to back CSX F40PH's and matching blue 10 car consist. They made a stop in North Bergen out of Newark, and then up the River Sub to Selkirk. On duty at Newark at 09:00am, Passengers detrained at the Albany Division Building at Selkirk Yard around 16:00hrs. The train then dead-headed south to New Jersey on July 26th.
---