MODELLER'S CORNER
---
---
Coming Soon To A Hobby Store Near You
ExactRail has HO scale ready-to-install deck plate girder bridges in two versions: early (wooden guard timbers, wood plank walkways, and wood handrails) and late (wooden guard timbers, etched metal walkway, and cable handrails). The bridges come with ties molded in place and the modeller installs their own rail.
Both styles of 72' bridges are available decorated for CN. They are also available in black, silver, and green with no road name or as an undecorated kit.
Ready to install bridges are also available painted silver, black, or green with no roadnames. Late style bridges come in 30' and 50' lengths and early style in 50' length.
ExactRail is also introducing the World's finest wheel sets. Precision crafted with Swiss turning equipment, ExactRail's wheel sets feature the most accurate contours and a prototypic dish and tire. And, we are proud that they are manufactured and assembled in our own Orem, Utah facilities.
To faithfully capture the complex surfaces of a prototype wheel, every aspect of the wheel and axle is precision turned. Of these surfaces, it is noteworthy that the interior wheel face sweeps beyond the margin of the flange. This is one of the most distinctive features of a prototype wheel—which is that the flange is offset from the plane where the wheel meets the axle. Furthermore, the axles themselves are precision milled so to capture the distinctive concave dish of the prototype.
Coming Soon in HO-Scale
§ Available in Swiss-turned brass or nickel-silver
§ Available in 36" and 33"
§ Available in 0.110" and 0.088" tread widths
Coming Soon in N-Scale
§ Soon to be available blackened or natural
§ Available in 36" and 33"
InterMountain is taking reservations for delivery this winter of its SD40-2 diesel locomotive. Road names include Grand Trunk and CN/IC.
In October, Walthers will release two starter train sets for the holiday shopping season. The Rail Tech Digital Trainset includes a Trainline series GP9M, three 50' freight cars (flat, gondola and boxcar), a wide-vision caboose, 38" x 54" oval of Bachmann EZ-Track, a 60-minute World's Greatest Hobby DVD, a power supply, and Digitrax DCC controller and sound system. The starter set will be available with the locomotive and caboose decorated in matching road names including CN.
---
Modeling a PROGRESS RAIL PR30C in HO SCALE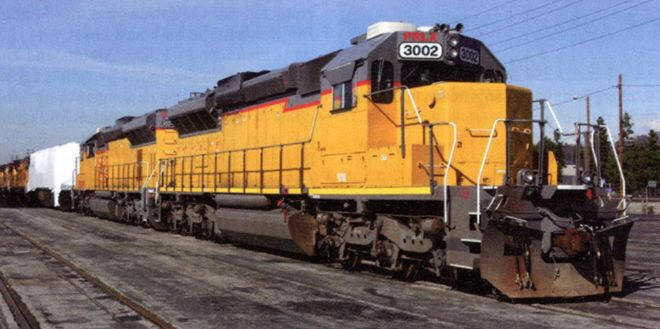 (By Peter Merseburg and Sandra Ludwig-Merseburg)
The Progress Rail Services PR30C is a 3,005 Horsepower C-C trucked diesel electric locomotive that was rebuilt from an SD40-2. The Prime mover was replaced with an EPA Tier –II compliant Turbocharged V15 Caterpillar 3516 engine, and is is equipped with an additional exhaust treatment system, which is the large box mounted at hood top level, in front of the radiator section. At least six SD40-2s are scheduled for this rebuild, of which five have been completed and entered revenue freight service as of July 2010. The first units were introduced into service for Union Pacific in 2010 and assigned to Southern California.
Peter Merseburg and Sandra Ludwig-Merseburg of Germany used completed their kitbashed Progress Rail PR30C and painted in UP Armor Yellow and Harbor Mist Grey.
---
Peter Cox snapped his Northern Alberta Railways (NAR) O Scale garden railway brand new cabooses, enroute to the paint shop. These were custom-built by his friend in his basement, who is currently starting on a CP D4 4-6-0 model.
---
---
This HO CPR Consolidation started out life as a Bachmann model painted Western Maryland. The loco was stripped and had Athabasca scale models CPR vestibule cab and skirts added. The tender received the ASM oil bunker conversion, and the completed model was painted, then lettered with Black cat decals and sprayed with a flat finish. (From Barry Oldham with thanks).
---
Kitbashing a twin-engine Southern Pacific DD35B
For the monster SP DD35B #9902, we used an Athearn blue box DD40 model for only chassis and Trucks on a modified frame with the veranda formed entirely of Evergreen. As the Athearn DD40 hood is incorrect for this model and too wide, we used two accurate (back to back Kato) GP35's for the DD35B long hood.
Detail parts:
The Long Hood Ends - Evergreen
Roof Stock Blank from Cannon & Company's,
Side Doors of Cannon & Company
Sand filler of Cannon & Company
Radiator Fans from Atlas
Eye Bolts from Detail Associates
Grab Irons from A-Line
Horn is E8 –Proto 2000
Headlights - Cannon&Company
Brake wheel from Athearn
Air Tanks from Details West
Battery box kitpash - Evergreen
Extended Range Doors from F40PH (CN)
Mu and Brake Hose from Atlas
Handrails are kitbashed using Kato and fitted with shaped steel wire.
Colors: - SP gray and SP red by Poly Scale
Decals: Microscale SP
After Weathering the unit received modification of the frame and the truck in connection with the Long Hood's dummy end.
Next Month In Modelers' Corner
BURLINGTON NORTHERN SD40E #6330
A CAT - Powered rebuild
In the September CRO, Peter and Sandra show how they kitbashed, detailed and painted rebuilt Burlington Northern SD40E #6330.
---
Ontario:
August 25 & 26: Railway Heritage and Flea Market - St. Thomas - From 10-4pm
Elgin County Railway Museum, 750 Talbot Street
and St. Thomas Station, 225 Wellington Street
· Tour the interiors of a steam engine, caboose, and baggage car.
· Talk to former railroaders.
· Explore railway artifact exhibits, enjoy historic photos, model railway displays, a hobby train show, music, and a BBQ.
· Model railroads and vendors inside.
· Flea market.
· The historic BX Tower on Moore Street will be open for tours 10 am - 4 pm.
At both the Museum and the Station.
Fare: Probably $7?, children under 13 free.
September 9th: LMRA Flea Market - Milton - From 10-3pm
John Tonelli Sports Centre, 217 Laurier Avenue
Fare: Adults $5, youth $2, children under 6 free, parking free.
Info: www.trainweb.org/lmra/fleamarket.htm
Map: www.trainweb.org/lmra/fleamarketmap.htm
September 15 & 16: Pickton Model Railroaders - Pickton - From 10-5pm (Sat) 10-4pm (Sun)
Prince Edward Curling Club, Picton Fairgrounds, Main Street East
(From Highway 401, take Highway 89 south, fairgrounds is on right / northwest side
· Operating train layouts
· Radio Controlled boats
· Model aircraft displays
· Farm equipment displays
· Hobby vendors
· Door prizesHands on:
· Model railroad operation
· Slot car racing
· Flying a radio controlled flight simulator
· Operating a radio Controlled boat
Fare: Adults $5, children 12 and under $1
September 29 & 30: Brampton 2012 Model Train Show - Brampton - From 10-4 (Sat & Sun)
Brampton Fairgrounds, 12942 Heart Lake Road at Old School Road, Caledon
(3 km north of Mayfield Road, west of Highway 410, east of Hurontario and Kennedy. From Hurontario, go east on Old School Road or Mayfield.)
· 33,000 sq ft of operating layouts (HO, N, O and G) and dealers.
· Model trains, kits, memorabilia, collectables, art and photographs and more.
· "How to" clinics.
· Proceeds to be donated to the Boys and Girls Club of Peel Region.
· Lunch counter.
Fare: Adults $5, seniors $4, teens $4, children under 12 free, family of 4 $10 (covers both days). Free parking.
If you get your hand stamped Saturday before leaving, Sunday is free.
Info: www.bramptonmodelrailroadshow.com/
Map: www.bramptonmodelrailroadshow.com/location.htm
September 30: 8th Annual Muskoka Model Railroad Layout tour - Muskoka - From 10-6pm (live steam 11-4pm)
Tour of at least 20 home and club layouts, from N to G,
in the Alliston, Barry, Beaton, Bracebridge, Craighurst, Gravenhurst, Huntsville, Orillia, Severn Bridge, Springwater, Stroud, Tottenham and Waubaushene area, including computer controlled and live steam.
Sponsored by:
· The Right Track forsyth@muskoka.com, 10 Taylor Road, Bracebridge 705-645-6164
· Hockley Valley Railroad www.hvrr.ca, 4492 Adjala-Tecumseth Townline, Alliston 705-435-7024
· George's Trains www.georgestrains.com, 550 Alden Road Unit 101, Markham, 905-470-6200
· Muskoka Computes and Hobbies , 108 B Main Street East, Huntsville 705-788-7644
· Lahay's Hobbies and Crafts members.orilliadirect.info/p/lahays-hobby-orillia-21-mississaga-street/, 21 Mississauga Street East, Orillia L3V 6H4 705-325-8141
· Clark Industries (Blackhorse Jct RR) clarkindustries.on.ca/More information available later.
Guide books and tickets available September 1.
Fare: $5 per adult which includes 3 tickets to door prize draw. School age kids free. All proceeds donated to charity (Salvation Army Food Banks).
Additional tickets available at some layouts. Please have exact change.
Tickets and passes unavailable at live steam layout.
for flyer, photos and videos www.model-railroad-infoguy.com/muskoka-tour.html
---
---
YOUR TRAIN MODEL OR SLIDE SHOW EVENT HERE
contact the CRO Editor - editor@canadianrailwayobservations.com
---
---
---
© CRO August 2012