MODELLER'S CORNER
---
Before Bowser released their HO Scale big Alcos, I built a CN M636 the hard way, kitbashing a couple of Atlas C424/425 shells, scratchbuilding the radiator section and other components. As I wanted to have the prime mover visible through some open hood doors, the Big M is unpowered. For those interested, I included unpainted photos of it on the Diesel Detailer forum HERE.
(Mike Pebesma)
---
---
Atlas Trainman has released an HO scale two-bay offset-side hopper car with flat ends featuring 50-ton trucks with blackened metal wheels, detailed brake gear, and body-mounted Accumate knuckle couplers. New road names include Canadian Pacific.
CLICK HERE TO VISIT THE ATLAS WEBSITE
---
Bowser is booking dealer orders now for its HO Executive series Baldwin DS 4-4-1000 diesel switcher, due in late 2012. The ready-to-run model features separate air hoses, windshield wipers, grab irons, uncoupling bars, window glass, knuckle couplers, and an operating headlight, and will be available for standard DC operation (with eight-pin DCC-ready plug), or with a SoundTrax Tsunami™ digital sound decoder. Road names included in this run are CP (traditional maroon and grey), CP Rail (Pac Man scheme) and SOO (red and white).
CLICK HERE TO VISIT BOWSER'S WEBSITE
---
---
InterMountain has scheduled a September or October delivery date for the second release of its HO scale 89' Bi-Level auto rack car. The ready-to-run car features etched and formed metal see-through side panels, operating end doors, metal wheelsets, and Kadee® couplers. Road names include CN, Soo Line, GTW, and CP Rail all with flats and racks in railway paint (i.e. not the TTX yellow flats).
CLICK HERE TO VISIT INTERMOUNTAIN'S WEBSITE
---
---
Microscale Industries has released updated decal sets for VIA Rail Canada passenger cars, VIA Rail Canada passenger car stripes in both HO and N scales.
CLICK HERE TO VISIT THE MICROSCALE WEBSITE
---
---
As if running your own model railroad business doesn't bring enough stress on its own, Rapido Trains recently had to deal with the uncertainty that a container load of their product may have been lost at sea, or damaged in transit. The ship enroute from China lost 29 containers during a severe storm at sea, and other containers were crushed but remained on board the ship. Rapido was unable to confirm if their container was safe, crushed with its contents smashed, or was it one of the 29 at the bottom of the sea? The ship arrived at Vancouver on January 29th and confirmation was received that the container had not been lost at sea, but the condition of its contents was unknown. The sealed container made an eight-day rail trip across to Toronto, where it was opened and inspected by marine insurance agents and officials of Canadian Customs and good news: everything was found to be intact! Rapido's latest products are on their way to customers and dealers.
---
---
The Train Cellar Mount Forest, ON has the new Run of Bachmann Alco S-4's in CPR, CNR, and ONR with DCC and Tsunami Sound, Check their website for more info, www.tctrainscanada.com.
---
This project started out as an Atlas factory painted E&N Railfreight model. The 3004 and 3005 were painted in this scheme while in service on Vancouver Island. When returned to mainland service CP painted out the E&N markings and applied the latest Canadian Pacific lettering.
In addition to the patch repainting and lettering I relocated the headlight and horn. As well I added the bell above the windshield.
The bell housing was painted BN green which matched the factory Atlas paint. The patches were painted CP action green and decals are offered by Microscale.
Only GP38AC 3005 was painted in this scheme with E&N 3004 into the full CP Beaver paint scheme. I have seen pictures of the 3005 with both yellow and white frame striping and with and without snow shields behind the cab.
---
Doug Sword provided this photo of his CN Proto 1000 RS-18. It was weathered using an overspray of Testors Model Master Matte with a little bit of Model Master Flat Gull Grey added to fade the base colours. Once dry, he added a dirty black oil wash along the top of the long hood and around the details on the short hood. Doug mixed his own rust using weathering powder and Model Master Matte and lightly rolled it on the corners of the cab roof with a cosmetics applicator. The truck sideframes were painted Tamiya XF 61 NATO black and weathered with the same rust mix. Gunze Sangyo oil colour was used around the journal caps, along the fuel tank, and under each filler. Black pastel applied with a brush gave the roof and the top of the hoods a sooty look.
---
Ian Campbell HO scale CN SD38-2 (ex-Northern Alberta Railway 401-404) was made from a Rail Power shell and a Kato SD40 drive. Ian weathered the unit to match the current prototype. Only three of CN's four SD38-2's remain on the roster, CN 1650, 1652 and 1653 are all assigned to Walker Yard in Edmonton, AB.
---
Taylor Main snapped his HO Scale CN C630M's 2000 and 2026 and C424 3216 now weathered and detailed, and proudly says they are nearly 100% accurate, not counting the cab roof curve. The details added are as follows:
Bowser Executive Line C630M

-removal of extra class lights

-handbrake chain

-rerailers

-handbrake wheel painted silver

-horn painted black

-addition of as-delivered air filters on 2000

-addition of crew with open windows on 2000

-removal of dynamic brake louvers on 2026

& light airbrushing on both units

Atlas Classis C424 Phase III

-long hood bell

-Sinclair antenna

-cab sun shades

-removal of extra class lights

-handbrake chain

-rerailers

-windshield wipers
To complete the model, I did some heavy airbrushing to represent the locomotive in service just months before its retirement in 1985. Since it's hard to get accurate diesels for CN, I make my own and I've built up quite a fleet of custom built and weathered locomotives now.
---
Modeling Ontario Southland Railway 182 and 378
(by Steve Vallis)
My OSR GP7 378 model built using a the newer release of the Atlas GP7. She required only the addition of a few detail parts to create a reasonable replica of the real unit including the horn, bell and winterization hatch. The model was painted using Pollyscale "Wisconsin Central Maroon" and "Antique White". The decals are from Highball Graphics. Weathering was kept quite restrained as the real OSR 378 is maintained in very clean condition.
My OSR RS18u 182 model was created using a resin kit from Custom Trains mounted on an old Atlas RS11 chassis. The model was painted using Pollyscale "Wisconsin Central Maroon" and "Antique White". The decals are from Highball Graphics. Moderate weathering was applied, mainly to the trucks and fuel tank to represent the unit as recently painted.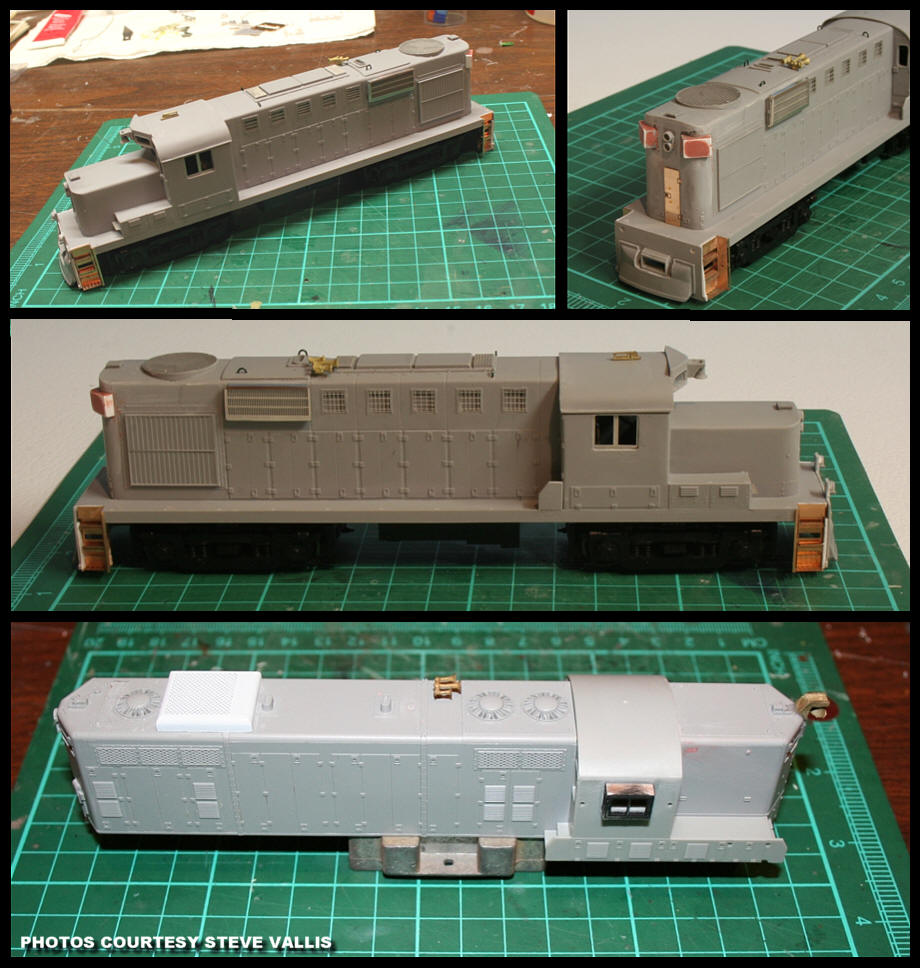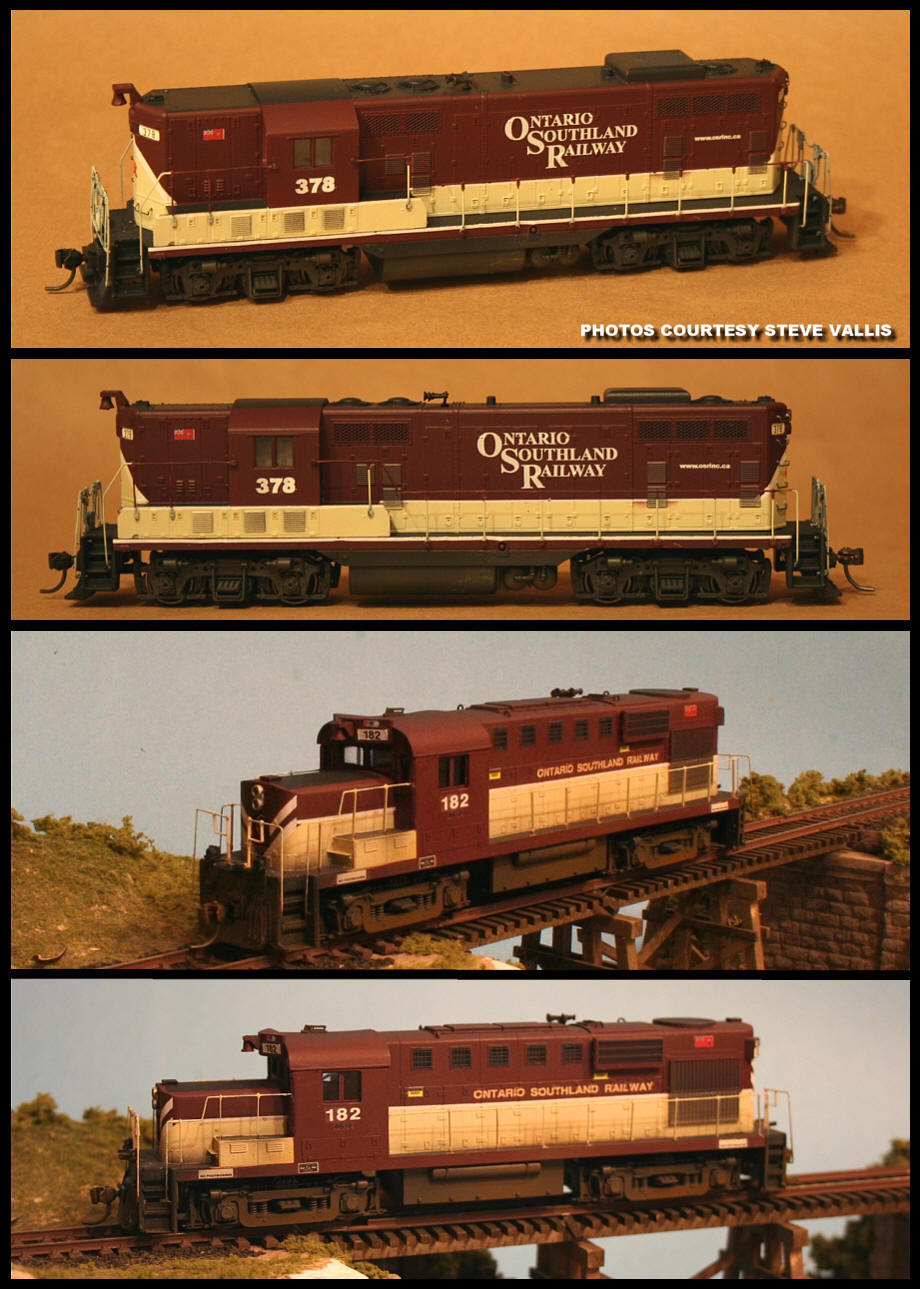 ---
Ontario Northland Railway van #122 is an HO scale Angus Wide Vison Caboose by Rapido Trains Inc. To weather this model I began by adding dirt along the panel lines with a brown crayola pencil and some rusty spots with Testors "rust" applied with a fine point brush. Next I airbrushed streaks and dirty runoff using thinned Pollyscale "rust". The wheel faces were painted with another rusty-black mix, and the underside and trucks were also sprayed with Pollyscale "Rust" thinned out and airbrushed at low PSI. Testors rust ages the couplers. I took a few passes at the roof with Badger "Grimy Black" and a touch of "Engine Black" for soot effects. The van now looks much more realistic and road-worn. Model painted and photographed by Stephen Vallis.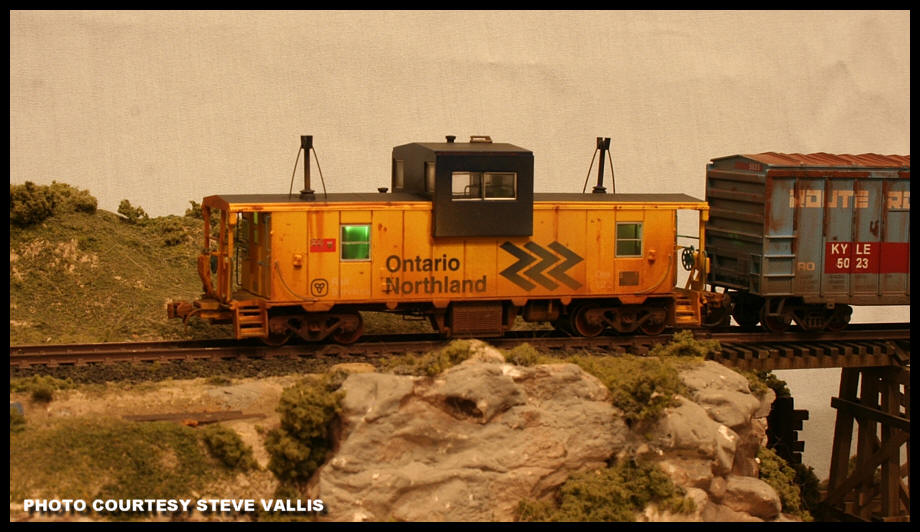 Here's a roster shot of sister Ontario Northland Caboose ONT 123, captured by Mike Robin in Cochrane, Ontario back in June 2003.
---
In 1987 in Allendale, ON Jim Parker snapped "The Smooth Canadian" Slab Side Covered Hopper CN #353641. It is the prototype for the TRUE LINE TRAINS HO Scale model, available in several versions of the CN and CP paint schemes, plus PGE and TH&B and others. The photo is the round hatch version. Trueline does both the round and square hatch versions. Their most recent release offers it painted as a CN SCALE TEST CAR .
CLICK HERE TO VISIT THE TRUE LINE TRAINS' WEBSITE
---
© CRO April 2012