SHORTLINES & REGIONALS
---
Please click above for more information
---
---
The Southern Railway of BC Railink (SRY) operated a Business Car move in n Surrey, BC with Montana Raillink (MRL) passenger cars. Greg Shevchenko snapped these images. The consist from the large ship in Surrey had SRY Switchers 153 and 910 hauling MRL passenger cars MRL 101 "Silver Cloud", MRL Coach 102, MRL Power Car 103, MRL Dome 104, MRL Dome 105, The cars were in North Vancouver on barges at the Vancouver Warves, and are being rebuilt for the owners of MRL. The cars will be tested over the next few weeks before being sent back to Montana.
MORE INFO on the MRL cars: http://www.mrlmodeler.com/Passenger_Car_Guide.html
---
J&L Consulting have purchased Northern Plains Railroad NPR GP35 3501, 3504, and 3510, During April, JLCX had then heading to Mid America Car in Kansas for Qualifications.
---
Mobil Grain (ex-MET) GE 70T 608 working at Bethune, SK April 24th.
---
Recently purchased GE ex-AOK B23-7 4062 and 4064 were in transit to the Great Western Railway from the USA and as of April 22nd were traced between Enderlin and Harvey ND on CP 499-21. In the meantime GWR is using leased CP GP38-2's 4419 and 4514, which arrived on the property at Assiniboia, SK on March 18th.
LATE NEWS: Ken McCutcheon photographed the first GWRS B23-7 April 25th on CP's K31 switcher along with 9020, 6050, PRMX 6973, and GWRS 4064 enroute southbound from Moose Jaw to Assiniboia, SK. Both ex-AOK units, 4062 and 4064 were supposed to be delivered by press time but only one arrived by press time. PRMX 6973 is returning to the mine site after some minor repairs courtesy of CP in Moose Jaw, SK.
Here is the official roster shot of GWRS 4064.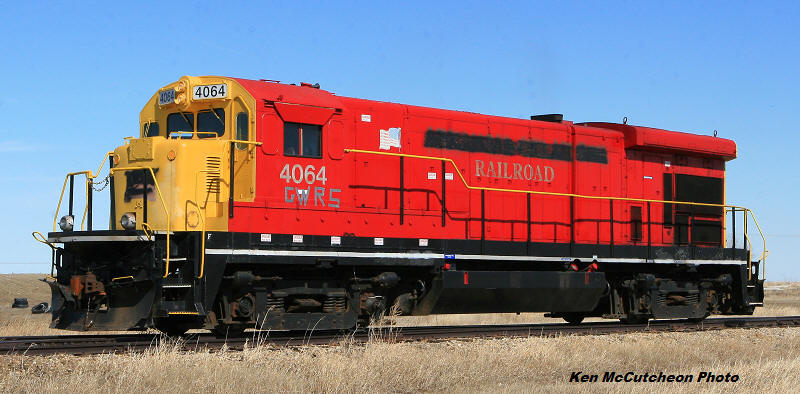 With the arrival of the 4064 and 4062 the Alco's are being delegated to
filler/as and when needed status.

The two B40-8's 563 and 575 will be assigned to grain trains.
The two B23-7's 4062 and 4064 will be assigned to crude oil trains.
The M420's will be used as required.
---
Parrish and Heimbecker in Moose Jaw is now leasing DLCX 1202. No longer needed in Moose Jaw, P&H 8454 will be forwarded another PH elevator in Saskatchewan in May or June.
---
HBRY SD50's 5001-5006 arrived at CN's Symington Diesel Shop, dead in transit, destined for Ottawa, IL on April 1st. There were 10 painted in Hudson Bay Railway colours at NRE in 2008, however only a handful made it to the HBRY and saw only limited service on the shortline.
---
---
Two former Railink locomotives were seen at the CP Kinnear Yard in Hamilton April 5th, relettered for Cando Contracting. CCGX GP18 1808 and GP10 1755 had arrived off the Belt Line from the SOR yard. Currently Bad Order, they worked in Hamilton for many years but will require repairs before heading out of Hamilton. And are billed to Utopia, Ontario and destined to the (Barrie Collingwood) BCRY, a shortline in North Central Ontario.
---
James Gardiner snapped CCGX 1808 and 1755 basking in the Springtime sun at Kinnear Yard on the CP Hamilton Sub April 6th.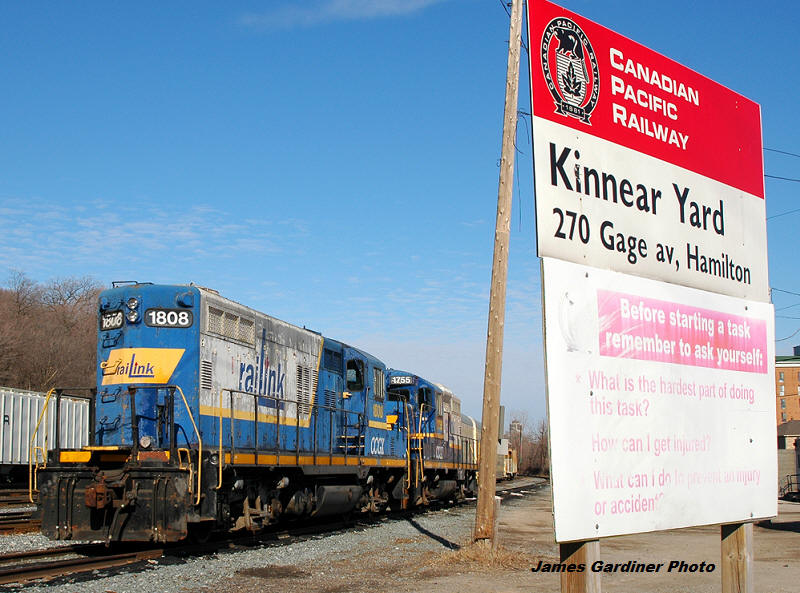 ---
Shot on the Goderich-Exeter Railway's Exeter sub showing one of the first assignments for Quebec - Gantineau Railway GP39-2C 2303 now assigned to the GEXR. It's seen paired with RailAmerica's Railink 4095 on April 4th after dropping off some hoppers at P&H in Centralia, ON. After coupling up on to the train they backed across Wellington Street in Exeter, Ontario and parked for the night.
In other GEXR news, former UP 2652 is currently out of service and is currently sitting on the Goderich 'rip' track with the unit still missing its centre wheel set on one truck.
---
On the way home from Sarnia April 6th, Geoff Elliott heard a CSX crew switching and headed to Tupperville, ON. Geoff headed that way and ended up chasing him back to Wallaceburg, Including the mandatory "C&O" Bridge shot.
---
Ontario Northland Railway:
Update activities and plans within the Rail Services Division.

INFRASTRUCTURE: The fall 2012 ultrasonic test of our rail system provided the best results in many years. Our rail infrastructure has improved dramatically as a result of the great work of our seasonal production crews and year-round track maintenance personnel. Our long-term rail renewal and maintenance plan, which established a systematic renewal and maintenance plan for our rail infrastructure, is now beginning to show visible improvements and results. We look forward to implementing further improvements.

Our production plan this season is again aggressive, and when completed we will see the installation of 21,120 feet of continuous welded rail (CWR) on the Temagami Subdivision, 21,120 feet of CWR on our Ramore Subdivision, some 21,120 feet of rail on our Island Falls Subdivision, and approximately 10,560 feet of rail on our Kapuskasing Subdivision. The plan also includes the installation of some 55,000 rail ties across the system as well as track surfacing.

In addition to our long-term rail renewal and maintenance plan, the Infrastructure group (specifically our Bridge and Building Department) has been working closely with an engineering firm to develop a plan for bridge repair. We soon will be tackling a number of bridge projects doing everything from inspections, geotechnical studies, underwater inspections of piers, as well as engineering design work. Bridge repair continues to be a priority and projects will extend beyond 2015.

RAIL MARKETING: Our Rail Marketing, Infrastructure, and Transportation teams have been working closely with several customers who plan to build new sidings this summer. These have yet to be finalized.

There has been a slight improvement in the forest products sector, particularly lumber, and there has been an increased volume of lumber car movements out of Hearst and Kapuskasing. We remain hopeful this will continue.

Agricultural products businesses, particularly in the Temiskaming region, have shown interest using rail freight as a shipping solution. Recently we have handled carloads of fertilizers into New Liskeard, in preparation for this summer's growing season. We are hopeful the season generates additional business for Ontario Northland when it comes time to ship grains and canola to southern markets or processing plants in the fall.

While far below our expectation of carload shipments, we have handled a number of loads into Cochrane for the construction of a large gold mine located northeast of the municipality. Now that the mine is in production, we will see ongoing shipments of consumables for this large gold mine operation. We remain optimistic that Ontario Northland's involvement in the supply of products to this facility will continue to increase as the mining operation reaches full production.

RAIL MECHANICAL: The operations side of our Mechanical Department has undertaken and completed several large projects. Locomotive 2101, which was involved in a crossing incident, has returned to active service. Our highly skilled workers have repaired the significant damage and rebuilt or replaced the components. This locomotive is now back in service!

This group also repaired Locomotive 2102. This unit was involved in a serious incident two years ago and sustained significant damage. After many months of hard work, the 2102 is now in active service.

The department is also working on the refurbishment of Locomotive 2201. This unit has undergone a complete frame up refurbishment. The locomotive is approximately 60% complete. This locomotive is expected to return to service in 8-10 weeks and will easily be comparable to any new locomotive of its size coming off an assembly line. Our skilled employees have taken an additional step by bringing this unit up to a Tier 0 emission standard. Another 'first' for Ontario Northland.

While carrying out these major projects, our mechanical operations divisions in Cochrane and North Bay have done well in keeping our locomotive fleet operating during these harsh winter months.

POLAR BEAR EXPRESS: This year we added extra March Break train services for our passengers in the communities along the James Bay coast.

Our train operations personnel have maintained an exceptional "on-time" service with our Polar Bear Express train. This past winter we encountered rain, snow, warm temperatures, and extreme cold. Despite these conditions, in the last six months the Polar Bear Express has arrived in Moosonee 93% on-time and in Cochrane 96% on-time despite the challenges. During the summer months the service is routinely operated at 100% on-time in both directions.

As you can see, we have many exciting things on the go, and we are continuously planning for future improvements. It is only through the great work done by the exceptional lineup of employees here at Ontario Northland that we are able to move forward on any of these projects.

I want to thank each and every one of you for your contribution and ongoing efforts, enabling Ontario Northland to provide the highest level of quality service to our customers. (J. L. Thib VP Rail Services)
---
ONR GP38-2 undergoes some tests after a visit to the North Bay Diesel Shops. Here the shop crews are switching the unit out of the shop complex tracks and are going to do a couple forwards/backwards moves and do a full throttle test and a couple other road tests before she will be shipped back to Cochrane on the Morning's 113.
The Dynamics are humming as Jeff and Phil Glide into North Bay with today's 214. Utilizing SD75I's 2101 and 2104 from the day before now accompanied by 1733, this long and heavy freight train has arrived to it's final destination April 11th.
---
CCGC SW1200RS 1006 was interchanged to CP Quebec Street from CN London East On April 1st by CN #582. Then CP claimed they couldn't open the doors on the engine, because no one on the crew had a coach key! They
wanted someone from CN to go over and unlock it. Jon Pindar's photo shows the switcher about to be picked up off the interchange. Cando Contracting SW1200RS 1006 is gleaming in its fresh paint, awaits the CPR to tie onto it and continue its journey to Terrace Bay, Ontario.
http://www.railpictures.ca/?attachment_id=9032
---
LDSX SW1200RS 1359 was renumbered Cando Contracting (CCGX) 1006 and has been moved from Lambton Diesel Services in Windsor to London over CN and then moved on CP to Terrace Bay Pulp and Paper company in Terrace Bay, ON where it is now leased.
---
---
Ken Goslett submitted two shots from April 17th that illustrate the varied and interesting lashups one can see on the Montreal Maine and Atlantic (MMA) these days. First shot is MMA train #2 at Farnham. QC and the second shot is train #1 approaching Lennoxville, QC.
---
On April 17th CSXT Q620 and Q621 (Selkirk-Montreal-Selkirk) were snapped by Francois Jolin on the Montreal Subdivision (at St-Agnès-de-Dundee, QC and at Huntington, QC), with CSX ES44AC 3030 leading CSX AC6000CW 82. CSX has announced important investments in the Valleyfield/ Beauharnois area recently.
---
---
In mid-April, Montreal Maine and Atlantic (MM&A) moved SLC F40 270 that was leased to the AMT to St Rosalie, QC to replace the old unit BAR GP9 23. The routing was MM&A to St-Jean, then to Southwark and St-Rosalie with a CN pilot.
---
Two leased units bring a short transfer from Island Yard up the grade to the Reversing Falls bridge and then Dever Road. GMTX 209 with HLCX 6319 are on the point. The NBSR is doing some bridge maintenance and movements are scheduled around whatever repair work has been scheduled for the day.
---
In late April, Francois Jolin shot CB&CNS GP40 3022 at the NECR Roundhouseat St Albans, VT.
---
CDAC 450 is seen rolling through St-Jean on April 23rd, along with SLC 270 wish replaced BAR GP7 t23 at St-Rosalie. The engine has gone to Derby Shops for repairs.
---
NBEC VIGNETTE:
This was NBEC SD40 1818 at the head of train NBEC 597 (Bathurst yard switcher/local), and NBEC 6901 (together with SFEX 4204, SFEX 4203, CFQC 4202 and CFMG 6909) at the head of train NBEC 402 (Campbellton-Miramichi road freight), in Bathurst, NB back on July 18, 2006 around 5:30 PM.
---