LETTERS TO THE EDITOR
---
LETTERS TO THE EDITOR:
We invite you to send your questions and comments:
Email us at: editor@canadianrailwayobservations.com
---
I always enjoy CRO, it is a great place to keep up on all the railroad action, and I enjoyed looking at all my photos that made the cut. All in all you and your CRO crew have a great place to keep up on all the train things, you also have some great photos from other people that I enjoy looking at, and all the info that is in CRO.
KEEP UP THE GOOD WORK!!!!!!!
George Redmond
Centralia, Illinois
---
Hi Will,


Been a long while since I've finished anything for the layout. I've been working on some "supporting cast" diversionary models, but now its time to get back to the necessary players. Today, I finished the final details on three modern MP15DCs from Atlas. These all arrived on my doorstep in stunning factory paint/lettering. I removed the logos from one and changed out the exhaust stack hatch to make the B&P's #44. The other two I left as is, but added a bunch of new details to make them near-exact duplicates of the prototypes, G&W 45 and 46. This is how they all appear through the first decade of the new millennium. Sadly, the real 45 and 46 have been sold and will soon depart the property, if they haven't already. At least the models will live on as a reminder to how they looked...

Four more orange units are in the paint shop now, going through the color applications. I hope to add at least 2-3 more before long. I need to make up some lost ground!

Mike Zollitsctch
Buffalo, NY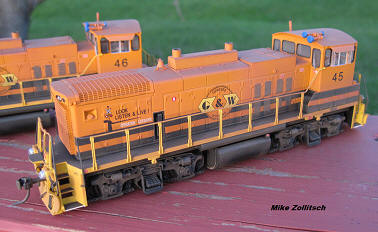 ---
---
Hi All,
Are you a fan of MLW's and Alco's?
If you love the look, sound, and smell of these animals as I do, check out this short video submitted by my buddy Walter showing Delaware-Lackawanna doings on April 27, 2013. After engine start, the crew adds a unit for the trip to Taylor Yard via the north leg of the wye at Linden St. to drop off grain empties and pick up loads. They then return via the south leg of the wye at Bridge 60 followed by an impressive eastbound launch at U of Scranton. The grain is dropped at Nay Aug and the remaining 2 car PT train was caught at Elmhurst. Lots of Alco thrash to impress your friends! (Walter Pfefferle)
http://www.youtube.com/watch?v=0iJGaRJ8ld4&feature=youtu.be
---
To assist you in submitting your Questions, Photos and News to CRO each month, here are important things to know"
Submitting photos:
Our PHOTO SUBMISSION GUIDELINES are available to view on the CRO home page (scroll down on the right hand side). http://www.canadianrailwayobservations.com/photosubmission.htm

Where to email your news and photos:
Banner Advertising questions, CN and CP news photos and CRO questions:
Managing Editor: Wiliam H. Baird: editor@canadianrailwayobservations.com
CRO PASSWORD OR A LOGIN ISSUE?
Please email Nathan CRO Webmaster at: webmasternate@canadianrailwayobservations.com
VIA, AMT, WCE News and Photos go to Tim, J-F, or Mark.
VIA NEWS: vianews@canadianrailwayobservations.com
AMT NEWS: amtnews@canadianrailwayobservations.com
GO/TTC NEWS: danieldellunto@yahoo.ca
WCE NEWS: dmarkforseille@telus.net
New Book Promotions go to Michael Berry: mberry7@videotron.ca
Model train News, Hobby Shop sales promotions, and layout photos for Modelers Corner
go to Nathan: modellerscorner@canadianrailwayobservations.com

SPECIAL REPORTS:
We received several queries on how to access our CRO "SPECIAL REPORTS". These are ONLY available to our VIP members, advertisers, and all subscribers. To view our most recent one "the TURBO TRAIN", go to the CRO website homepage and scroll down, and click on the TURBO PHOTO to access and open. (You must be logged in) All our previous SPECIAL REPORTS are in our CRO ARCHIVES (CRO past issues Section). The button for this is on the CRO home page on the right hand side. Special Reports are posted monthly if available.
Thank you,
William H. Baird – Editor, and Nathan Brown - Webmaster
Our Canadian Railway Observations (CRO) FACEBOOK page continues to grow in popularity, and in our fourth year now
, during April 2013 we
surpassed 5150 Fans.
https://www.facebook.com/pages/Canadian-Railway-Observations-CRO/287488550757?fref=ts
Please understand as we post the new issues on the first day of each month we cannot always reply to emails right away. We will reply within 24 hours and make sure you are satisfied. Over the next two months CLUB CRO members will receive the new CRO issue announcements, and the CRO hyperlink by email. Currently, only a small number of you have this, and we will shortly offer this service to all of you.
The mission of CRO remains the same: to keep CRO readers informed of pertinent Canadian train news, which is compiled and verified over the month, and updated daily. The accurate information we post each is obtained and confirmed from our reliable sources. Our other mission is to showcase beautiful locomotive shots submitted by our readers, credit them, and help promote their photography.
As our "Vignette" segments are very popular with our readers, please continue to submit photos and your suggestions for future vignettes.
We thank you,

William H. Baird
---
---
THANK YOU:
Guy-Pascal Arcouette, Eric Aucoin, Tim Ball, Steven Barker, Michael Berry (CRO), Eric Bitton, Christopher Bodkin, Mike Bannon, Kenneth Borg, Martin Baumann, Keith Bowler, Larry Broadbent, Dan Braun, J-P Cadieux, Ian Campbell, Guilio Capuano, Andy Cassidy, Bruce Chapman, Warren Calloway, Thom Cholowski, Martin Clément, Duane Cook, Michael Da Costa, Peter Cox, Michel Daoust (TSH), Jeremy Davy (WCRA), Michael Delic, Daniel Dell'Unto (GO News), Paul Donovan, Darren Doss, Jim Dorst, Kevin Dunk, Ted Ellis, Ron Ellison, John Eull, Ray Ferand, Joe Ferguson, Mark Forseille, Francois Gagne-Audet, James Gardner, Mike Garza, Chris Gertz, Jon Hall, Bruce Harvey, Tim Hayman (VIA News), Bob Heathorn, Chris van der Heide, James Hoffman (ONR), Francois Jolin, Kim Kafura, Ken King, Wayne King, Wayne Koch, Bob Krone, Flavio Lage, James Lalande, Jean-Marc Lalonde, Ken Lanovich (CRO),David Lemke, Roman Litarchuk (CRO), Richard Marchi, Mike and Mark Mautner, Phillip Mason, Rob McCormack, Gerald McCoy, Chris McMahon, Don McQueen (Froth), Jim McPherson, Al Melick, Bruce Mercer, Aivo Merimets, Jody Moore (Green Locomotive News), Steve Morris, Terry Muirhead (VIA News), Dan Murrell, Cal Murray, Peter Murphy (CRHA), Jacob Nelson, Jason Noe (Railpace), Tim Organ,Joseph Potvin, Ken Patton, Peter Payan, Mark A. Perry, Donna Peters (CRO), Marc Primeau, John Read "GR17f" (CRO), Earl Roberts (Branchline), Mike Robin (ONR), Kris Rumbut, George Redmond, Wayne D. Shaw (ONR), Wilco van Schoonhoven (CP), Cor van Steenis (CP), Avrom Shtern (AMT), Paul Smith, Jason Tarasenko (J&L), Lorence Toutant, Jean-François Turcotte (AMT News), Ron Visockis, Dennis Weber, Craig Williams, Alex Wood (CRO), Randy Zarowny, Mark Zulkoskey. My thanks to our many CRO Facebook contributors, the Bridge Line Historical Society, Tempo Jr. and the Canadian Trackside Guide. Merci Don, Marc, Patrick, Peter, Mike, James, John, Michel, Denis, Richard, Antonio, Mustafa, et tous mes amis à la St-Luc Diesel Shop.
---
New issues of CRO are posted each month on our website. News stories pertaining to Canadian railways, photos, comments, favourite links, and questions are always welcome. Please send us your photos, newsworthy sightings and railway stories and if used, will be placed in the CRO newsletter. Please indicate if you wish your name to be withheld. If your own website pertains to Canadian railways, please contact us.
Submissions should be sent to "CRO Editor"
---
---
©CRO May 2013