---
Ken Goslett photographed the Burlington woodchip train on the New England Central (NECR) approaching St Albans, VT. on May 7th.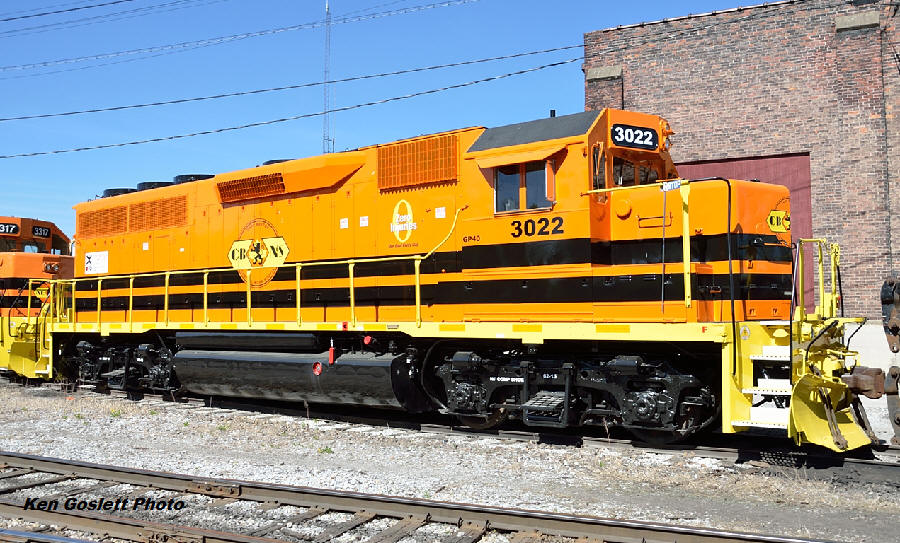 ---
Norfolk Southern has been on a mission of late to repaint their Dash 9 fleet. Witness NS C40-9 8828 in new garb at Chattanooga, TN on May 2nd. As well, NS 8837 was released May 3rd with NS 8776, 8814 plus another unit were already inside the paint shop.
NS train 207`s 2nd unit suffered a malfunction on May 1st, just outside Chattanooga, TN and spewed oil out the stack. The train was moved inside the yard for a wash down and clean up on NS ES40DC 7699, NS D8-40CW 8463 and the first few loaded double stack cars, with the EPA standing by.
Two more from Chattanooga, TN on May 20th: NYC SD70ACe 1066, and NS PR43C 4001.
In late May, the NS company photographer submitted his most recent photos taken at Chattanooga, TN:
NS 6914 - SD60E
NS 1092 - SD70ACE
NS 9634-D9-40CW
NS 8792-D9-40C
6206-SD40-2 / Ex- NS 3821
---
---
Mark Mautner bagged FTRL Railway GP9 207 (ex-Copper Basin Railway 207 ) at Sauget, IL on May 10th.
---
United States Sugar Corporation SW1500 201 (ex- SP 2677 ) In fresh paint at MEI on May 10th.
---

Terminal Railroad Association 101 job on a BNSF shuttle train bound for Bulk Service East seen in East St Louis, IL. In the distance beyond the rain swollen Mississippi River one can see the Gateway Arch and downtown St Louis, MO.
---
Right Cooperative Association in Wright Kansas ( just east of Dodge City KS), uses this unusual set of locomotives to load cars at there elevator. ex Norfolk Southern TC10 101 and ex BN GP9B 1702 at Wright KS May 19th 2013.

A pair of tired Canadian National veterans now toil away on Watco's Kansas & Oklahoma Railroad in central Kansas.WAMX GP40-2LW 4031 and 4028 are seen on a westbound K&O train at Cunningham, Kansas May 19th 2013.

Cimmaron Valley operates a series of former ATSF branchlines in SW Kansas. This view shows CVR's turn job from Satana Ks to the BNSF at Dodge City KS rolling north near Sublette, KS on the CV district. Powering the train are ex DRGW GP30's # 3004, # 3024, # 3014 May 20th 2013.

Same as above crossing a new concrete trestle north of Copeland KS on the CVR former ATSF CV District May 20th 2013.
---
On April 20th, Dennis Weber photographed Amtrak-8, 140-124. Homer,MN and BNSF WB Crude Oil Empty, BNSF-6325-7450, NS-1051. Lytles,WI.
---
On May 6th, Dennis bagged an executive liveried BNSF 9745 with an empty coal train at Greenwood, NE; BNSF 3137 and 1595 on a Yard Job at Sterling, CO May 4th, and on May 3rd, a UP Eastbound Stacker at Brady, NE leans into "Buttermilk Curve" on their triple track mainline.
---
On May 13th, BNSF Z-PTLCHC blasts by with BNSF 7244-5009-4103-1022.
---
On May 26th, George Redmond chased NKP 765, NS 8102 in PRR paint and NS 8098 in CR paint on train 061, a fan trip from Lewistown, PA. to Gallitzin, PA. and return.
NKP 765 on May 27th from Lewistown, Pa. to Gallitzin, PA, and return.
---
MRS 3888, former BC RAIL (BCOL) 3622 was found working at local train at the town of Jaoquim Murtinho, Brasil on May 6, 2013. Gone are the extra set of ditch lights and the headlights & bell have been relocated to their original positions. 3888 began its life as Conrail C30-7 #6603, was upgraded by Helm renumbered to HLCX 6703, sold to BCR as 3622 and ending up in Brasil as MRS 3888. The "-4" in the number board is not part of the road number but a check digit as part of a locomotive identifier system on the MRS. Other expatriated GE's from NS, UP and Santa Fe were spotted.
---