---
At Paducah, KY on January 18th, BNSF BNSF SD70ACe 9056 looks more like two weeks old, but is actually four months old!
---
BNSF B40-8W 548, 553, CN 5409, and 5429 are on a NB freight train at Shattuc, IL January 14th. The two CN SD60's in new paint and were dead in tow. Joe Ferguson's contact at BNSF said the CN units are to repay owed horsepower hours to BNSF, and were delivered to Galesburg, IL, where they were started them up and placed on BNSF trains. CN 5429 headed out on a M-GALMEM (Galesburg, IL - Memphis, TN) train when it suffered a failure and had to be set out in Marion, AR. As it is only a few miles to the CN interchange, BNSF handed the loco back to CN to move it to Memphis for repairs.
---
The NS Photos company photographer submitted recently painted NS SD60E 6915 at the yard in Chattanooga TN January 4th.
---
On January 10th NS PR43C 4006 and NS SD40-2 3480 in OLS paint were snapped at Chattanooga, TN.
---
Norfolk Southern has acquired three F-units from NRE, including former C&NW F7A 407, ex-CP F7B 1019, and ex-CN F7A 9177. Each of these was stored in a different NRE location. The former Texas Star Clipper Train (ex-CNW) F7A is frame no. 1188-A1, making it built as CNW 4072A and later renumbered CNW 407 (3rd). It was sold to (RTA) Regional Transportation Authority and leased back to CNW, retaining its CNW paint until the lease expired and RTA sold it to NRE. Sold by RTA to Naporano Iron and Metal (New Jersey), resold to Cedar Valley Railroad, and it eventually was resold to the Texas Star Clipper Dinner Train operation. When that failed, it eventually returned to National Railway Equipment (NRE) in Mt. Vernon, IL. All will likely get rebuilt with GP38-2's engine blocks and extensive body work and modification before repaint into the NS Tuxedo business train livery.
---
SOU 1019, ex-CPR F7B moved via IAIS train BUSW (Bureau Switcher a/k/a Peoria Rocket) today to Peoria, Illinois.
---
Former CN F7Au 9177 (which had been sold to NRE over 20 years ago), was relettered SOU 9177. And has moved to the NS.
---
The NS LOCO's company photographer made a quick trip to Roanoke, VA January 5th, and snapped NS 217 arriving in Roanoke, NS SD40-2's with a caboose plus a large group of power parked near Shaffer's crossing.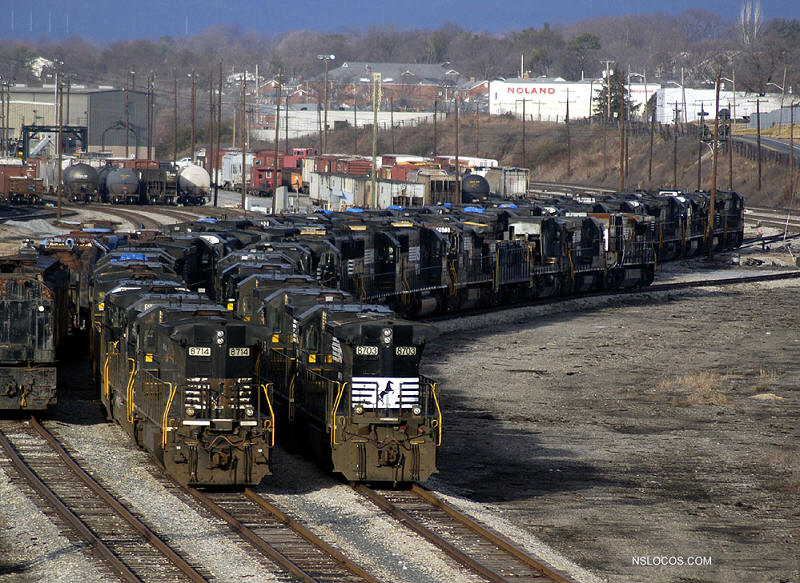 ---
NS locos also submitted freshly painted NS SD40-2`s in OLS paint at Chattanooga, TN.
---
CIND RP20BD was photographed by the NS Locos company photographer in Chattanooga, TN. The RP20BD was built in Altoona was was shipped out on the 28th and is destined to the Central Indiana railroad.
---
On January 19th, Mark Mautner headed south to shoot the Savatrans ES44AC' units which haul coal over Evansville Western Railway in southern Illinois and SW Indiana.
Savatrans ES44AC # 1912 running as DPU on EVWR train SS2 crossing a small creek east of Mt Vernon,IN Jan 19th 2013.

16 cylinder 645E primemovers out of recently cut up Helm Leasing SD40-2's await there fate at MEI @ East St Louis,IL Jan 25th 2013.

PREX GP20 # 3069 in full Santa Fe paint on the Decatur Junction near Oreana,IL Jan 26th 2013.

Railserve green leaf Genset # 1681 working on contract lease to ADM @ Decatur,IL Jan 26th 2013.


NS SD60E # 6920 in Honoring our Veterans paint scheme is seen on NS train DB-06-26 shoving NS train # 40E CP originated grain/corn train into ADM @ Decatur,IL Jan 26th 2013.
---
Alaska Railroad #1070 was built as a RS-1 in 1943 by Alco for the U.S. Army. In the early 1950s, it was transferred to the Alaskan rail operations and rebuilt. The modifications included a streamlined carbody to give crews an improved working environment during extreme winter weather. Locally, they were called "RF-1As" and "RF-1B.
---