SHORTLINES & REGIONALS
---
Please click above for more information
---
---
CP SD40-2 5908 was leased to Lake Line Railroad for use at Beausejour, MB but apparently suffered a frozen air line, so CP leased them the CP 5945 as well. Both units were noted at Beausejour on January 8th. GMTX GP 15-1 426 was moved from Beausejour to Selkirk in late December for use on the other LLRR line between Selkirk and Gimli is called the Lac du Bonnett Railroad. The previous leased GMTX SW1001 98 at Selkirk, MB has been out of service for some time and the LLRR are likely to request another GMTX GP15-1.
---
A former CN switcher, JLCX SW1200RS 1256 was destined south on BNSF, and was seen on January 11th by Matthew Robson being moved by the SRY's Trapp Yard crew in New Westminster, BC. JLCX 1256 is headed to the Pend Oreille Valley Railroad (POVA) shops in Washington to complete the qualification because the SRY shops are too busy. As of January 12th, the switcher was at the BNSF yard in New Westminster, BC for furtherance south of the border.
---
On the way home from New Westminster, BC Andy Cassidy noted a BNSF consist sitting west of Begbie Street lined up to go to Brownsville over the Fraser River Bridge with BNSF C44-9W 5257, BNSF GP60B 326 and BNSF C44-9W 1037 are seen towing JLCX SW1200RS 1256. The 1256 was originally CN 1256, then went to Eurocan Pulp & Paper at Kitimat BC in 1993, and as we mentioned is heading to Pend Oreille Valley Railroad (POVA) Shops in NE Washington.
---
In other J&L Consulting news during January: JLCX GP9's 1315, 1604, 1757, and GP16 1823 are all heading to the Railserve shops in Longview, TX for qualification and rebuilds, and JLCX GP38-2 2886 was in transit from Knoxville, TN to Evraz Steel in Oregon. As well, JLCX SD40-2 5643 was sold to NPR, and traded in NPR SD40-2 5557 was sent to POVA shops in January. JLCX GP35 547 which had been leased to WATCO Transloading and Intermodal Service at Bienfait, SK, is now off lease due this industry after they purchased a Track Mobile. The unit has not been moved yet. .
---
David Zulkoskey snapped this great roster shot of a trio of CTRW GP10's. Taken back in 1998, these units were fresh in their new paint. Today only 1006 and 1004 remain in CTRW paint, 1025 has long since been scrapped by Okanagan Valley Railway. The other CTRW locos were either scrapped or shipped out to other OmniTrax lines.
---
Mark A. Perry submitted two shots of the Border Chemicals switching Tracmobiles in Transcona/Winnipeg. MB.
---
On January 23rd, Andy Cassidy learned BNSF was running an Officer's Special North that day and that it may be at the New Westminster Terminal around 16:00 Hrs. With immaculate BNSF ES44DC 7218 up front, the train parked at New Westminster, BC on time. The three coaches were "Stampede Pass", "John S. Reed", and "William Barstow Strong".
---
The E&N era may soon be over. The Cowichan River Bridge Mile 39.2 Victoria Sub and the Chemainus Bridge Mile 47.9 both condemned Wednesday. Top Shelf Feeds in Duncan have received their last shipment and the empties were lifted out. Superior Propane in Nanaimo has also received their last propane car and the empties were taken away. The Seaspan barge that was used for the island has been condemned and the only barge available cannot use the two outer tracks, only the centre one which has a five cars capacity. The SRY power is still here but will most likely leave over the month.
SRY 124-153-904 and van A3 West move off the highline at Mile 0.53 on the CN Lulu Island Industrial Line January 12th 2013.
---
Mark Forseille submitted shots of three BC RAIL caboose liveries seen over the years. Sporting the two tone green and BC Rail Dogwood flower logo, BCOL 1865 is shown at Emory Creek, BC July 2nd, 2006, BCOL 1875 shows off the new red white and blue hockey stick livery at North Vancouver, BC in November 1987, and BCOL 1874 wears the final version of BC RAIL caboose uniform at North Vancouver, BC October 21, 1997.
---
---
Agrium (phosphate) Kapuskasing, Ontario mining operations are ending in six months and they are looking to sell their two locomotives. AGRX EMD SW8u 7732 and AGRX EMD SW8 7731. They also have BMMX GMD1 1910 which is leased from NRE in Capreol, ON.
---
Former CP Sw1200RS switchers OSR 1244 and 1249 received a Ontario Southland Railway " touch-up' paint job on the cab sides by OSR Salford Shop personnel in mid-January, Both then returned to service wearing ONR lettering the week of January 21st.
---
ONR "NORTHLANDER" VIGNETTE: With only a month remaining before the discontinuation of the "Northlander" passenger rail service, on August 29th, 2012 ONR GP38-2 1809 passes along the eastern shore of the appropriately-named Siding Lake (Huntsville, ON) approaching the south end of Martins Siding on its way north from Toronto to Cochrane, ON.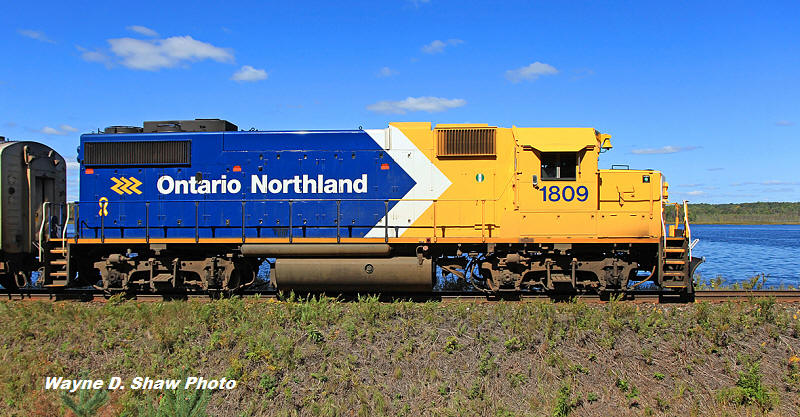 ---
---
Ten new EMD SD70ACe's built in Mexico by Bombardier Transportation, for QUEBEC NORTH SHORE & LABRADOR RAILWAY have arrived in Canada via Toronto on January 10th, 2013. The numbers are QNSL 514-523 inclusive. Jon Hall snapped the first two shots at Schoolcraft, MI and the third at Battle Creek, MI. Ken Goslett snapped the 10 new QNSL SD70ACe units have been passing through Montreal on their way to the ferry at Matane on January 13th with another five passing by on January 20th. One of The second batch of units is shown here passing St. Lambert. As of January 20th the last two units were yet to come east.
---
Following an early morning January 10th-2013 collision at MP 128, at the south end MAI siding area between a QNS&L freight train and a EMPTY train of iron ore, railway traffic was suspended, for 24 hours and the passenger train from Schefferville, QC was delayed. Communication service of the Iron Ore railway reports that no one was hurt in the accident, and an investigation is underway to determine the cause of the collision. Then 4 days later, January 14th, an empty car on the tail end of ammonium nitrate had derailed, here again, Passenger service to Schefferville was delayed until line cleared.
---
HLCX SD40-2 7205, and 8176 arrived at Mont Joli, Quebec in mid-December and were loaded onto the ferry on December 20th. They were interchanged to QNS&L by the Arnaud Railway on the 24th. QNSL then lifted the pair to their Sept-Iles yard, where they are awaiting an opening at the QNSL diesel shop for installation of the PDD (Proximity Detection Device). The pair wear Tshiuetin Rail Transportation (TSH) logos on the long hood.
---
Tshiuetin Rail Transportation (TSH) is considering rebuilding and upgrading their pair of F40PH's at EMD /Progress rail. In January, Tshiuetin received approval for Capital appropriation funds from Transport Canada for the passenger train locomotives overhaul program.
RFP's were sent to the known market players in this domain to submit their proposals and results should be known shortly.
---
After wreck repairs and complete Arcelor-Mettal repaint at Quality Rail in Madison, IL Cartier (QCM) AC4400CW #20 arrived by ship from Texas to Port Cartier, QC along with brand new Arcelor-Mittal SD70ACe's 50-54.
---
Former TH&B SW9u 55 was most recently owned by Xstrata in Belldune, NB and is numbered Falconbridge 506. It was moved to Montreal several months ago, and stored at CN Taschereau yard ever since. In January she has now been moved to VIA MMC, for wheel work.
---
In December CRO, we incorrectly reported GRYR RS18u 1828 had been purchased by the Gaspésie Railway. This is not the case, but in fact it is going to a new railway, les chemins de fer Sartigan (Sartigan Railroad) in Sartigan,QC, and as of January 5th the unit was in Joffre, QC and is temporarily lettered DGVR.
Francois Gagne-Audet snapped lettered RS18u 1828 on the Chemin de fer Sartigan property in mid-January.
---
---
A CSX local suffered a derailment at a tank car loading facility in Beauharnois, QC on January21st. Story and photos here (En francais):
http://tvanouvelles.ca/lcn/infos/faitsdivers/archives/2013/01/20130121-205811.html
---
---
At Nantas, QC, Frank Jolin snapped Montreal Maine & Atlantic train #1 with MMA C30-7u 3000 rolling through a winter wonderland as it heads west on a snowy December 31st, 2012. The MMA herald on the nose look great!
---
Francois photographed Montreal Maine & Atlantic #2 works upgrade on the Moosehead Subdivision near the Quebec/Maine border on a cold morning on January 7th with leased SOO SD60 6022 and CDAC F40m 450. Leased CP SD40-2 6066 Dual Flag is also on property.
---
On December 31st, leased SOO SD60 6026 and MMA 758 look great on a gorgeous winter morning in the wilderness, as light engine move extra approaches the Quebec/Maine border near Boundary.
---
Leased locomotives on the property in 2012 Recap:
Montreal Maine and Atlantic (MMA)
SLC F40PH 270 and F40PHR 293
NHRR C39-8 8202, 8207, and 8208 (ex-New Hope & Ivyland and exx-NS same numbers, nee-CR 6004, 6012, 6014, as well as short term leasing CP SD40-2`s.
New Brunswick Southern Railway (NBSR)
HLCX SD40-2's 6200, 6304, 6315, 6318, 6319, 6332, 6340 and 8144
HLCX GP38-3's 906, 911, 913, and 917
GMTX MP15DC's 203 and 204
GMTX GP38-2's 2639, 2644, 2645, 2657, and 2666
---
BIG WESTERN POWER ON EMRY/NBSR! Though BNSF six-axle units have started running through to Mattawamkeag, ME on Pan Am Railways (over a line restricted to four-axle units for many years), Paul Donovan got a big surprise January 13th as BNSF, NS and GATX units head up a sixty-car oil train for Irving's St. John, New Brunswick refinery, having run through from MM&A at Brownville Junction, Maine. BNSF SD70MAC 9987, NS C40-9 8815, BSNF SD70MAC 8922, and GATX leaser GP38-2 GMTX 2639 prepare to depart eastbound from Mattawamkeag after being re-crewed.
---