SHORTLINES & REGIONALS
---
Please click above for more information
---
---
Former Modesto & Empire Traction Company 70 tonners now part of the Mobil Grain roster. The first unit 600 remained with M&ET for historical purposes, it was built in 1947. Mobile Grain purchased 7 (601-608) of the units in 2011. They are based out of several switching sites along the Last Mountain railway and Big Sky Railway. The oldest unit purchased by Mobil Grain is 605 which was built Feb 1947. The picture was taken Oct 27, 2011.
---
Greg Shevchenko snapped CP GP9u 1612 heading for scrap at Langly BC on March 13th on the SRY Valley Job. It had been stripped of parts at the SRY Shop, for the GP20C-ECO program.
---
As reported, the Great Western Railway (GWR) of Saskatchewan has purchased two B23-7 from AOK RR thru Sterling RR Equipment. Kent Held snapped 4062 and 4064 on the AOK in 2011. They are expected to arrive in Canada in May.
AOK 4062
OAK 4064
Parrish and Heimbecker in Moose Jaw is now leasing DLCX 1202.
The P&H 8454 is destined to another PH elevator and was shot sttting in their rail yard at MJ.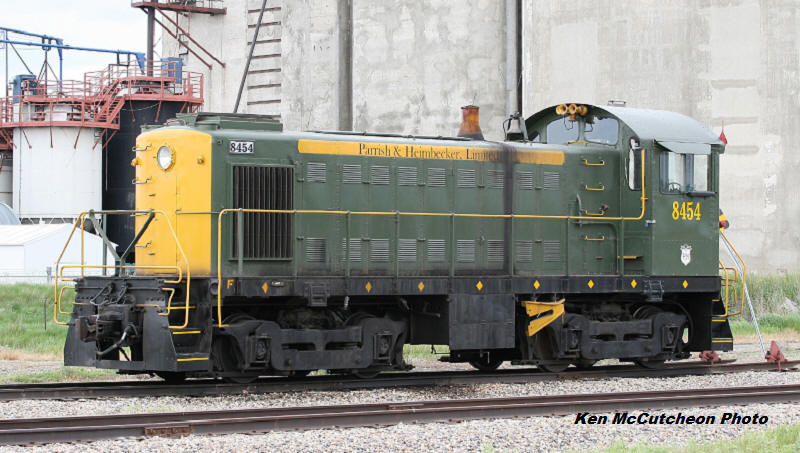 ---
Due to the Great Western Railway power shortage while they wait for their GE's in transit from the USA, GWR leased CP GP38-2's 4419 and 4514, which arrived on the property at Assiniboia, SK on March 18th at 18:10 on Work Plow 6052. Photo attached. Ken McCutcheon
---
We have an update to our February post concerning the demise of rail service on Vancouver Island: http://www.timescolonist.com/news/local/deal-to-get-passenger-rail-service-going-still-not-done-but-repair-funds-sought-1.86494
http://www.ctvvancouverisland.ca/2013/03/trains-sit-without-passenger-service-deal/
---
Former Waterloo St. Jacobs FP9A 6508 is now on the Ontario Southland Ry being prepped for service in Salford ON (it was sold to them by the WCRA). The other ex-CN FP9A (6520), was delivered by CN to the WCRA.
---
Walter Pfefferle snapped Ontario Southland Railway (OSR) 182 and 503 kicking up the snow at Beachville, ON on February 9th.
On February 27th Walter bagged OSR 644 and 378 at Woodstock, ON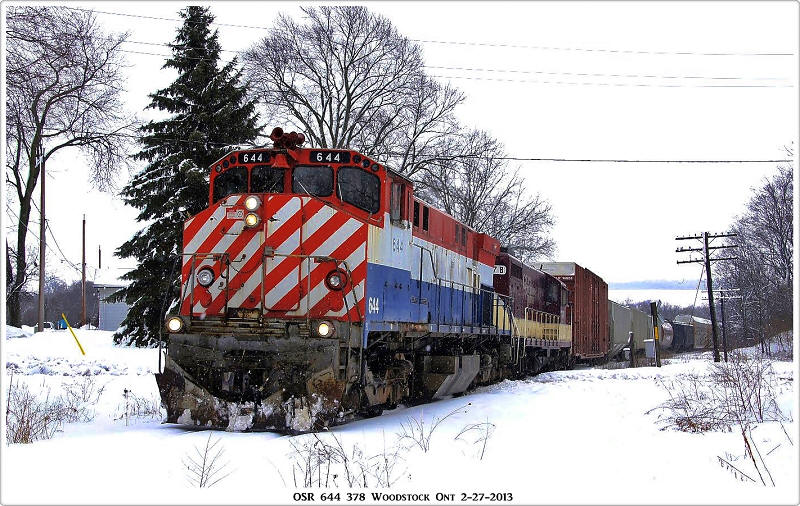 Wearing Toronto Hamilton and Buffalo paint, OSR is seen outside the Salford Shop February 13th.
On February 11th, OSR SW1200RS 1244 and 1249 are nose to nose hauling Autoracks at Beachville, ON, the pair acquired from CP last year.
---
A roster shot of GP38-2 1805 showing off her classic "chevron" paint scheme captured at Cochrane back in May 2005. It's 2013 and 1805 can still be seen wearing the 70's era paint.
ONR News: Nipissing MPP Vic Fedeli announced on March 6th that Ontario's Auditor General will be investigating the Liberal Government's numbers behind the divestment of the Ontario Northland. The Ontario Government claims that subsidies to Ontario Northland are in the neighborhood of 100 million dollars annually. The Government also states that Northlander passenger train service (which was abruptly cancelled on September 28th, 2012) is subsidized to the tune of $400 per passenger.

Opposition MPP's along with the Ontario Northland General Chairpersons Association (who represent 5 ONTC unions), insist that the Government is presenting 'trumped up' numbers to gain support for the divestment. The Auditor General's investigation will be underway over the summer with the findings presented to the legislature this fall.
---
ONR VIGNETTE:
Mikl Lussier caught ONR SD75I 2102 leading a CN freight at St-Hyacinthe-Sub at Montbec Jct on June-5th, 2006.
ONR box cars from 1960 and 1970 period by Jim Parker
---
The first G&W family painted unit for the Goderich- Exeter (GEXR) has arrived on the property. Quebec- Gatineau (QGRY) GP39-2C 2303. On March 23rd, GEXR train 431 had GSCX 7369, GEXR 9392 and QGRY 2303 only made it as far west as Kitchener before the crew outlawed. It was moved to Stratford and then on to Goderich for the shop to install the cab requirements and set up before she can enter service on GEXR.
QGRY 2903 arriving in Kitchener:
http://www.youtube.com/watch?v=6RvOV8vDb38
---
On March 4th, Geoff Elliott caught the Zalev Brothers 45-Tonner with a string of scrap gondolas.
---
OVR has leased CEFX 2010 which was delivered in march. It was first used on an OVR plow extra but is officially out of service until it can be prepared propertly.
---
---
The Port of Montreal (POM) held their "Old Port Symphony" on Sunday, March 3rd and again on March 10th at 1:30 PM at the Old Port of Montreal. Michael shot POM RP20BD 1001 on March 3rd at the first Old Port Symphony. Also present was POM RP20BD 1004, which features the flatter cab nose, which offers crews improved visibility. The event attracts a mix of spectators, most to experience the orchestral horn arrangements, some just curious, and also a few railfans who have a chance to view a pair of POM diesels up close, a rarity as these locomotives operate in restricted access areas along the harbor front under high security.
Note the major visual differences between POM 1001 and the newer 1004. Railpower made several design changes on the RP20BD, most notably in the nose area, with an almost a flat cab front save for the front sand boxes and cab steps. Unlike the MP15's, which have the hood end designated the F-end, the flat end of the 1004 is designated the F-end or front. This means when configured with a slug trailing, the engineer is on the opposite side of the cab from where he would be on the older units.
---
In March CSX finally made it official! They will construct a new intermodal terminal in the Perron Industrial Park next to the Port of Valleyfield, QC this Spring. The 36-hectare facility will cost CSX approximately $100 million by the time it opens in 2015. According to CSX, construction will employ 662. Once finished, the yard will create 50 direct and 287 indirect jobs, CSX chairman and CEO Michael J. Ward told reporters gathered at Valleyfield's Hotel Plaza for the heavily promoted announcement. Sized to handle 100,000 containers a year, the rail yard is sited to take advantage of highways 20, 30 and 40 and CN and CP main lines to link Canadian producers and markets with CSX's 34,000-kilometre U.S. network. The project is subject to regulatory approval from the Canadian Transportation Agency.
http://www.canadianrailwayobservations.com/csx.pdf
---
---
---
After departing from CP St Luc Yard in Montreal earlier, Montreal Maine & Atlantic #2, rumbles across the Chambly Canal Lock #9 over the Richelieu River heading toward Farnham, QC on a snowy mild morning on March 1st. The locomotive were CP 6018 MM&A 5023 5017 SOO 6026 and MM&A 5016.
On March 2nd Francois Jolin caught the Montreal Maine & Atlantic "Fuel Train" rumbling across the Richelieu River bound for the Irving Refinery at Saint John N.B, with MM&A 8208, 2003, CP 5910, and MM&A 5026.
Previously stored at St. Paul, MN CITX 3127, 3065 3172, 3071, 3101, 3166, 3163, and 3082 were noted at St-Luc in Montreal and are now leased to the MM&A (Montreal Maine and Atlantic) These CITX SD40-2's will replace the SOO SD60's and CP SD40-2's leased to MM&A, which the railway pays a higher premium to lease, Richard Marchi submitted these shots.
---
BNSF ES44C4 6650, C44-9W 4421 and DASH9-44CW 5271 race through falling snow at Reed, ME on Eastern Maine Railway March 2nd, headed for the border and New Brunswick Southern Railway with another crude oil train for St. John, NB. This train came off Pan Am Railways at Mattawamkeag, ME.
The locomotive history is still evident on HLCX SD40-2 6340 on Eastern Maine Railway/New Brunswick Southern Railway at Mattawamkeag,ME on February 25, 2013. HLCX 6340 was an SP SD40 rebuilt into an SD40R at Espee's Sacramento, CA shops in the 1970s.

The distinctive nose of Pan Am Railways "Snoot" SD40-2 606 is apparent as the unit passes sandwiched between two NBSR units on another eastbound oil train through Danforth, Maine on Sunday, March 3, 2013. This train came off MM&A railway from Montreal. PAR 606 has been a regular on EMRY/NBSR for several weeks.
---
DERAILMENT: On February 6th, 15 tank cars on the crude oil train derailed at Mattawamkeag, ME on the the Pan Am Railway ( not EMRY/NBSR) . However, 19 cars on the head end that remained on the track were sent on to St. John, NB later in the day 70 (approx) cars on the tail end were towed back to Bangor, ME, and were sent north on MM&A and then east on EMRY. The wrecked tank cars flipped on their sides on the bank of the Penobscot River, and local news programs differed on whether any were leaking. Access to the wreck or good photographic angles was impossible due to the terrain. Only the sides of the cars were visible from US Highway 2.
---
CSX AC44CW 345, BNSF C44-9W and CSX ES44DC 5369 with 19 cars waiting on an EMRY/NBSR crew at Mattawamkeag, ME on March 7th. This 100+ car crude oil train derailed 15 cars on Pan Am Railway at the south edge of Mattawamkeag, trapping 70 some additional tank cars south of the wreck. The train continued on to St. John later that afternoon, somewhat overpowered, with 19 tank cars and 13,200 horsepower.

Westbound BNSF DASH9-44CW 5271, C44-9W 4421 and ES44C4 6650 pull off the Mattawamkeag River bridge at Mattawamkeag, ME on March 6 and move into the clear for Pan Am road units to back onto EMRY to pick up southbound Pan Am traffic off NBSR's BNSF 5271 East. The BNSF units then picked up Pan Am SD40-2 605 in the yard, which then operated long-hood forward on the head end to Brownville Junction, ME with overhead traffic to MM&A.

Pan Am SD40-2 605 is added to the power consist of EMRY/NBSR's BNSF 5271 East at Mattawamkeag, ME March 6th. Two Pan Am SD40-2's (Pan Am snoot 606 is the other unit) are now operating on EMRY/NBSR between Brownville Junction, ME and St. John, NB.
The power off NBSR's St. Stephen, NB branch train, HLCX MP15DC 205 and NBSR GP38-3 2317 idle away the March 16-17 weekend at NBSR's McAdam, NB yard. MP15DC 305 is ex-Alaska Railroad 1553. NBSR GP38-3 2317 is sublettered "Owned by Eastern Maine Railway" on the cab below the road number, and is former Devco Railway (Nova Scotia) GP38-2 216.
An all-HLCX leased power set crosses the St. Croix River into the United States on the New Brunswick Southern Railway March 16th, and in the process becomes Eastern Maine Railway train "EMRY HLCX 8144 west". A number of the leasers have been repainted into NBSR green, but this day's train has none of those. Lead unit HLCX 8144 is ex-BN 8144, HLCX SD40-2 6305 is a former Missouri Pacific Railway SD40, and the trailing unit, HLCX SD40-2 6315, is an ex-Canadian Pacific Railway SD40. An recent upsurge in dimensional lumber loads headed to the U.S. is evident on the head end of the train.
---