TOURIST RAILWAYS AND MUSEUMS
(Listed by Province / State)
---
Revelstoke Railway Museum
A special visitor drops in at the Railway Museum July 25th 2014.
The classic Royal Canadian Pacific pulls to a stop at the Revelstoke Railway Museum on Friday, July 25, to allow a very special passenger to disembark. David F. Rooney photo
And here's that special passenger - American billionaire Warren Buffet being helped to the ground by Mark Jackson (right), the CPR's local superintendent. Railway Museum Executive Director Jennifer Dunkerson greets Buffet (left) after he disembarks from the train for a tour of the museum. Buffet is an American business magnate, investor, and philanthropist. He is widely considered the most successful investor of the 20th century and, according to Forbes.com, is with $62.6 billion in his bank account, the fourth-wealthiest individual on the planet. He rented the Royal Canadian for a trip through the mountains with about 18 members of his family and staff. David F. Rooney photo
---
The Fort Steele Heritage Town - Cranbrook, BC
www.fortsteele.ca Jennifer Dunkerson; General Manager
Friends of Fort Steele Society
Fort Steele Heritage Town, Fort Steele, BC

Kamloops Railway Historical Society:
www.kamloopsheritagerailway.com
CRHA - E&N Division
http://www.encrha.com/
---
West Coast Railway Association
---
Canadian Museum of Rail Travel (Cranbrook,BC)
http://www.trainsdeluxe.com/
---
Kettle Valley Railway Society (KVSR)

---
Rocky Mountaineer - Vancouver, BC
http://www.rockymountaineer.com/en_CA_AB/
Fraser Valley Heritage Railway Museum - Surrey, BC.
http://www.fvhrs.org/
British Columbia Chapter of the National Railway Historical Society
http://www.nrhs.com/chapters/british-columbia
The Alberni Pacific Railway
www.alberniheritage.com

The Alberni Pacific Railway is a tourist railroad that is powered by a 1929 Baldwin 2-8-2T steam engine. It runs passengers between the restored Port Alberni station to the McLean Mill national Historic site. More information can be had at www.alberniheritage.com

The locomotives #7 a steam engine with passenger coaches and recently restored ex MacMillan Bloedel GE 44 Ton switcher #11. It was used this past weekend November 23 in the BC Institute of Technology's conductor training program.

Ken Rutherford
Director, Western Vancouver Island Industrial Heritage Society.
Port Alberni, BC
CPR Heritage Mail Express Baggage
Mullen Trucking moved a Heritage Mail Express rail car from our yard in Aldersyde, AB to the privately owned Champion Rail Park in Aldersyde, AB. This Mail Express rail car arrived at Mullen Trucking on the rail and required 2 cranes for the offload and reload onto our equipment. This was no easy task; the dimensions of this Heritage Mail Express rail car are 83'10″ L x 12′ W x 14′ H and 117,000 lbs, which we loaded on a 13 axle dolly trailer configuration! We encountered some spring weather delays but in the end we delivered the Mail Express rail car to a happy customer! Great job to Jim, Chuck, Roy, Billy and all the support staff who helped make this move a success!
http://www.mullentrucking.com/highlights/featured-project/
---
Royal Canadian Pacific Luxury Train
http://www.royalcanadianpacific.com/
---
Alberta Railway Museum - Edmonton, AB
http://www.albertarailwaymuseum.com/
On August 30th, Steve Arnot photographed former CN GMD1 1179 at the Alberta Railway Museum. The locomotive is in the process of being cosmetically restored and repainted into its original paint scheme as Northern Alberta Railway #302 "Chief Moostoos".
http://www.railpictures.net/viewphoto.php?id=495837&nseq=27
---
Alberta Railway Museum - Bieseker, AB
www.railwaymuseum.ab.ca
The museum has two MLW switchers: Ex-CP RS-23 8017 (ex- Saskferco - Belle Plain, Saskatchewan), and Ex-CN S13u 8704 (donated by CANAC).
Alberta Central Railway Museum - Wetaskiwin, AB
http://www.abcentralrailway.com/
Wainwright Rail Preservation Society - Wainwright, AB
http://www.railpark.org

The Wainwright Rail Preservation Society owns ex-CN GMD1 1404 and ex-CN FPB4 6861 and they created the Wainwright Rail Park and have a website is located at http://www.railpark.org which has their full contact info, galleries with 1404 and 6861, and other interesting items.

The Alberta Prairie Railway Excursions - Stettler, AB
Rocky Mountain Railway Society:
http://www.6060.org/
One of their newest locomotives in Stettler, AB. is former Nova Chemicals SW1500 9115 was donated to the East Central Alberta Heritage Society. Photo taken on June 27, 2014 by David Zulkowskey. Photo taken on June 27, 2014. David Zulkowskey photo)
Alberta 2005 Centennial Railway Museum Society
Galt Historic Railway Park
http://www.galtrailway.com/home/
Southern Prairie Railway
Ogema Heritage Railway Association

---
Southgate Museum - Battleford, SK
A Battleford Saskatchewan Farmer and railfan Gary Southgate, has been collecting vintage railroad equipment of Canadian Pacific and Canadian National heritage in the hopes of establishing a railroad museum in Saskatchewan. One piece he owns, the "Cape Tormentine" an ex-CN lounge sleeper that was at the Florida Railway Museum, was repatriated to Canada this summer, and has been moved to Ogema, SK for repairs and storage on the Red Coat Road and Rail line. This car is privately owned by a farmed railfan. He now has 14 pieces of rail equipment purchased from owners across the Canada and the United States, including an operational CN FP9 and several passenger cars. But his biggest prize is Canadian Pacific Northern 4-8-4 No. 3101. The 4-8-4, on display at the former IPSCO steel plant in Regina since the 1960s, would head up a train of CP equipment that Southgate hopes to acquire. CPR 3101 was constructed in October 1928 by CP's Angus Shops in Montreal and was one of two 4-8-4s owned by Canadian Pacific. The other, No. 3100, is on display at the Canadian Science & Technology Museum in Ottawa. The two CP Northern's were orphans on the roster, but worked continuously for 25 years on overnight passenger trains between Montreal and Toronto. Before their retirement in 1960, they were converted to burn oil and worked freight trains in the prairie provinces. CPR 3101 was sold to IPSCO in 1965, but instead of scrapping it, placed it on display at the plant. In addition to the locomotive, IPSCO also saved and displayed CP caboose No. 437034, and CP business car No. 36, the Francis E. Shaw, built in 1929. The business car was heated in the winter and air-conditioned in the summer so the interior is in excellent condition. Both cars were included in the deal with Southgate. For now, No. 3101 and cars remain at the steel plant.

For his Canadian National train, Southgate has purchased ex-CN/VIA FP9 6304 from owner Phillip Sheridan. The unit, built in 1954 as CN No. 6509, is presently being in freight service on the Washington & Idaho Railway painted in Southern Pacific "black widow" colors, and it and a B unit arrived in Wainwright AB in January 2014. The group will repaint them into CN's 1954 green and black paint scheme. He is also looking for a CN A and B unit set that, with No. 6509, would head up his display of CN passenger cars. CN cars Southgate has already purchased include:
Sleeper No. 1177, Green Bank, built by Pullman-Standard in 1954

Sleeper-buffet-lounge No. 1089,Cape Tormentine, built by Pullman-Standard in 1954. This car was moved on a flat car from Florida and arrived in Assiniboia earlier this month. It will be temporarily displayed at the Southern Prairie Railway in Ogema.

Canadian Flyer six-wheel coaches Nos. 5302, 5307, 5226, and 5228 built by Canadian Car & Foundry.

Baggage car No. 9646, built in 1957 by National Steel Car

Baggage-dormitory No. 9486, built by Pullman-Standard in 1947 for the New York Central as 22-roomette sleeper Haverstraw Bay.
To bring up the rear of his train, Southgate purchased former Wisconsin Central business car Superior.


Southgate also purchased another ex-CN sleeper from the Medina (N.Y.) Railroad Museum and is in the process of trying to find a vintage CN cafe-diner. I've tracked one down but I'm not sure its for sale yet Southgate says. All his CN cars will be painted in the 1954 scheme.

For his largest pieces, such as the steam and diesel locomotives, Southgate hopes to someday construct a building for them. It's a plan in the making and it takes a lot of money to make it all happen he says.

The museum will be located in Battleford, SK about 80 miles northwest of Saskatoon. We only have two big centers in Saskatchewan, one is Saskatoon and the second one is Regina. A third choice might be Moose Jaw because it was and is a CP hub. I haven't crossed that bridge yet; I have to approach different people to see if I can find a site to set this up Southgate says. I figure it will take three or four years to get everything accomplished. First I have to acquire the equipment, because if I walk into somebody's building telling them I want to set up a rail museum and I didn't own a car they wouldn't even look at me. Southgate remains on the lookout for more equipment, particularly to represent Canadian Pacific along with No. 3101. He's also searching for vintage station equipment memorabilia for the museum. To assist the project with donations, or with questions contact Mr. Southgate: glsouthgate@yahoo.ca Phone: 306-937-2857.
Praire Dog Central Railway

---
Winnipeg Railway Museum:
www.wpgrailwaymuseum.com
---
GET NOTICED With a BANNER! Contact us:

Waterloo Central Railway

NEWS: WCRR GE 95T 18 was scrapped at St. Jacobs, Ontario with most of the work completed on September 10th, 2014. The prime mover built in 1956 had been damaged and had been deemed no longer usable.
---
Niagara Railway Museum
Ken Jones - Director
---
Thunder Bay Museum - Thunder Bay, ON
"THE END OF AN ERA": A new CNR STEAM EXHIBIT!
http://www.thunderbaymuseum.com/exhibits/virtual-exhibits/the-end-of-an-era/
The Bytown Railway Society - Ottawa, ON
http://www.bytownrailwaysociety.ca/about.htm
Chatham Railway Museum
http://www.chathamrailroadmuseum.ca/
Orangeville Brampton Railway "Credit Valley Explorer"
http://www.creditvalleyexplorer.com/faqs.php

Cando's popular Credit Valley Explorer out of Orangeville, Ontario, is now operating with a Budd-built Dome! Originally Wabash 202, then Norfolk and Western, and finally Amtrak, the car has been totally refurbished. It is a big hit with passengers, and is seen here on Sept 27 at Orangeville, and during a brief pause at Cataract. (Steve Bradley photos).
---
Owen Sound Marine and Railway Museum
The operators of the Marine & Rail Museum have set the wheels in motion to bring a 60-year-old train car to Owen Sound. Richard Thomas, president of the Community Waterfront Heritage Centre, told city council Monday night that the 1954 former Canadian National Railway dining car would make a great addition to the west-side museum, which is housed inside of a former CN train station. This is a bit up in the air at this point. It's going to take a bit of fundraising to bring the car to Owen Sound and then of course we will have to take a look at the tracks and where we want to put it he told council during a delegation. Thomas said the car, which a CWHC board member spotted in another Ontario community, is available free of charge to whoever is willing to pay the bill to move it. A preliminary estimate has pegged the cost to transport it to the museum in Owen Sound at about $20,000, he told council.
The CWHC plans to launch some fundraisers to cover that cost. Thomas said the outside of the train car needs a paint job, but the all-original interior is in good shape and has a working kitchen and full dining area. It would fit in nicely with the CWHC's plan to make food available at the museum property, he said. A stretch of railroad tracks from the days when the city-owned former CN building was a train station were left on the museum property. A 104-year-old train car, which was converted into a caboose in 1947 and was once a birthday party venue at McDonald's Restaurant, now sits on the track. Thomas said the CWHC would like to see the dining car join the caboose on the tracks.
It is one of the two large exhibits that the CWHC hopes to bring to the museum in the near future. The other is a lifeboat that was once aboard the MS Chi-Cheemaun ferry and is now sitting in storage. City Coun. Peter Lemon said bringing the dining car to the museum would be a "dream come true" and would help to make the facility even more of a destination on the west side of the harbour. The greater the mass of displays you have outside, the more people it will attract to the museum, he said during the council meeting. Thomas said the CWHC would have to tweak its lease agreement for the CN station with the city before the train car arrives.
---
Huntsville and Lake of Bays Railway Society
http://www.portageflyer.org/
---
Elgin County Railway Museum
www.ecrm5700.org
The Elgin County Railway Museum would like to thank all the volunteers, staff and contractors for their help in making Day Out With Thomas 2014 a huge success. The number of people in the photo doesn't do them justice. There were over 200 dedicated people
On September 20th the ECRM held the 100th Anniversary of the MICHIGAN CENTRAL RAILROAD (MCRR) Shops with an special evening and silent auction that included guest speakers and railway heritage presentations.
The railways played an integral role in the foundation, and growth of the City of St. Thomas, Ontario both economically and in population. In its railway heyday, St. Thomas was interchangeable with the term Railway City or Railway Capital of Canada as it was a North American railway hub with five different railroads steaming their way through the city. The MCRR Locomotive Repair Shops were constructed over a period of a year between 1913 and 1914. An article from the St. Thomas Daily Times on March 28, 1914 with the headline M.C.R.'s New Quarter Million Dollar Shops Nearly Completed, demonstrates the significance of this building and the impact it had on the community: The completion of these works places St. Thomas among the leading railway divisional centres, in point of equipment, on the American continent and no effort has been spared either by the Michigan Central Railway or the contractors to make both the buildings and the equipment the most up-to-date possible to obtain. This new industrial building also impacted the community economically, employing more than 400 workers at its peak. The Elgin County Railway Museum has been housed in the 52,000 square foot building since its incorporation in 1989, and purchased the property in 2010.
---
Toronto Railway Heritage Association (and Museum).
http://www.trha.ca/
York Durham Heritage Railway
http://www.ydhr.ca/

Halton County Railway Museum
http://www.hcry.org
Northern Ontario Railway Museum & Heritage Center - Capreol, ON
http://www.northernontariorailroadmuseum.ca/
The Canada Science & Technology Museum - Ottawa, ON.
http://www.imagescn.technomuses.ca/
http://www.imagescn.technomuses.ca/railways/index.cfm
The Palmerston Railway Heritage Association
http://www.palmerstonrailwaymuseum.ca/
Railway Museum of Eastern Ontario (RMEO) http://rmeo.org/
South Simcoe Heritage Railway
http://www.southsimcoerailway.ca/
The Guelph Junction Railway Museum
http://www.ghra.ca/links.html
The Brockville Railway Tunnel
http://www.brockvillerailwaytunnel.com/
Brighton Memory Junction Museum http://memoryjunctionmuseum.ca/
The London MCRR Roundhouse Project:
Some pictures of the progress on the renovations...
http://londonroundhouse.com/post/80303337002/some-pictures-of-the-progress-on-the-renovations
Owen Sound's Rail and Marine Museum reopens:
http://www.owensoundsuntimes.com/2014/06/29/rebirth-of-marine-rail-museum-cheered
---
CNR 4-8-4 6167 RESTORATION UPDATE
A Brampton man who has put in countless hours restoring locomotive 6167 wants the city to shelter, fence, light and aim security cameras at the historic train that sits on Farquhar Street, on the south side of the CN rail tracks at Guelph Central Station. But the city has no plans to fence in the train saying it is following the advice of the Canadian Conservation Institution, the authority on conservation and preservation of historic items. In 2002, the institution prepared a report on the locomotive and how it should be stored after it was restored. "The report referenced a fence, but said it was more of a psychological barrier. It wouldn't do much to prevent vandalism unless it was 10-feet high with barbed wire," said Tammy Adkin, manager of Guelph Museums. "The committee decided it was up to the city and the museum to make decisions about the train, and that's what we've done." That doesn't sit well with Joe Dimech, who has fuelled his love of trains by working on the restoration. Although he doesn't live in Guelph, Dimech and many of the volunteers who did the actual restoration work were concerned with the deteriorating condition of the train and started a campaign to have the city fund its restoration. The proposal went to city council in 2002 and the city agreed to spend $350,000 to restore it. An advisory committee was formed, but Dimech said it was the core group of volunteers who actually did the restoration work. He said over the years a rift developed between the hands-on volunteers and the committee volunteers. He said he's speaking out about his concerns because he doesn't feel he's being taken seriously by city staff or the advisory committee that recently disbanded. And he doesn't want to see the train, so lovingly restored, return to its deteriorating state and become a public hazard. "I tried explaining all this to the committee, but they are obsessed with the touch and feel policy," Dimech said. "W hat other museum leaves its artifacts unprotected? Even the Civic Museum locks its doors at the end of the day." Adkin said all the ladders and other entry points to the locomotive itself are boarded up. She said there are security cameras at the train and bylaw officers patrol the area. And there will be no fence. "Joe is not happy with that decision," she said, "but he doesn't speak on behalf of the whole group of volunteers. And we trust the citizens of Guelph. There seems to be respect for heritage and heritage assets." Adkin said building a shelter for the locomotive had been contemplated but the Canadian Conservation Institution advised against it. "It can become a home for wildlife and pests," she said. "And while it would protect the locomotive from hail, it would not protect against heat and humidity." Adkin said the museum is now working with the volunteers to devise a maintenance plan so the train will remain in good repair. She said in the fall the museum will launch a series of meet and greets and a program plan for the train. She said she considers the locomotive to be a third museum site and they want to draw attention to it. Expect to see classroom trips in short order.
EXPORAIL - CRHA
Exporail News, November 2014
Exporail will be open Saturday and Sunday 10:00 AM to 5:00 PM all through the month of November.
Complete 2014 Program available on our website www.exporail.org
Rocky Mountain Express IMAX film (full length feature movie featuring steam locomotive 2816) now showing in the Exporail mini-theatre! (Modest $ 4 up-charge applicable). Yhe English presentation is at 1:30 PM
Postcards Tell a Story a new temporary exhibition trace the history of how postcards were used by railroads from 1900 to 1948 to promote tourism. More than 250 postcards from Exporail's collection are on display in a temporary exhibition that will last one year.
Dominion of Canada is back from it very successful tour to the national railway Museum in York and Shilden, UK where over 700,000 people saw it! It has been moved into the Angus Pavilion and exhibited next to the Royal Hudson 2850, come and see it in its new Garter Blue livery with wheel valences.
Newly donated CNR SW1200RS switcher 7300 has been restored to its original paint scheme and road number 1382.
Marie-Claude Reid, Executive Director of Exporail and Stephen Cheasley, President, present a plaque to Keith Heller (CNR retired) as a token of appreciation for the Heller Family Foundation having covered the cost of repainting 1382 in the 'green and yellow' of yesteryear. Peter Murphy
Canadian Rail Magazine

The September - October issue of Canadian Rail features articles on the construction of the Grand Trunk Pacific Railway from Winnipeg to Prince Rupert. This issue celebrated the 100 th. anniversary of the opening of the GTP in 1914. Stan's Photo Gallery features the photos of Lorne Perry as well as a retrospective of CNR road switchers coinciding with the release of the new book Canadian Natuional Railway's Diesel Locomotives, Volume 2. Canadian Rail is mailed to members and is available at better hobby shops across Canada.

Former Canadian National SW1200RS 7300 at Exporail in St-Constant QC in fresh paint on September 20th, 2014, Wearing her new paint scheme and number only the number boards need changing. (Francois Jolin photo)
http://www.railpictures.net/viewphoto.php?id=498981&nseq=3
On the CP preservation scene, my friend Richard Young submitted these photos and videos taken at the EXPORAIL (CRHA) Railway Museum in St. Constant, QC of the donated CP RAIL MLW C424 and M630, and the GMDD CP RAIL GP9u. Richard worked at the St-Luc Diesel Shop and was happy to assist Max and Kevin in their dedicated volunteer work to get another 'old gal' (CP C424 4237) back into running service. This is the result!!!! Many smiles all round.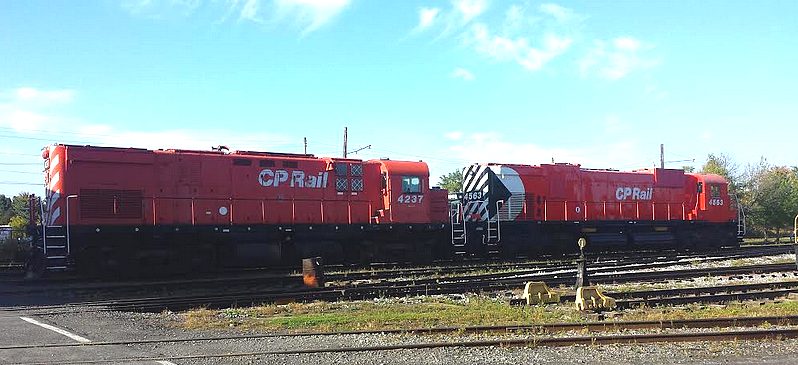 ---
Hull - Wakefield Steam Train - Gatineau, QC
http://www.ottawatourism.ca/en/visitors/what-to-do/tours-and-sightseeing/21-fast-facts-hcw-steam-train
Orford Express Tourist Train - Sherbrooke, QC
http://www.orfordexpress.com/en/home.htm
QUEBEC CENTRAL / CP Valley Junction Station fund drive:
http://player.vimeo.com/video/64576762
Trains Touristiques de Charlevoix
(Le train du Massif de Charlevoix)
http://www.lemassif.com/en/train
L'Amiral Tourist Train
http://www.tourisme-gaspesie.com/en/visiter/train-touristique-l-amiral/8871890E.html
OPENING NEXT YEAR http://www.moncton.ca/Residents/Recreation_Parks_and_Culture/Museums_and_Heritage/Moncton_Museum.htm
The New Brunswick Railway Museum Hillsborough, NB
http://www.nbrm.ca/en/index.shtm
Nova Scotia Museum of Industry - Stellarton, NS
http://museum.gov.ns.ca/moi/en/home/default.aspx

Memory Lane Railway Museum - Middleton, NS
http://memorylanerailwaymuseum.com/

Train Station Inn - Tatamagouche, NS
http://www.trainstation.ca/

Orangedale Railway Museum - Orangedale, NS
http://www.novascotiarailwayheritage.com/orangedale.htm

The Dominion-Atlantic Railway Preservation Page:
http://dardpi.ca/wiki/index.php?title=CPR1275
CALIFORNIA:
The Orange Empire Railway Museum http://www.oerm.org/
PENNSYLVANIA:
Lake Shore Railway Historical Society
http://www.grape-track.org/home
The Steamtown National Historic Site
http://www.nps.gov/stea/index.htm
NEW YORK
Bridge Line Historical Society - Delaware And Hudson RR.

---
Super-8 filmed D&H PA action by Russ Munroe Jr.
https://www.youtube.com/watch?v=JO4nMUS34HI
https://www.youtube.com/watch?v=G08t1O_jLwk
Adirondack Scenic Railroad
http://www.adirondackrr.com/
NEW ENGLAND:
The Railway Museum of New England
http://www.rmne.org/
Conway Scenic Railroad; Conway, New Hampshire
ILLINOIS
Monticello Railway Museum http://www.mrym.org/
MINNESOTA
The Iron Horse Museum - Chicago City, MN
http://www.yelp.ca/biz/ironhorse-central-railroad-museum-chisago-city
TEXAS
Museum of the American Railroad
http://www.museumoftheamericanrailroad.org
Founded in 1982 the museum is devoted to the railway heritage of the USA. This is their latest project: The corporation purchased former CN F9A 9167 from NRE in Silvis, and it is becoming Santa Fe F7A #49 in full red and silver Warbonnet paint:

http://www.museumoftheamericanrailroad.org
WASHINGTON
Cascade Rail Foundation
http://www.milwelectric.org/
MILWAUKEE U25B 5057 News:
http://www.milwelectric.org/2013/11/whats-next-for-the-5057/
MINNESOTA
This group is restoring the Skytop parlour-observation car "Cedar Rapids", similar in appearance to the ex-Milwaukee sleeper-observations once used by CN. You may be interested in supporting them. http://261.com/uncategorized/restoration-work-progressing-milwaukee-road-skytop-cedar-rapids/
© CRO November 2014