SOUTH OF THE BORDER
December 2011
Gary Knapp sent us this pair of masterpiece nights shots.
The coincidence of a heavy fresh snowfall and finding an NECR blue & yellow GP-38 leading on 324 was not to be
ignored even back in 2007. Then I hear far off, the real deal...........EMD GP 38s in a higher notch setting. They are much closer than the muffled sound indicates, and I'm surprised when the crossing lights start up, and happily settle behind the 5D after checking one last time behind me for a car. I had done this shot once before years ago in video and knew what to expect. The cab emerges from behind the house at maybe twenty or thirty mph, they are in position for a moment, then they are gone. Of course, doing video of this scene and a still photo are two different worlds! The roaring exhaust reaches its climax as I follow the pilot plow of 3851 out from behind the house into position and press the shutter release. Suddenly, all the set-up and waiting is worth it! Shot on March 3, 2007 at 02:22 in Northfield Falls, Vermont, with the 5D and Canon 24/2.8 shift lens set at f2.8.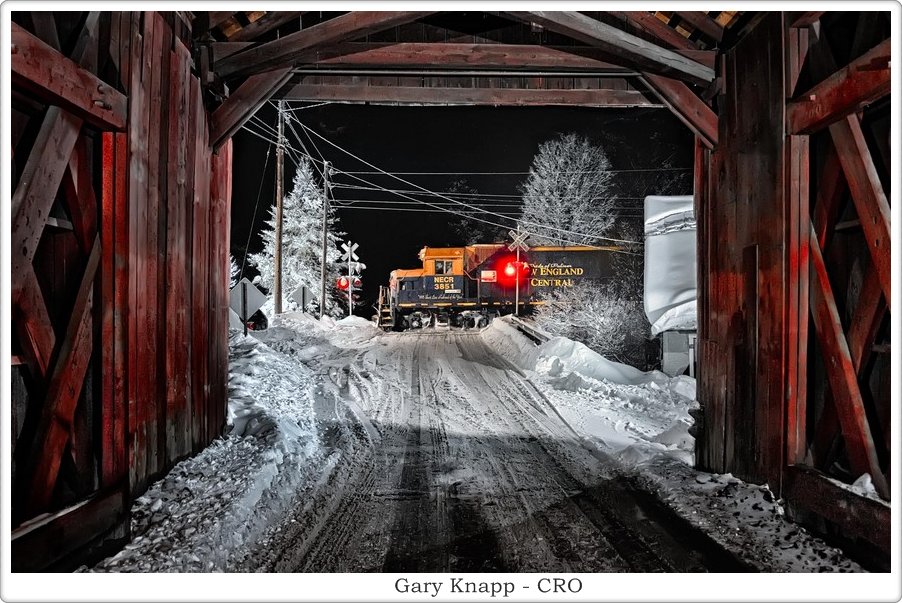 Having learned that CEFX 1055 was leading CP 253 (or 251), Gary Knapp was in position as the train hit the detector just to the south at Howard's passing siding. One minute later, the headlight lit the dark sky behind the station, and CEFX AC4400CW 1055 roared northbound past him. A nice surprise was the third unit, D&H GP38-2 7312 for assignment at Plattsburgh's Bluff Point Yard. Gary used his 5D and Zeus ZIFF 35/2 lens set at f2 with flashbulbs for this shot.
On November 4th George Redmond bagged BNSF 539 leading this freight train through Litchfield, IL, and (Respondek) RRC GP10 1604, ex RRC 604 wearing ex-ITC colors. This colourful unit is lettered for the Illini Terminal and switches in Litchfield industrial park. Looks like Terry Respondek has another great looking engine!
Fall colors are nearly about gone along the Mississippi - November 3rd Jim Matuska captured this winning frame at Victory, Wi of train H-NTWTUL (Northtown to Tulsa) on the BNSF Aurora sub.
CSX Q693 sported one of the best, and rarest consists to ever roll on the McCormick Subdivison on November 6th, 2011. Anthony David caught CP ES44AC 8856, CSXT C40-8W 7323, CP AC4400CW 8528, and RLIX Sw7 1251 lead Erwin, TN- Waycross, GA mixed manifest Q693 through the small town of Troy, South Carolina as it heads for its next crew change in Augusta, Georgia. The 4th unit, RLIX SW7 1251 is a former Ohio Central System EMD switcher. For a line that is infested with CSX ES44ACs leading coal trains almost 99.9% of the time, this is one colorful consist, and welcome change!
Rail America has sold approx 40 units to Bro-Tex International Metals of Brownsville, TX. A surprising number of GP38 and GP40 models are on the list. ... a couple former Ontario L'Original / Mid Michigan GP9' is one that is known for the count in Muskegon, Mich. Also included in this sale are SOR's Hamilton power 1755, 1757, 1808 and 5005 and during November they had their fluids drained. The firm who purchased them will be making an evaluation of each unit to determine if it will be remanufactured, stripped or scrapped.
Six former CN/KCS SD40-3 units were purchased by DMVW and shipped to N.D. to replace six ex-SP DMVW GP35R's. The histories of the six SD40-3s are as follows (Bill Miller)
CN 5095 to KCS 6602 to KCS 3131
CN 5094 to KCS 6610 to KCS 3132
CN 5097 to KCS 6616 to KCS 3134
CN 5089 to KCS 6603 to KCS 3129 to KCS 3139
CN 5164 to KCS 6611 to KCS 3145
CN 5155 to KCS 6614 to KCS 3149
All seven Lake State Railway (LSRC) ALCO's were sold October 26th and have all been scrapped for parts in Saginaw, Mich. The units were LSRC 181, 281, 381, 1280, 3500, 3504 and 798 were cut up. 3500 and 3504 were ex-Canadian National M420Ws.
This new CSX smiley logo appeared on ES44AC 958 in October 29th: This shot was taken by Walter Pfefferle in Erie PA on GE's test track.
Here is the new CSX Commercial: http://www.youtube.com/watch?v=oS2_qxWJQkg&sns=em
George Redmond caught freshly painted Responek R.R. SD40-2 #1000 at Granite City, IL on November 2nd. RRC 1000 was formerly UP 2962, nee-CN&W 6813.

Breaking News -Watco buys controlling interest in WSOR
Kansas-based Watco Transportation Services (WAMX) will assume controlling ownership in the Wisconsin and Southern Railroad - the regional operates over 600 miles of track in Wisconsin and northern Illinois. Watco employs 2200 - WSOR currently employs 250 - and no layoffs are planned. Projected date of the transaction is Jan 1, 2012.
Watco is the largest US privately held rail services company - operating over 3700 miles of track in 26 states. William Gardner will remain president of the WSOR; headquarters will remain in Milwaukee. Watco operates 4 loco repair shops, 14 railcar shops, and 18 mobile mechanical shops, along with 16 transload facilities, 7 warehouses and an intermodal location.

The Wisconsin and Southern executive train, captured by Heartlandrails.com photographer Ray Peacock at McFarland WI, is illuminated by the last rays of sun on Veteran's Day 2011 thru running to Madison in a positioning move. Monday, Nov. 14th, the Wisconsin River Rail Transit Commission and WisDOT officials rode from Madison to Avalon WI, over freshly installed welded rail. Former Milwaukee Road stick rail on the WSOR Madison sub had some areas limited to 10 mph. At the milepost 128.5 Pleasant Springs crossing, the six-prime-mover E9 trio kicks up dust at 30 mph from the freshly tamped ballast. Following adjustments and re-stressing in spring 2012 - 50 mph limits are targeted for freight traffic.
Ed Weisensel caught IC SD40-3 6204 leading the 12-car CN L507 from the WSOR Glendale yards north to the CN Saukville sub November 6th. A minute later, just inside WSOR headquarters' gate in North Milwaukee, he shot power for that Sunday morn Y203 - slumbering gosling MP15's and Gp-38-2 3812, rebuilt by the talent at Horicon from rusted Nacional De Mexico hulks.
NS SD60's 6666 and 6548 appeared before Ken Lanovich's lens November 1st at the IHB Blue Island Yard in Riverdale, IL. Mike Garza shot NS SD60 6533 Nov. 14th, new UP SD70ACEs 8677 Nov. 16th and 8689 Nov. 21st at Blue Island.
SD60Ace demo/test bed 9501, painted to match the building trim, was shot in the drizzle at EMD LaGrange by the dedicated Marc Malnekoff November 26th, and UP 8689 was shot at Blue Island on the IHB on November 27th.
Arnold Mooney took a trip to railfan the Saratoga and North Creek Railroad in New York State October 19-23rd and even had a chance to speak with CRO Green News Editor Jody Moore while there. The shot shows SNCR BL-2 #52 in only its second day of service on October 21st, taken 1/4 mile south of the Riverside station at Riparius, NY. The sun has just ducked behind the hills and the cloud had thickened right up, causing Arnold to head back to his car to change cameras, from 400 ISO to one with 800 in order to freeze the shot which turned out! There were approx 150 people on the train, push-pull with AZER 6070 on the north end.
This entire day on the SNCR was an adventure for all concerned. The morning train was delayed by more than an hour as wet leaves on the rails and one plugged sander on the 6070 resulted in the train taking more than one run at several slippery grades before getting back to North Creek late enough that they had to scrap the last of the mid-day Thurman and return trains scheduled for the year. Instead, the weary crew got a rest and the day's return to Saratoga moved to 1615 rather than 1545 scheduled. The half hour later departure made a big difference. As a result with the days getting ever shorter, we missed the sunshine shot.
The SNCR are a class act. Even a wild rainstorm mid-day at North Creek didn't throw them off making the rounds and addressing any problems. Check out the website:
https://www.sncrr.com/gallery.html
© CRO December 2011