CANADIAN PACIFIC
CP In The News:
CP Derailment St Lazare Quebec
Freight-bearing rail traffic between Montreal and Toronto was disrupted after a CP Rail train derailed west of Vaudreuil-Dorion, at St Lazare Quebec
Two locomotives and 11 cars went off the tracks near St. Louis Road at 11:45 p.m. Thursday.
Train 159-23 with CP 9703 coupled with trailing locomotive CP 9630 carrying 54 loads and no empties, including 9 cars of dangerous commodities. While entering curve at St. Lazarre, train crews noticed a big tree obstructing the track. Train derailed upon contacting the tree .The train had been traveling to Toronto with various goods, including fertilizer chemicals onboard. The crew of the train was not hurt in the crash.
Here is a photo of the derailment and of one of the locomotive being removed from the sink hole.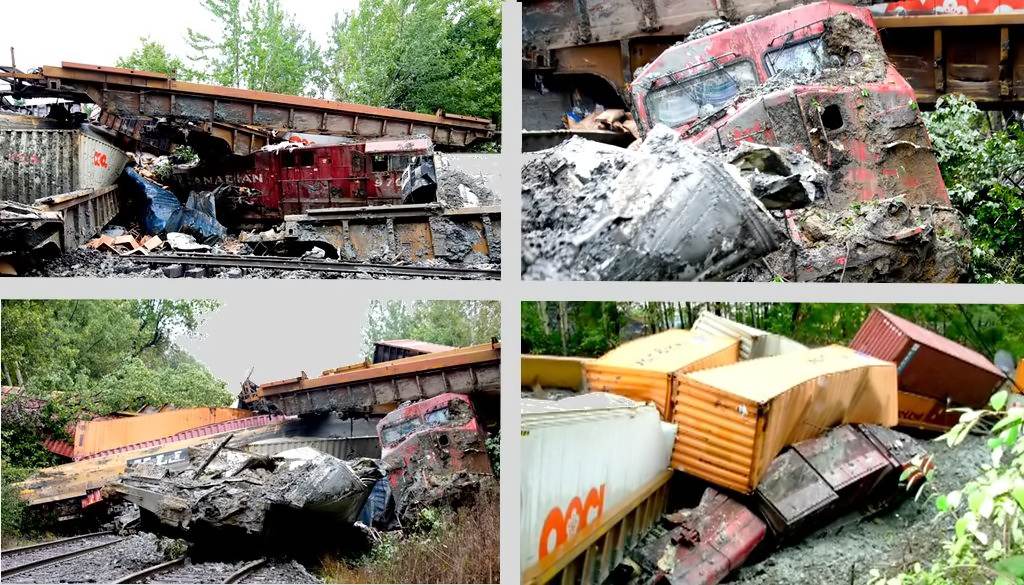 CP Units Stored or Unserviceable
The following is a tally of CP SD9043MAC's in service and stored unserviceable as of September 15th:
Units in Service – 37 units: 9101, 9102, 9103, 9104, 9105, 9107, 9109, 9112, 9113, 9114, 9116, 9117, 9118, 9120, 9124, 9125, 9126, 9129, 9129, 9130, 9131, 9132, 9133, 9134, 9137, 9139, 9140, 9142, 9143, 9144, 9145, 9147, 9150, 9152, 9153, and 9155.
Units Stored Unserviceable – 24 units: 9100, 9106, 9108, 9110, 9111, 9115, 9119, 9121, 9122, 9123, 9127, 9135, 9136, 9138, 9141, 9146, 9148, 9149, 9151, 9154, 9156, 9157, 9158, 9159 (United Way livery) and 9160.
In September CP sold the following units (which had been stored for one year at Winnipeg), to RBRX (RB Recycling) in Montreal for scrap. They are CP GP9u's 1576, 1595, CPRS SD40M-2's 5494, 5495, 5497, CP SD40-2's 5566, 5576, 5669, 5700, 5713, 5721, 5733, 5748, and 5804.
Dave Young caught CP 222 paralleling Hwy 17 at Mile 63 CP Kaministiquia Sub (Raith, ON) with CP 8792, 6079, 9021 with the dead units in tow.
Over the scanner Gary Knapp heard CP 252 coming into Rouses Point with the 8796 leading, and headed to Platsburg to shoot the great image. An ES44AC, AC4400CW and D&H GP38-2 7312, being returned to Bluff Point Yard near Plattsburgh from being serviced up at St. Luc Yard. I had thought the 7312 might stand out like a beacon in these surroundings, (red station and red locomotives........I was unaware of the trailing red boxcars) and as 252 whistles over crossings coming into town, I'm all smiles at having pulled off this second photo op tonight. The same crew that brought the SOO 6040 past my camera at Port Henry the previous morning comes around the curve below the station and sees my awareness flash of the lighting before running through the location. In a flash, the lighting does its job! And indeed, 7312 stands out like a beacon and what a backdrop Plattsburgh Station makes with its towers! Shot on August 29, 2010 at 04:14 with the 5D and Zeiss ZF 100/2 (Nikon) lens set at f2.
Railfans around Smiths Falls caught a lucky break on August 31st: Toronto-Montreal intermodal freight #230 normally travels through the area in
the wee hours of the morning. However, the train on Tuesday, August 31st required a re-crew, which meant it was delayed on the Belleville
Subdivision until later in the morning and it just happened to have CP's two gensets in the lead.
In the attached photo the train is changing crews at the depot in Smiths Falls. 3GS21B-DE's #2101 and #2100 lead SD40-2 #5879 on the
59-platform freight. The same three units returned to Toronto the following day powering manifest freight #233, but with #5879 as the lead locomotive. Photo by Bill Sanderson
The first week of September, CP ran an OCS over the D&H, Paying visits to Binghamton, Albany and Rouses Point. CP's VP and COO along with other officials were reported to be riding the train which Consisted of two jeeps and borrowed Vermont Rail Systems, vintage observation car "Macintyre". Once arriving in Albany at Kenwood Yard the Macintyre had to be turned so the observation end would face the opposite way for the run north to Rouses Point from Albany, necessitating a deadhead run to the "Magic Triangle" a term coined by fellow Railfan Bill Kozel which is the trackage between CPF 478, CPC 24 and CPF 480 which when joined together at there respective control points form an "Unofficial Wye". The train is seen crossing the Mohawk River between Waterford and Cohoes as it returns back to Kenwood Yard. Dean Splittgerber photo.
Former BNSF B40-8W's 561, 562, and 582 arrived in CP Toronto Yard on September 10th. They have been sold to the Providence & Worchester as PW 4005-4007, and were routed to Whitehall, NY and then Vermont Railway System and NECR, to P&W. CP Train #666 (the 16th Ethanol train) lifted these units from Toronto on the 13th and arrived at Whitehall, NY on September 14th with the ex-BNSF units in tow. Note: Although this ethanol train was still numbered #666, in early September 10th CP issued instructions to change the numbers to #642/643. In Frank Jolin's photo, Train #666 is seen bound for Whitehall N.Y, approaching the Canada/U.S border. The three ex BNSF units arrived on the P&W September 14th. Wayne Thompson also caught the three BNSF units at Toronto Yard on September 11th
Ken Gosslet caught the southbound CP ethanol train Sept 19th at St-Edouard, QC on the NJ. Ken got a nice image of the ex-BNSF
ex-ATSF B40-8's dead in tow being delivered to the P&W.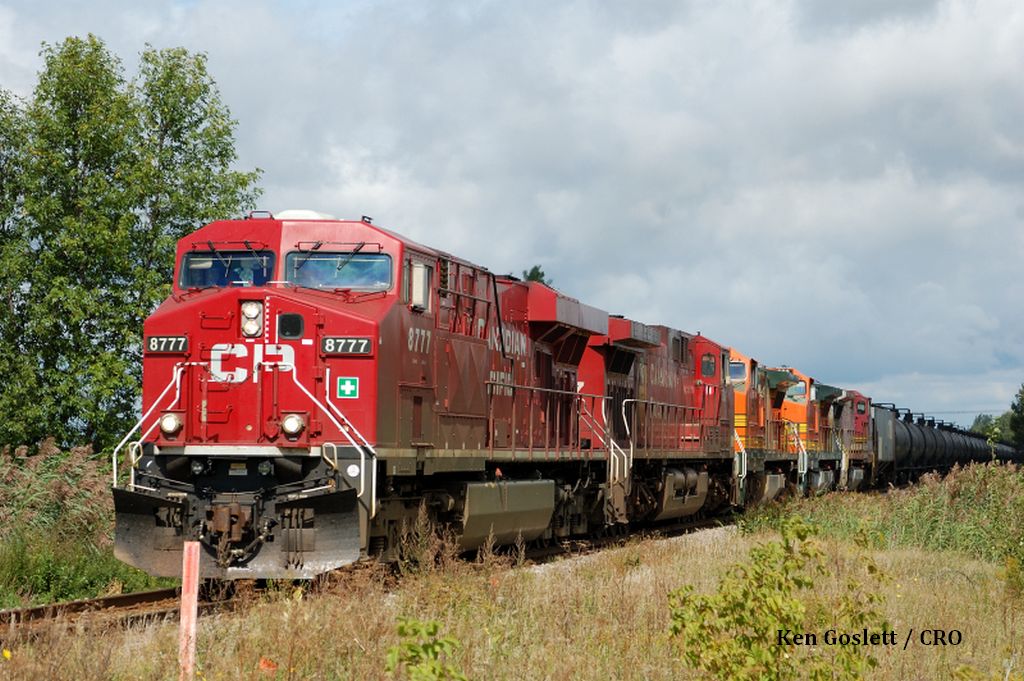 Walter Pfefferle CRO Staff caught CP 666 ethanol train as it crossed Hwy 2 just west of Woodstock Ontario Sept 25th, 2010.
Fall colors are already out in some areas as can be seen in this shot.
Francois Jolin also caught CP ethanol train 666-017 skirting Lake Champlain at Port Henry N.Y on September 21, 2010.
On September 17th at Bedell, Ontario Raymond Farand (and Bob Heathhorn) may have caught the first repaint of the 9500-9783 series (CPRS-liveried AC4400CW's) into the current CP paint scheme. I am still digging, but I believe there is one other in the Beaver scheme too. Here's a look at today's CP 153-18 at Bedell with the recently repainted 9554 trailing. Ray wrote: "Things are looking pretty bare at the old junction. Since my last visit the tool house has been demolished (notice the fresh gravel to the left of the 9607 in my first image), and if you combine this fact with the bare signal masts near the crossover switches, much of the photographic ambience of the location has now disappeared.
This must have been quite a spot in its heyday.
Still in her ex-Milwaukee "Bandit" paint, Daniel DiFiori caught SOO GP40 2066 leading two AC4400CW's at Sturtevant, WI on September 10th.
Ed Weisensel caught SOO 4415, CP 4600 and CP 4618 at Muskego Ramp, in Milwaukee, Wisconsin. On September 17th.
In August, CP began considering ceasing operations on most CSX trackage in Michigan (not counting the run to Oak Yard). As well the CSX-CP interchange trains (520/521) will be ceasing with traffic handled by other trains.
CP/CN Lakehead Report:
Craig Konopski's
CP Kam Sub work train (8-WKA-08, 6079 + 5912) with about 20 air dumps of rock for mile 63 and the spreader, CP 402887 (with a 'ghost rider'!).
The spreader had to be fished-out from the west end of the storage track at Niblock and shoved down nearly 30 miles to the HBD s/o track at mile 63.
A couple of images of freight #223-01 departing the Lakehead around 1900 EDT September 2nd, under damp & dreary conditions.
Motive power is STL&H 5651, SOO 6040, CITX 3097. The train spent about 1.5 hours in town doing work before heading west.
The 2nd image shows the CP 5962 and 1694 Roust assignment shoving 24 loads into the Pool 10 (Western Grain) elevator in the background
Chris Wilson caught CP 222 rolling through Franz, Ontario with the CP 8792, 6079, 9021, 5713, 1595, 5700, 5721 The last four locomotives dead in tow, and which have been sold for scrap to RB Recycling (RBRX) in Lachine, QC.
http://www.railpictures.net/viewphoto.php?id=338386&nseq=0
Chris Wilson provided this assortment of shots taken September 15th: CN SD70M-2 8007 on CN Q11131 14 changing off. On CP 220, the second unit was repainted CP AC4400CW 9554; CP AC4400CW 8571 W with 103-15 at the Mink Tunnel and CP ES454AC 8818 with 113-15 at Mink as well.
More of Cor van Steenis great shots form the 16th of August CP 125 Anniversary tour with The Empress 4-6-4 #2816 on the Mountain Sub.
Kevin Dunk wrote: Still working my way home, ! received one "tongue in cheek" comment from a friend who said "Get back to Canada,
BNSF orange will rot my camera"! Okay, no more orange but how about some Armor Yellow? Except for the brown background scenery this
train went right by my house in Cranbrook so it's almost like home, heck there's even a CP engine in the consist.
Anyway, all kidding aside, this train did pass through my neighborhood so it's nice to see the same traffic but in a whole different kind of scenery. Today's potash train is fast approaching the Washington-Oregon state line with UP8291 and CP9675 pulling tonnage up front while in the rear
are a pair of UP SD9043AC's 8303-8275 pushing for the cause. On this day I had been waiting at another location but after some time wondered
what had happened to this train, so I moved…MISTAKE! You'd think after 30 years I'd know better, apparently not.
Anyway, I knew of this location and like any railfan one should always have a backup site just in case. My last time at Pt. Kelley, Washington
it was some six years ago and it's still working for me, I hope you agree.
Andy Cassidy submitted the following shots: When CP AC4400CW 9674 rolled over at Corbin in late 2005 it rolled onto the left side which was a good thing. Reason: The batteries are all on the right side behind the cab under the running board. In this case all the acid leaked from the batteries into the HV Inverter cabinet, into the cab electrical cabinet, through the left side of the cab wall and ceiling insulation, and around the left front windshield, etc. A week of drying, then we got one electrician and apprentice from the shop to tackle the job as a project. After replacing just about every component and all the wire terminals, we were ready to try it out after several months of repair, (note vegetation growing out of it!), she started up and worked!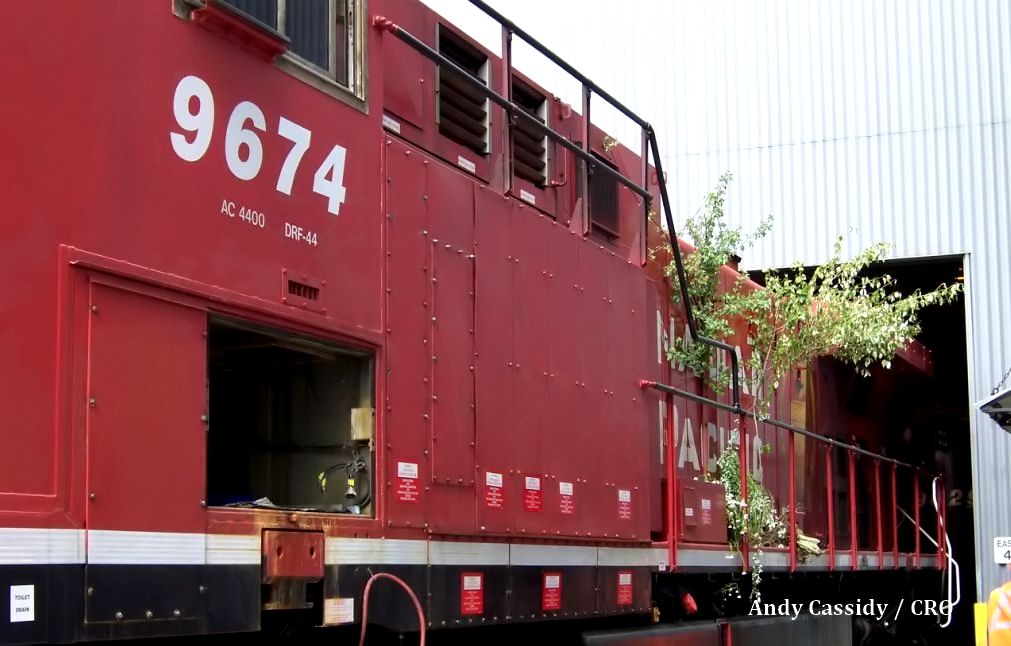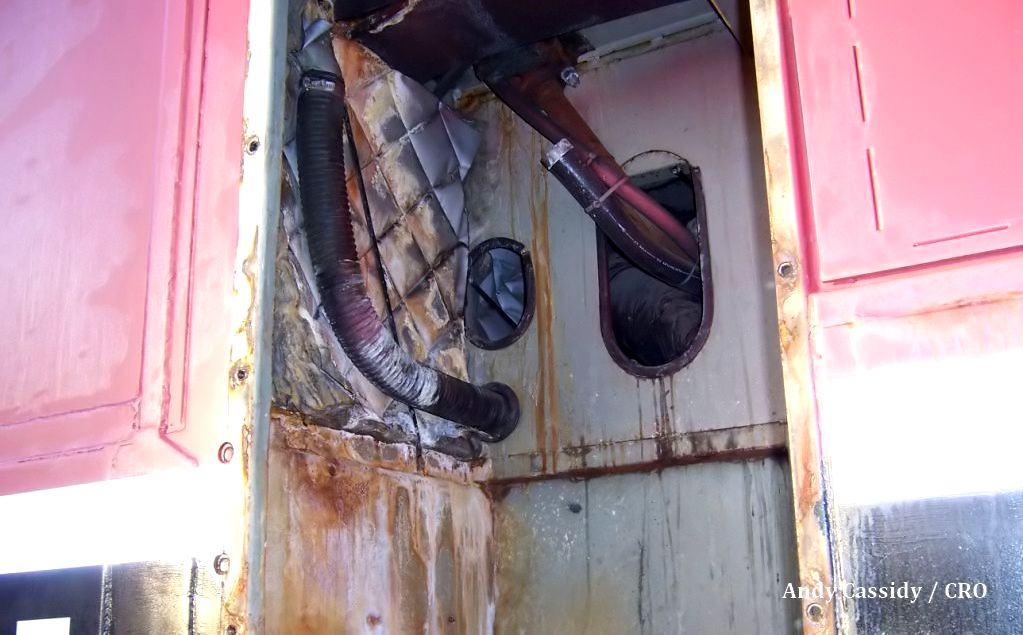 CP's "Kalium switcher" is a major yard assignment at Belle Plaine, Sask. Crewed out of the Moose Jaw East pool, the job carries five designations
(K36 to K40) depending on what time of day or which days of the week it operates. It services two main industries - Yara Belle Plaine Inc.
(formerly Saskferco) and the Canadian Salt Co. mine. Yara/Saskferco has its own plant switcher (ex-CN SW1200RS 1271) so CP simply delivers
cars to their interchange. However, the much larger operation of Canadian Salt relies solely on CP to switch its complex.
The site is accessed via the Kalium Spur which runs 3.8 miles north from its junction at Mile 118.3 of CP's main line Indian Head Subdivision.
Cars are delivered to or picked up from storage tracks beside the main line at Belle Plaine by turns originating out of Moose Jaw (and occasionally
out of Broadview) and also by road freights. On June 13, 2010, GP38-2's 3036 and 3129 take a break in the Canadian Salt Co. yard while working
the switcher. CP maintains a yard office in an ATCO trailer just out of the picture at left.
Photo by Bill Sanderson.
CPR Vignettes:
Brand new CPR FA1-FB1 in in the Automn of 1949 in West Lebanon, NH., from Deane Motis' collection.
FP7A #4041 and F7B #4430 at Lake Louise, Alta. in August 1954. 13 months later on 01/09/55, #4041 would be re-numbered to #1432 for service on the "Canadian".
CP 4-4-4 2910 at Brandon, 9/49 and later in 8/20/55. Ray Kennedy added: Judging by the dirtiness and lack of white tires it now appears to be
in freight service in 1955. Lawrence Stuckey photos.
Bruce Chapman took this great shot of 'The Canadian' at Ottawa Station in the 1960's. Note the F-unit roof mounted oscillating search light and Icicle breakers for the Domes. A Tuscan red Baggage car is also in the consist and note the white ice wagon.
Brand New … in the 1990's! CP RAIL SYSTEM-liveried AC4400CW 9524 and sisters at GE-Plant, Erie, PA
Taken last year, this quartet of freshly painted CP AC4400CW's are seen returning to home rails following their VMV repaints from their role
as movie stars in the Hollywood Movie "Unstoppable".
http://www.flickr.com/photos/erikcoleman/4505397539/
© CRO October CP